Before market open during the Feb. 19 session, Signet Jewelers (NYSE:SIG) confirmed that it would be acquiring Zale (NYSE:ZLC) for $21.00/share in cash. While there's probably value to be had in analyzing the potential implications that this will have on Signet's business (the business grows its top line by nearly 50% and should also add nicely to the bottom line assuming sell-side estimates of $0.49/share for the current year and $0.74 for next hold true), there is a far more important lesson to be learned here.
Short Sellers Aren't Always Right
Take a look at the trend in Zale's share price over the last year: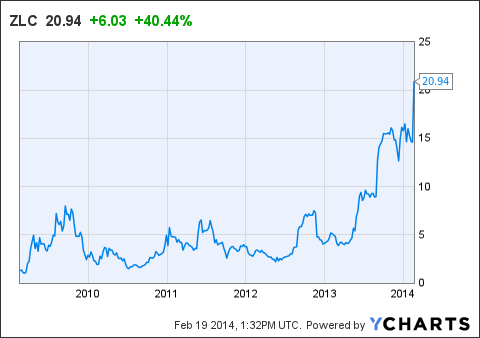 Now, what's interesting is that whenever a smaller-cap name with a high short interest goes on a particularly huge run, you will typically see one of two things happen:
Short sellers will aggressively increase their stakes on the way up
Short sellers are aggressively bowing out and, in fact, it is their capitulation that is partially responsible for the share price increase (also known as a "short squeeze")
The interesting thing is that during Zale's monster run, the short sellers showed remarkable conviction, seemingly taking each "pop" as an opportunity to short meaningfully more shares: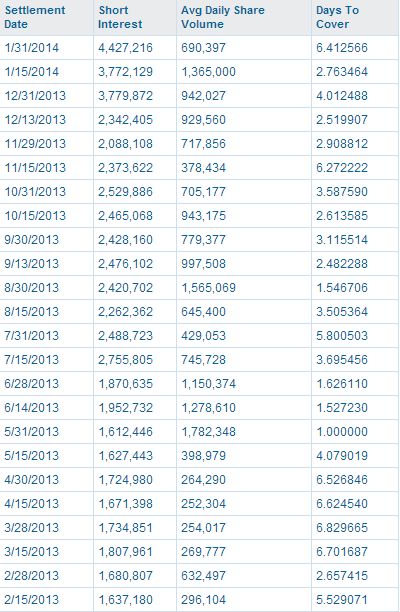 Indeed, as Zale more than quadrupled, the short interest more than doubled, with said short interest dipping only briefly before soaring to new highs each and every time. There was true conviction that the stock was extremely overpriced and that its run was temporary. Unfortunately, the current short sellers will now suffer a pretty dramatic collective capital impairment.
Why Is This So Noteworthy?
This is noteworthy precisely because it is actually pretty rare to see a name for which the short sellers have had such conviction actually lose. In particular, the "big guys" doing the shorting have usually air-tight theses that they've done extensive work on, precisely because of the very clear danger of ending up on the wrong side of a merger/acquisition. Also, it's even more interesting to see short sellers get aggressive on a name in this environment of Fed money-printing.
More often than not, when the shorts keep piling on even after a massive run, the house of cards eventually comes down. But not always.
That said, it's not hard to see what the shorts were really looking at. Take a look at the company's balance sheet:

With only $13.94M in cash and $508M in debt (the company's entire market capitalization before the Signet announcement was $489M), there was probably a very real concern that the interest payments on that debt would eat pretty significantly into the bottom line. Also, while the business has been solidly on the up-and-up, any slip would significantly impair the company's ability to manage its sizable debt load without needing to issue more equity (at what would be significantly reduced prices). It wasn't actually a bad thesis.
The problem, though, is that Zale was a small-cap name in an environment where debt is relatively cheap and where consolidation seems to be happening across many industries. The risk of a small-cap name, particularly one with a sizable revenue/customer base, getting taken out is non-trivial. The kicker here is that while smaller-cap names are more likely to get taken out, they are also more likely to be "weak" and "shortable". Shorting is tough, and shorting small-caps requires real fortitude.
Conclusion
Signet becomes a much larger company today and Zale short sellers lose big time. The lesson to be learned here is that short sellers, as good as their finely-honed BS detectors typically are, aren't always right. And particularly in small-cap land, even the most well-thought out and rational short thesis can be squashed by an unexpected M&A deal.
Disclosure: I have no positions in any stocks mentioned, and no plans to initiate any positions within the next 72 hours. I wrote this article myself, and it expresses my own opinions. I am not receiving compensation for it (other than from Seeking Alpha). I have no business relationship with any company whose stock is mentioned in this article.