American Capital Mortgage has been returning shareholder value through a major share repurchase program. In theory, this is a good strategy for the company to increase its book value per share, which was badly affected for most REITS last year due to an increase in mortgage rates. However, there has been no visible positive effect of this repurchase on the MTGE's value so far. American Capital's dividend has been decreasing, but it still has a dividend yield of 15.6% (Trailing Annual Dividend Yield), which is promising and has growth potential as the OFC yield of the company is still only 28%.
Introduction
American Capital Mortgage Investment (NASDAQ:MTGE) is a real estate investment trust (REIT) involved in investing, financing and management of agency or non-agency mortgages, along with other mortgage-related investments such as mortgage-backed securities (MBS). The company is registered as a REIT, which means that it will not have to pay any taxes as long as the requirement to distribute 90% of taxable income is being met. American Capital Mortgage is a subsidiary of American Capital Agency (NASDAQ:AGNC), which had been performing well until it reported a first quarter loss of $557 million in May 2013, decreasing its book value and share price. This directly affected MTGE as well, and its share price took a similar dive, improving the market conditions for its competitor, Capstead Mortgage Corporation (NYSE:CMO) and enabling it to outperform in the market. However, MTGE has started to recover its losses by showing a 12% year-to-date growth.

Share Repurchase
Like many other REITs, MTGE also initiated a share repurchase program back in the fourth quarter of 2012. During the fourth quarter of 2013, the company reported the purchase of 1.5 million shares from the open market for approx. $30 million, at an average price of $19.42 per share. This comprised 2.9% repurchase of outstanding shares as of 30th September 2013 and a total 6% repurchase of outstanding shares as of 30th June. The company had originally planned to repurchase up to $50 million worth of shares, with the condition that only those shares with a lower repurchase price than book value would be bought. The reason to follow such a repurchase strategy is to increase the book value per share; book value per share is equal to the total equity divided by outstanding shares (less outstanding shares increase the book value per share). Despite these steps, the company has not been successful in increasing its book value per share. At the end of 2013's second quarter the book value per share was $22.63, whereas at the end of the third quarter it decreased to $22.37, which is a 1.2% decrease and may have been caused by the negative operating cash flow of approx. $4.6 million during the third quarter of 2013. That being said, fourth quarter results still have to prove the worth of spending approx. $30 million on share repurchase by analyzing if it had a positive effect on the book value per share.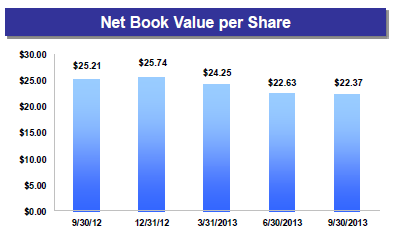 Source: MTGE
Dividend Per Share
The company has been experiencing a downward trend in its dividend per share, which is not surprising for a REIT, as there has been almost an industry-wide reduction in dividends. However, the company is still paying a good dividend, as it reported a $0.65 dividend per share for the fourth quarter of 2013 and has a dividend yield of 15.6%, which is very high compared with the industry average of 2.81%; nonetheless, it is 28% less than the dividend paid in the fourth quarter of 2012.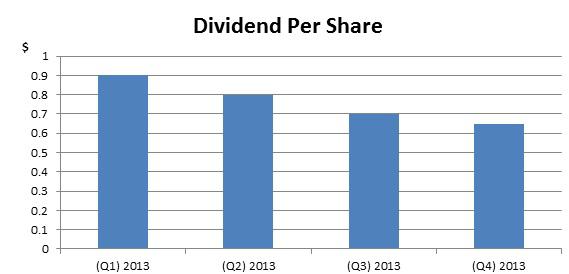 Company Portfolio
American Capital Mortgage is involved in both agency and non-agency mortgage financing. This provides the company with the opportunity to create better returns, as non-agency mortgages give a higher return than agency mortgages due to the higher risk involved. It has also started to finance Adjustable Rate Mortgages (ARM) from the third quarter of 2013, which can also prove to be a good step if the market conditions play out in the company's favor. Even though returns from ARMs are less than other mortgages, the hedging costs are lower due to the annual resetting of their rate; posing a reduced amount of interest rate risk. This move can help the company to lower expenses and create better returns for the investors, because hedging costs are the most significant expense for any mREIT.
Source: MTGE
The company's non-agency segment is very risky, as it has investments in subprime mortgage, which are mortgage loans given to people with low credit ratings. This is an uncertain business that has the potential to generate returns but can also damage the company's stability, and investors should take it into consideration as it increases the risk involved. However, this segment is also responsible for the company's ability to pay a lucrative yield and execute significant share repurchase programs.
Acquisition
American Capital Mortgage acquired Residential Credit Solutions, a mortgage service provider, in December 2013. This move has been initiated to allow entry in the Mortgage Servicing Rights (Pending:MSR) market. MSR holders can collect mortgage and interest payments from the mortgagee on behalf of the Federal National Mortgage Association (Fannie Mae), the Federal Home Loan Mortgage Corporation (Freddie Mac) or the Government National Mortgage Association (Ginnie Mae) for a specified service fee. This is another method of generating cash flows without too much risk involved and can prove to be profitable for the company, as it would not only help it to control hedging costs, but will also provide good cash flows as there is almost no interest risk involved.
Conclusion
MTGE is trying to create greater value for its shareholders through the repurchase program, but so far the program has not shown any favorable results, as the book value per share has decreased over time rather than following an expected increase. The company is increasing the returns for shareholders through its recent acquisition of Residential Credit Solutions, which will provide hedging at no cost (to some extent) and also allow financing of ARMs, which have a lesser amount of hedging costs; however, it will generate less return. Dividends have been declining in every quarter during 2013 but are better than the industry average, and the company has a yield of 15.6%. If the recent additions to the company's portfolio start to show positive results, the dividends might recover. Currently, the share is being traded at around $19.55 per share and the book value per share is $23.02, which shows that the stock is being sold at a discount. By looking at the direction the company is moving in, a very lucrative dividend and the expected growth in share price, the stock can prove to be a good investment even with the high risks involved.
Disclosure: I have no positions in any stocks mentioned, and no plans to initiate any positions within the next 72 hours. I wrote this article myself, and it expresses my own opinions. I am not receiving compensation for it (other than from Seeking Alpha). I have no business relationship with any company whose stock is mentioned in this article.
Additional disclosure: Equity Flux is a team of analysts. This article was written by our Basic Material and Financial analyst. We did not receive compensation for this article (other than from Seeking Alpha), and we have no business relationship with any company whose stock is mentioned in this article.Note: Book value per share is calculated using total equity as of 30 Sep 2013 and outstanding shares after the repurchase of 1.5 million shares during fourth quarter.