The recent success of the revamped Indian Motorcycle company has put Polaris (NYSE:PII) in the spotlight. Sales of the new motorcycles suggest there is long-term potential here for top line growth. Investors have made tremendous gains in 2013, as shares rose over 75%. Year to date, the stock pulled back close to 10% due to sluggish performance in the snowmobile market and unfavorable general stock market conditions.
At this time, we would like to see shares pull back even more in order to see value in the next 12 months. We think the company has promising developments in the near term, but the current share price reflects the potential of these deals. Since the motorcycle segment has been thoroughly covered recently, we will address a lesser discussed catalyst, with even greater long term potential.
Polaris CEO Scott Wine clearly spelled out the key to the success of the company: Adjacency. Growth through adjacent markets, offering new products across multiple geographies. The Indian Motorcycle Company is a great example of this, in spite concerns over sales cannibalization due to the existing Victory brand lineup.
Domestic motorcycle success comes at the expense of Harley Davidson (NYSE:HOG), as the heavy motorcycle market has limited long term growth opportunity. Motorcycle sales for Polaris increased 12% for the FY2013 and are expected to sky rocket another 65%-75% in FY 2014. In order to maintain a solid growth rate, international expansion is a must. While the new Indian lineup is not available outside the US, we can expect overseas expansion in the near term, with a German Indian fan page already in place.
Small Vehicle Segment
The other catalyst not yet covered is the expansion into the market for quadricycles. For those of you not familiar with the product, quadricycles are small vehicles, with small engine size and a maximum speed limit of 28 mph. Here are some quick facts about these vehicles:
- Quadricycles do not require a drivers license to operate.
- They are placed in the same class as a moped, or two wheel motorized vehicles.
- Young people under the age of 18 are eligible to operate quadricycles (Required age for a driver's license throughout Europe is 18).
- Operating a quadricycle requires a moped license.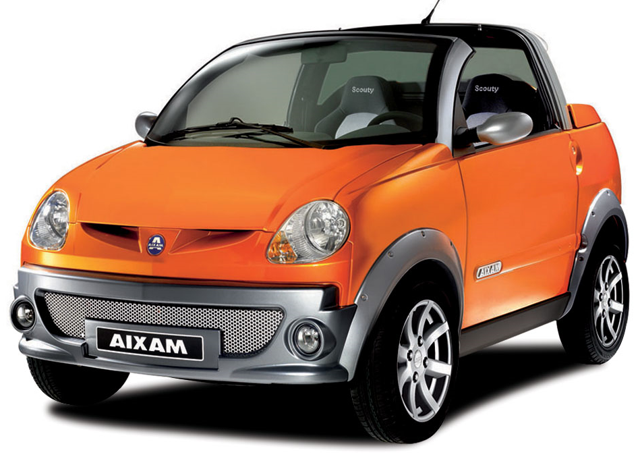 Click to enlarge
Photo taken from buyacar.co.uk 2/18/2014
We can immediately see the benefits of driving a quadricycle. Those underage are able to drive what essentially has the same features as a car. Congestion and parking issues due to an underdeveloped road infrastructure is common throughout most of Europe. This vehicle addresses that concern and offers users ease of use.
The market for small vehicles is estimated around $4 billion. Polaris acquired Aixam, a small vehicle manufacturer, in 2013. France is the company's main market, but offers an extensive dealer network throughout most of Western Europe. The starting price for the Vision, Aixam's main model is 9,999 Euros. The electric version starts at 11,999 Euros. Aixam looks to take advantage of the industry by offering a variety of models, from sportier looks, to convertibles. Sales of small vehicles accounted for $122 million for FY2013 and continues to grow at a fast pace. For the year 2014, sales are expected to further grow between 25%-35%.
Another interesting adjacent market Polaris has entered is that of utility vehicles. Goupil Industrie manufactures electric small utility vehicles with a wide range of applications. Essentially, Goupil is to the utility vehicle market what Aixam is to the passenger vehicle market.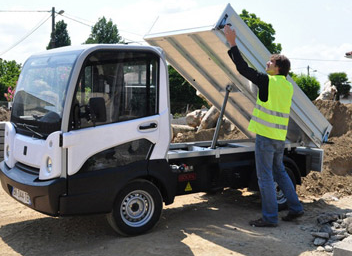 Photo taken from goupil-industrie.eu 2/18/2014
The picture above shows the small size of these vehicles. These trucks have popular applications for transportation, parks cleaning services, street cleaning services and other similar functions. The fact that these vehicles come only in hybrid or pure electric makes them attractive to cities looking for green initiatives.
So far, the revenue contributions from small vehicles is negligent, accounting for only 3% of total revenue in 2013. Nevertheless, the potential is great. In the recent earnings report, the company made a note they would like to see a greater top line contribution coming from international markets. Currently, international revenue accounts for 14% of sales, with heavy contributions coming from off-road vehicles. We can expect foreign sales to account for as much as one third of sales in the next 5 years, due to a mixture of various products sold. Aixam and Goupil thus, will play an increasingly larger role towards achieving this goal.
Pricing/Valuation
Here is a breakdown of our revenue forecast for the next 5 years:
| | | | | | |
| --- | --- | --- | --- | --- | --- |
| Revenue (In Thousands) | 2014 | 2015 | 2016 | 2017 | 2018 |
| Off-Road | 2748.435 | 2940.825 | 3146.683 | 3366.951 | 3602.638 |
| Snowmobile | 316.785 | 323.1207 | 329.5831 | 336.1748 | 342.8983 |
| Motorcycles | 500 | 575 | 661.25 | 760.4375 | 874.5031 |
| Small Vehicles | 159.25 | 183.1375 | 210.6081 | 242.1993 | 278.5292 |
| PG&A | 703.34 | 738.507 | 775.4324 | 814.204 | 854.9142 |
| Total | 4427.81 | 4760.591 | 5123.557 | 5519.967 | 5953.482 |
Revenue for off-road vehicles sales remains the key driver of revenue. Sales of side by side vehicles will push revenue in this segment, with new models like the Ranger 4 and XP 1000 leading the way. Polaris is already the domestic market leader in snowmobiles, so this arena leaves little room for growth. Moreover, Arctic Cat (NASDAQ:ACAT) and Yamaha (OTCQX:YAMCF) recently formed a partnership which involved exchange of snowmobile technology. This could hurt market share for Polaris in the long run. Motorcycle sales is another great area for growth, with the huge success of Indian Motorcycle. Moving to small vehicles, it is not unreasonable to expect sustainable 15% annual growth through 2018.
We assumed a residual growth rate of 5% due to domestic and international potential for its main product markets and a 33% tax rate. Polaris will have less capital expenditures in the coming years, as there are no significant acquisitions or infrastructure expansion in plan. Our price target after factoring in these numbers is $127. At the current share price of $132, the growth potential of Polaris in adjacent markets is already factored in.
Conclusion
Although we like the initiatives of Polaris, there is no opportunity for a long position at this time. We will look for a pullback or any developments that may suggest better than expected numbers for key areas of operation. For now, we are sitting on the sidelines.
Disclosure: I have no positions in any stocks mentioned, and no plans to initiate any positions within the next 72 hours. I wrote this article myself, and it expresses my own opinions. I am not receiving compensation for it (other than from Seeking Alpha). I have no business relationship with any company whose stock is mentioned in this article. I have no business relationship with any company whose stock is mentioned in this article. The Oxen Group is a team of analysts. This article was written by Adrian Moraru, one of our writers. We did not receive compensation for this article (other than from Seeking Alpha), and we have no business relationship with any company whose stock is mentioned in this article.