Over the last six weeks I have written a series of articles describing events that investors can monitor to determine if a cyclical bull market -- which I believe we have been in since Spring of 2009 -- is coming to an end. My most recent article focused on following the market's leading sectors. If these sectors [medical stocks, as measured by the Select Sector SPDR-Health Care (NYSEARCA:XLV)] continue to lead, then investors can be fairly confident that the market will march to new highs.
Many readers asked me a negative question: what if the market leaders fail to show the way? I am grateful to my followers for posing this issue, not only because this shows how sophisticated Seeking Alpha readers are, but also, unfortunately, because we have a good example of failed leadership here in 2014.
To make it worse, the failed leadership involves one of the most important market sectors, transportation stocks. As is shown in the chart below, since the most recent stage of the current bull market began in November 2012, the iShares Transportation ETF (NYSEARCA:IYT) has handily outperformed broad market cousin, the SPDR Select S&P500 Trust (NYSEARCA:SPY):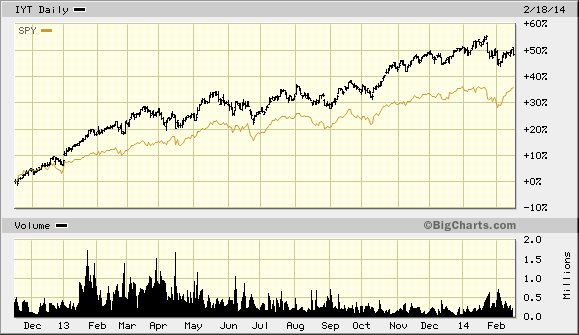 Source: www.bigcharts.com
As I made clear in my previous article, the medical shares have rallied to new highs. Unfortunately, the transports have not. Look closely at the last few weeks:
In this stock market Olympics, the XLV gets the gold medal. As you can see however, the IYT has yet to recover even half of its January loss.
The importance of the transportation stocks is a crucial component of Dow Theory, the granddaddy of technical analysis. In order for goods (and even services) to be produced and sold, they must be transported (thus the sector name) to markets, physically or electronically. Thus solid economic performance means transportation profits should be growing smartly, and this should in turn be manifest in higher prices for their shares.
Normally then, I would view the failure of IYT to rally to new highs as a matter of serious concern to investors. Two factors temper my worries.
First, it may just be there is a rotation of investor interest into other sectors for the near future; and that leaders in a different sector may emerge.
Second, in this bull market we have already seen a lengthy example of underperformance by the transportation stocks. From July of 2011 until late November of 2012 -- a period of sixteen months

-- IYT refused to join SPY as the latter rallied to new highs.
Harry Truman and I would get along well. I am a one handed economist. By that I mean I am not afraid to reach a conclusion or suggest one course of action.
What course of action is that? Stay long for now. Why?
The market has had a strong rally here, and the prevailing bull market deserves the benefit of the doubt.
The breadth of the recent rebound has been very solid.
What warning flags should investors watch out for?
if IYT falls back below late January levels, cutting equity exposure would be a very wise move.
even if the market does continue higher, we should see greater volume of shares traded, especially for the major indexes.
In the meantime sit tight, and as I always tell my SA readers, let the market tell you what will happen in the near future.
Disclosure: I am long XLV, IHI, XLK. I wrote this article myself, and it expresses my own opinions. I am not receiving compensation for it (other than from Seeking Alpha). I have no business relationship with any company whose stock is mentioned in this article.