The fast casual restaurant business has become one of the fastest growing segments of the restaurant industry and Chipotle Mexican Grill (NYSE:CMG) is the front runner riding this rising trend. Fast casual restaurants are expected to enjoy the exploding growth. Now that more and more people are beginning to think about eating healthy, fast casual restaurants are adapting themselves. They have healthier menus than what the traditional quick-service restaurants (NYSE:QSR) offer and they also satisfy customers' need to eat on the run. There is also increased customer willingness to try new foods from various cultures.
Fast casual restaurants are successfully distinguishing themselves by using high quality ingredients. They often highlight the fact that their food contains fresh organic ingredients often sourced locally and this strategy is winning them more customers. Higher quality ingredients make their meal prices a little higher than QSRs but customers are still choosing to go to fast casuals for their healthier food options.
The NPD Group survey compared the change in customer traffic in fast casual restaurants like Chipotle, Panera Bread (NASDAQ:PNRA) and Smash Burger (Smash Burger Master LLC) and QSRs like McDonalds (NYSE:MCD) and KFC (subsidiary of YUM). As can be seen in the graph below, fast casual restaurants have been consistently gained an increase in customer traffic over the last five years unlike QSRs. In 2009 and 2010 customer traffic in QSRs fell by -3% and -1%, respectively, and remained flat in 2011 and 2013. The year 2012 was the only year in the last five years when QSRs registered growth in customer traffic though the growth was merely 1%.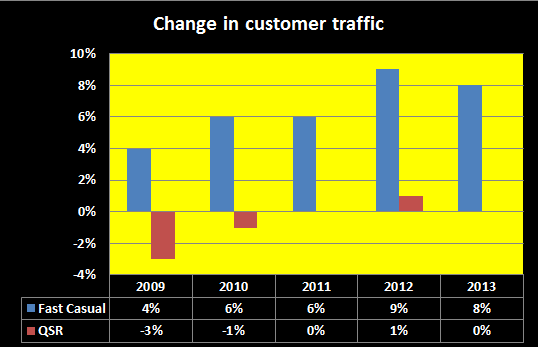 Change in customer traffic: Fast casual restaurants vs QSRs
Customer growth rate for fast casual restaurants has been trending upward for the past five years from 4% in 2009 to 9% in 2012 and 8% in 2013. This positive performance during economic down turn speaks of the strength of this business.
The NPD survey also provided information about the average check spent by customers in each of these two types of restaurant. According to this survey, fast casual restaurants enjoyed a 10% increase in average check spending by customers in 2013 while QSRs could manage an increase of only 2% in the same year. In 2013 customers spent an average of $7.3 in fast casual restaurants and $5.3 in QSRs.
McDonalds is the pack leader among QSRs. Like other QSRs, McDonalds is obviously not comfortable with this situation. It is even trying to add healthier food items to its menu in order to change its image as a seller of unhealthy food. Although McDonalds is a huge cash cow with huge stable cash flows it suffered almost stagnant revenues with a meager growth rate of just over 1% in 2013 and just over 2% in 2012. McDonalds believed that the depressed customer spending and weak economic condition were the reason for its stagnating revenue growth but it's fast casual rivals like CMG are enjoying high revenue growth. CMG's revenue grew 17.7% in 2013 and 20.3% in 2012.
To console its investors, McDonalds had to tell them that it is thinking of paying $5 billion to shareholders in 2014, a leap from the payout of around $3 billion in 2013. It seems to be a disparate attempt to support its stock price McDonald's stock lost 5.92% in the last two years.
CMG issued an annual report for 2013 a few days back announcing that its comparable restaurant sale increased by 5.6% in 2013 and its average restaurant sales also grew from $2.113 million in 2012 to $2.169 million in 2013. This is a 2.65% increase in average revenue sales. CMG also announced that its customer visits also increased during 2013. McDonald's comparable sales grew by only 0.3% in the first three quarters of 2013 and its comparable guest count decreased by 1.4% over the same nine months.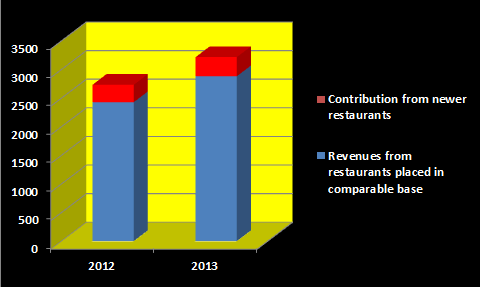 Source: Chipotle Investor Relations
CMG is expanding its chain and added 185 restaurants in 2013. New restaurants are a significant factor in contributing to the sales growth. The new restaurants that were not added to the comparable base made up 10.39% of the total revenues in 2013 and generated $333.9 million of sales revenue. The restaurants that were added during 2013 contributed $156.6 million to the sales. It was the same story in 2012, where new restaurants that were not part of the comparable sales made up 11.16% of the total sales and contributed $304.7 million to sales compared to the new stores opened during 2012, which generated $134.8 million.
CMG now plans to expand its chain by adding 180 to 195 new restaurants in 2014. Total capital expenditure of about $235 million is planned for this and $175 million of it is related to the construction of new restaurants. This expansion is expected to further boost the top and bottom lines of CMG.
Comparable restaurants sales in 2013 increased and contributed an additional $156.4 million as compared to 2012. This increase was the result of an increase in customer visits and in menu prices.
Conclusion
With an increase in demand for healthier and different food items, fast casual restaurants are expected to grow. Fast casual restaurants still have a lot of room for expansion as they make up a small portion of the restaurant industry. With its strong fundamentals and brand recognition, CMG is growing its top and bottom lines with the addition of new restaurants and increasing comparable sales. Its revenue grew from $471 million in 2004 to $3,215 million at a CAGR of 23.8% in the last nine years. Net income in 2004 was $6 million and grew to $327 million in 2013 with a CAGR of 56%. Its share price gave a price return of 897% over the last five years. This explosive growth is expected to continue in the coming years. Investors thinking of investing in growth stocks should seriously consider CMG for the medium and long terms.
Disclosure: I have no positions in any stocks mentioned, and no plans to initiate any positions within the next 72 hours.
Business relationship disclosure: The article has been written by a Blackstone Equity Research research analyst. Blackstone Equity Research is not receiving compensation for it (other than from Seeking Alpha). Blackstone Equity Research has no business relationship with any company whose stock is mentioned in this article