The radical distribution cut and share price meltdown from the February 10 earnings news by Boardwalk Pipeline Partners LP (NYSE:BWP) seems to have pushed investors holding the similar Niska Gas Storage Partners LLC (NYSE:NKA) into taking another look at this high-yield MLP investment. By the end of last week, NKA posted the second worst weekly performance among MLPs, with a 25% drop in value, pushing the yield on NKA to 11.8%. As a company with business and revenue sources similar to BWP, investors want to know if the high NKA dividend is also in danger of being reduced.
Note: Master limited partnerships are not corporations, so investors in an MLP own units and not shares. Income payments made to investors are distributions and not corporate dividends. However, to keep things moving along and not become repetitive, the words shares and dividends may be used in this article with an understanding that the use is not technically correct.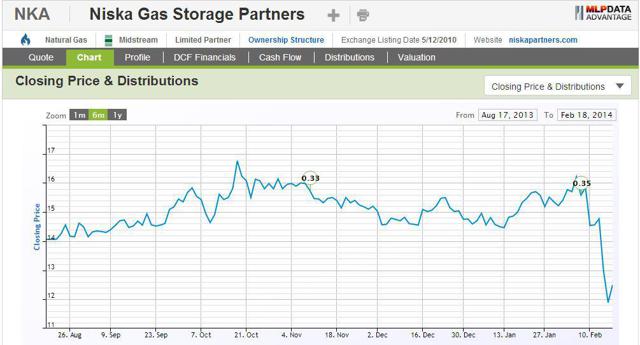 Lumpy Cash Flow Hinders Accurate Analysis
Niska Gas Storage Partners divides the company's revenues into two categories. Niska generates fee based revenues from both long and short-term natural gas storage contracts. The second source of revenue is what NKA management labels as "optimization", which is the company's own purchases of natural gas to be purchased and stored for resale during the seasonal swings between production supply and demand. The nature of gas storage and withdrawal has produced wide swings in NKA's quarterly earnings and distributable cash flow. Over the past 6 quarters ending on December 31, 2013, quarterly EBITDA ranged from $15 million up to $77.7 million and resulting DCF from a negative $1.6 million to $61.9 million.
Fixed Fee Revenues are Falling
In a recent presentation, the company stated that 70% to 80% of the total would be from fee-based revenues. Fee revenues are expected to remain fairly steady from quarter to quarter. Recently, this is the source of revenue where pricing is under pressure. During the FY2013 that ended last March, Niska Gas Storage brought in about $40 million per quarter in fee revenues. For the first three quarters of FY 2014, that rate had dropped to the neighborhood of $30 million per quarter.
The fees paid for gas storage derive from the seasonal price spreads for natural gas. The plan for gas users is to store gas in the summer when prices were lower and sell the gas during the colder, high-demand months. As price swings diminished over the last several years, the contract prices charged by storage companies like Niska have come under pressure. During the third quarter conference call, the company noted that the pricing market remained challenging.
Will The Cold Winter Rack Up Trading Revenue
Optimization trading profits are expected to count for 20% to 30% of revenues. Here is the presentation description of the portion of Niska's business:
Purchase, storage and sale of natural gas for Niska's own account
Captures significant value along the forward curve
Optimizes facility utilization, provides flexibility to capitalize on near-term opportunities
Fully hedged in accordance with robust risk management policy
For the FY2013 that closed out last March 31, optimization revenues were a negative $22.6 million compared to a positive $122.5 million for the previous year. For the first 3 quarters of FY2014 that ended in December, optimization efforts produced $24.7 million of additional revenue on top of fee-based results. The published optimization results are additionally confusing because the income statement counts realized results and the adjusted EBITDA and DCF included unrealized gains or losses from trading activities. As a result, it is not uncommon for EBITDA to be greater than reported revenue.
2014 Dividend Appears Secure
With the third quarter earnings result, Niska Gas Storage provided full year - ending in March 2014 - EBITDA and DCF guidance of $125 to $135 million and $60 to $70 million, respectively. For the completed first three quarters of the fiscal year, these numbers totaled $84.5 and $35.7 million. At the midpoint, Q4 should produce EBITDA of $50 million and DCF of $35 million.
The quarterly $0.35 per unit dividend requires just over $12 million of cash or $50 million for the full year. The guidance of $60 to $70 million shows an expectation of more than adequate coverage. The cold weather and regionally much higher gas prices should allow the company to meet its guidance, and there is a good possibility that optimization results could surprise to the upside for the quarter.
For the new fiscal year starting in April, near term cash flow results will be more dependent on optimization trading. Volatility in the natural gas market would help Niska in two ways. Bigger price swings should benefit trading profits. Also, a return of volatility to the natural gas market should eventually result in better pricing on gas storage contracts.
Niska Gas Storage Partners should be able to keep the current distribution rate for the final quarter of the company's FY2014 and the first half of the next fiscal year. As we move into next fall, this high-yield MLP should be re-evaluated based on what occurs over the first half of FY2015.
Disclosure: I have no positions in any stocks mentioned, and no plans to initiate any positions within the next 72 hours. I wrote this article myself, and it expresses my own opinions. I am not receiving compensation for it (other than from Seeking Alpha). I have no business relationship with any company whose stock is mentioned in this article.