Executive summary:
Income investors love high yield.
Income investors also love high dividend growth rate.
But rarely do these two go hand in hand - as current low yielders tend to have a high dividend growth rate and current high yielders tend to have low dividend growth (think Telecom stocks).
Is dividend growth always better than current high yield?
_________________________________
SA contributor Valuentum recently published an article on AT&T (NYSE:T) and its dividend growth. The article argued that there are a lot of better dividend growth stocks than AT&T. It is hard to argue against that statement as AT&T's dividend growth rate has been around 2% for the past few years.
Valuentum's article indicates Microsoft (NASDAQ:MSFT) and Apple (NASDAQ:AAPL) are better dividend growth stocks than AT&T. But let us keep Apple out of this comparison as it has been paying dividends only for the past 7 quarters, with one dividend increase in that time frame. Microsoft on the other hand is a better comparison as it has paid dividends for a decade now and has gotten into the habit of annual dividend increases since 2010 (the dividend was not increased in 2009).
The first table below shows the 10 year yield on cost for an investor buying AT&T at today's price of $32.82 with a yield of 5.61%.
The assumed dividend growth for AT&T is a depressing 2% for the first five years and 1% for years 6-10. Granted, that depressing rate has been the reality recently.
The second table shows the 10 year yield on cost for an investor buying Microsoft at today's price of $37.30 with a yield of 3%.
The assumed dividend growth rate is 10% throughout the 10 years. Yes, this is lower than Microsoft's recent dividend growth rate but please read on.
The yield on cost (and in return the dividend income) for AT&T investors will exceed the income for Microsoft investors until some point in year 8. In this example, only in the last two years will the return for Microsoft investors be greater than AT&T investors'. Remember, the focus is only on income and not on potential capital appreciation.
Even to overtake AT&T in the 9th or 10th year onwards, Microsoft must do what only two other companies have ever done. That is, increasing dividends at least 10% per year for about 15 consecutive years. Remember, Microsoft has already increased dividends by 21%, 15%, 25%, and 23% the last four years.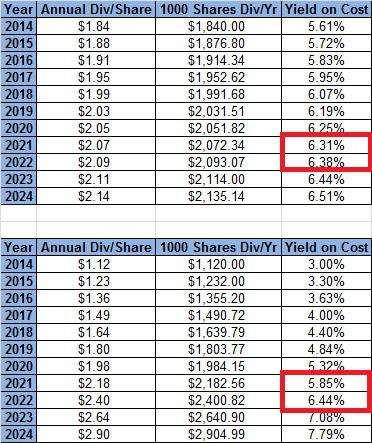 (Source: Current dividend and share price data from Yahoo Finance.)
Other points to ponder and Conclusion: In addition to the numbers shown above, below are a few points why investors should favor AT&T over almost most technology (telecom included) stocks.
AT&T has increased dividends for 30 consecutive years. While the dividend growth is not stellar, it is hard to imagine the dividend stalling, let alone being reduced or eliminated.
As covered in this article, even AT&T's lowest 5 year quarterly free cash flow was enough to cover the dividends. The average quarterly free cash flow was $4.18 Billion, almost double the current quarterly dividend commitment of $2.40 Billion.
In other words, we are not talking about a high yielding stock that is paying dividends through its nose. Free cash flow sufficiently backs up the dividends even though earnings are sometimes lower due to the point mentioned below.
Obviously, AT&T is in a capital intensive business and is at a much more mature stage than say, Apple , to be holding billions in cash. Beyond a point, investors must wonder if cash on hand is actually a positive or a negative because poorly managed cash can be detrimental to the long term returns. Apple and Microsoft have been accused of being too stingy at times when it comes to sharing with shareholders.
Intel (NASDAQ:INTC) was supposed to be the next big dividend growth technology stock and we all know how that story has progressed recently. The company did not announce a dividend increase in 2013 and has paid the same quarterly dividends for 7 straight quarters. In other words, it is really hard to find too many reliable dividend growth stocks that operate at the cutting edge of technology. (Yes, AT&T does operate at the forefront of technology, as all the modern gadgets need data and connectivity).
In a nutshell, looking at future potential returns and doing these extrapolations are helpful but some times it is better to grab the fruit that is right in front of your eyes.
Disclosure: I am long T. I wrote this article myself, and it expresses my own opinions. I am not receiving compensation for it (other than from Seeking Alpha). I have no business relationship with any company whose stock is mentioned in this article.