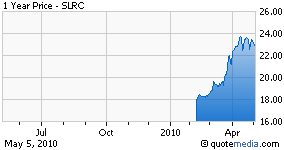 One of the newest Business Development Companies (BDC) is Solar Capital Ltd (NASDAQ:SLRC) which just reported first quarter 2010 earnings and held the requisite Conference Call. For the Earnings release, click here.
Here are the highlights the way we see them at the BDC Reporter:
The investment portfolio appears to be in good shape, especially when you consider that we are still emerging from the effects of a recession. Of course, no one data point can tell you everything you'd want to know about the quality of the portfolio, but Solar has several good numbers to report in this context. Net Asset Value increased in just the past 3 months by 7.5% to $22.18. Moreover, management's comments seem to guide us to expect a further increase in the quarters ahead. Also Solar reports having no loans on non-accrual (admittedly thanks to selling off assets and restructurings). That's on a portfolio of 33 borrowers, most of which is in higher risk subordinated debt, where bad debts are par for the course. (The only fly in the ointment is that Solar has 3 loans which are paying interest currently but which the Company has collectibility doubts. In this case, for accounting purposes, interest received is deducted from the principal owed rather than counted as interest income. Even the 3 "Watch List" companies appear to have upside potential and some or all may yet get repaid in full.
The segment of the leveraged buy-out (LBO) financing market which Solar Capital operates in (smaller than junk bonds but above lower middle market private company financings) is showing signs of life. This is important because many BDCs have capital to spend (as does Solar, more on that later) but a paucity of new deals to finance, which can cause asset growth to stall or investments to be made at too narrow a margin. According to Solar on the Conference Call this is not the case in their corner of the financing world. Deal activity is picking up, pricing remains appropriate and capital structures of target companies are more conservative than in the past. In this past quarter the Company booked one new investment in the form of a uni-tranche loan to a "specialty retailer". Solar says the debt to EBITDA multiple on the loan (a typical metric used in the LBO industry) was just 2.5x. Looking forward, Solar's management on the Conference Call strongly suggested (without getting into specifics) that there was an increasing number of new deals coming down the pike, both from new deal activity and from the need to refinance existing capital structures.
Solar Capital has plenty of borrowing capacity and appears to be working on raising even more financing. The Company does have $125mn in Senior Unsecured Notes outstanding, but otherwise is debt free. There is a $270mn Revolver which is untapped and $60mn in cash on the balance sheet. Management reminded one analyst on the Conference Call that their target for debt levels was up to 60% of equity, versus less than 20% today. The suggestion we took away was that Solar will be seeking to increase its borrowing capacity further, while simultaneously investing more heavily than in the recent past (subject to finding the right deals). This suggests that Total Investment Assets will increase from their $839mn level at March 31, 2010 to well over $1bn in the quarters ahead as Solar taps its borrowing power. The debt cost is not unduly expensive at LIBOR + 3.75%, and could conceivably get cheaper down the road. With new yield assets earnings in the middle teens there's plenty of room to make money when the sun is shining.
As for the dividend, Solar is paying $0.60 a quarter, as promised. That's $2.40 a year. Net Investment Income for the quarter came out at $0.64. The Company is squirreling away some of the earnings to maintain a stable dividend. Little was said or suggested about the future direction of the dividend, but the current level certainly seems supportable, and an increase over the next few quarters almost equally likely. Management did suggest that there was value to be created by getting repaid on lower yielding assets and re-deploying the monies into higher yields, but did not quantify any of that.
In terms of downside risk, bad debts are a perennial concern especially in the middle market subordinated arena. Only a few deals have to go south to have a material impact on earnings. This is a new company in the public market so it bears special scrutiny in the quarters ahead. Also, we're worried about the risk of a frothier capital market environment causing the existing book of business to erode from re-financings of higher yielding performing investments. That would make Solar work harder just to stay in the same place and reduce the average yield on the portfolio and earnings. Again, it's a wait and see situation.
In the short run, though, Solar Capital's outlook seems rosy. The market seems to agree as the stock is rising as we write this even while virtually every other BDC is dropping because of the European sovereign debt crisis. It's a good start for this new BDC.
Disclosure: Long SLRC