When a company can meet or even exceed the sales estimates for one of its flagship products, investors tend to consider the establishment of a position in that particular company. That said, Sony Corporation (NYSE:SNE) recently announced better than expected sales for its PlayStation 4 gaming console and as a result of the company's news, I wanted highlight a number of reasons why I'm staying bullish on this particular tech play.
#1 Recent PS4 Sales Demonstrate Considerable Growth
On February 18 Sony reported global sales of more than 5.3M PlayStation 4 game consoles for a period ending February 8 which is already 15% higher than the 5.0M that were forecasted for the period ending March 30. That said and based on the current sales pace, console sales could exceed 8.0M by March 31.
If Sony can in fact report sales at or near the 8.0M milestone there's a very good chance the company's share price as well as its FQ4 earnings could demonstrate considerable growth.
Although current estimates are calling for Sony to demonstrate a loss of -$0.19/share when it reports its FQ4 sometime in early May, I think better-than-expected PS4 sales will help reduce the company's estimated loss by at least 0.04/share, if not more.
From a competitive standpoint, PlayStation 4 sales are not only on pace to surpass internal sales estimates, but also surpass the pace of its competition. On Feb. 14 it was noted that SVP Guy Longworth had stated the PS4's January U.S. sales were nearly twice that of its leading next-gen console rival, widely assumed to be Microsoft's (NASDAQ:MSFT) XBox One.
#2 Recent Performance & Trend Behavior
On Tuesday, shares of SNE, which currently possess a market cap of $17.99 billion, a forward P/E ratio of 20.16 and a dividend yield of 1.44% ($0.25), settled at a price of $17.34/share. Based on their closing price of $17.34/share, shares of SNE are trading 4.75% above their 20-day simple moving average, 1.10% above their 50-day simple moving average and 10.64% below their 200-day simple moving average.
These numbers indicate a short-term and mid-term uptrend and a long-term downtrend for the stock, which would generally translate into a moderate buying mode for near-term traders and somewhat of a selling mode for long-term investors.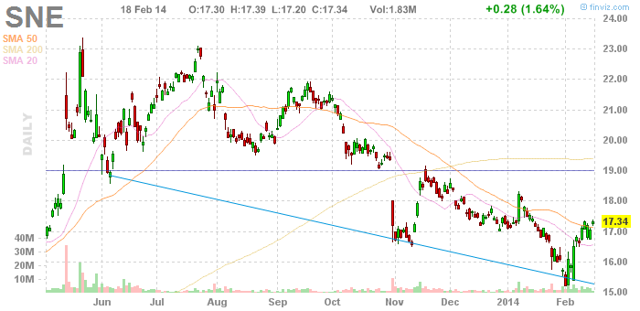 If the company's PlayStation 4 sales come at-or-near my estimations of 8.0M units sold by March 30, I strongly believe such growth will help improve the company's long-term trend behavior over the next 12-24 months.
#3 Comparative Ratios Set Sony Apart From Its Peers
Even though the above referenced numbers indicate a long-term downtrend for the stock, I actually think the current share price of $17.34/share offers investors a considerable point of entry; especially since shares are trading at a much better P/E ratio than a number of its sector-based peers.
For example, Sony's P/E ratio was 23.12 based on its Feb. 18th close, whereas the P/E ratios of Universal Electronics (NASDAQ:UEIC) (P/E ratio of 27.81 as of 2/18) and Daktronics Inc (NASDAQ:DAKT) (P/E ratio of 28.59 as of 2/18) were both considerably higher, and at a level of 25+ which some income-driven investors may find unattractive.
Risk Factors (Most Recent 20-F)
According to the company's most recent 20-F there are a number of risk factors investors should consider before establishing a position in Sony. These risk factors include but are not limited to:
#1 - To remain competitive and stimulate customer demand, Sony must successfully manage frequent introductions and transitions of new products, semiconductors, components, and services.
#2 - Shifting consumer demand to new products and services may have an adverse impact on the sales of Sony's existing products and services.
#3 - Sony's business restructuring and transformation efforts are costly and may not attain their objectives.
#4 - Sony's sales and profitability may be affected by the operating performance of wholesalers, retailers and other resellers.
#5 - Sony must efficiently manage its procurement of parts and components, the market conditions for which are volatile, and control its inventory of products, parts, and components, the demand for which is volatile.
Conclusion
For those of you who may be considering a position in Sony Corp., I'd keep a watchful eye on a number of things over the next 12-24 months as each could play a role in both the partnership's near-term and long-term growth. For example, near-term investors should focus on the recent performance and trend behavior of the company, while longer-term investors should focus on how well the company's PlayStation 4 model will impact its earnings performance over the next 12-24 months.
Disclosure: I have no positions in any stocks mentioned, but may initiate a long position in MSFT, SNE over the next 72 hours. I wrote this article myself, and it expresses my own opinions. I am not receiving compensation for it (other than from Seeking Alpha). I have no business relationship with any company whose stock is mentioned in this article.