After scouring for deals in the Consumer Discretionary and Consumer Staples aisles of the stock market, we now continue our search for investing opportunities in aisle three, the Energy Sector.
Energy
Financials
Health Care
Industrials
Information Technology
Materials
Telecom
Utilities
Sector #3 - Energy
Investopedia defines the energy sector as:
A category of stocks that relate to producing or supplying energy. This sector includes companies involved in the exploration and development of oil or gas reserves, oil and gas drilling, or integrated power firms.
The energy sector is comprised of many types of companies including pipeline and oil transport MLPs, oil and gas exploration and production, coal production, and oilfield services. In searching the CCC List produced by David Fish, 50 of the 488 companies comprising the list are members of the sector.
It can be difficult to determine the proper valuations for the different types of energy companies because of the inconsistency of earnings and the sometimes wide ranging differences between GAAP and non-GAAP results. Write-downs can be reported due to changes in reserves caused by dropping oil and gas prices, and there can also be large amounts of depreciation for very active drillers. Acquisition, exploration, development and production costs can vary depending on the producer and the accounting method selected.
As a result, when using FAST Graphs for researching prospective investments, it can sometimes be helpful to look at cash flows rather than earnings to get a better handle on how the company is actually performing. As I've stated in the previous two segments, these stocks are being presented as ideas for further research. While they all look to be at attractive valuations according to the graphs, further due diligence should be done.
With this group of companies that have been selected, I will try to provide some options across a few different sub-sectors of the energy field to assemble a "grocery basket" of prospects for further research.
The Shopping List
Here are the five stocks that made the shopping list along with some relevant dividend growth information collected from FAST Graphs.
| | | | | | | |
| --- | --- | --- | --- | --- | --- | --- |
| Company | Symbol | Price | P/E or P/OCF | Yield | 5YR DGR | 10YR DGR |
| Alliance Resource Partners LP | (NASDAQ:ARLP) | $80.90 | 10.98 | 5.92% | 11.80% | 15.80% |
| Chevron Corporation | (NYSE:CVX) | $112.71 | 10.16 | 3.55% | 9.20% | 10.60% |
| EOG Resources, Inc. | (NYSE:EOG) | $179.92 | 22.10 | 0.42% | 14.40% | 25.00% |
| Enbridge, Inc. | (NYSE:ENB) | $43.51 | 10.51 | 2.92% | 12.80% | 16.80% |
| National Oilwell Varco, Inc. | (NYSE:NOV) | $76.40 | 13.84 | 1.36% | N/A | N/A |
Alliance Resource Partners LP is a company that engages in the production and marketing of coal to utilities and industrial users in the United States. It operates 11 underground mining complexes in the Illinois Basins and Appalachian regions. The company also leases land and operates a coal loading terminal on the Ohio River and purchases and resells coal. The company also provides mine products and services, coal yard maintenance, and transportation services. The company was founded in 1971 and is headquartered in Tulsa, Oklahoma.
Alliance Resource Partners is a member of the Dividend Contenders List and has raised its distribution for the last 12 years with a 15.8% average rate over the last 10 years.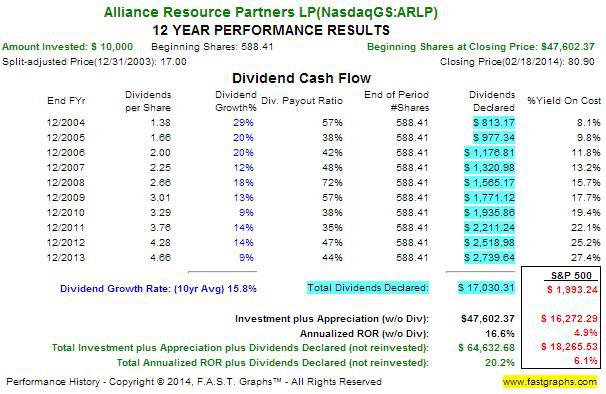 Alliance has grown its normalized earnings at an impressive 19.2% rate over the last decade and is projected by analysts to grow earnings at a 14% annual rate over the next 5 years.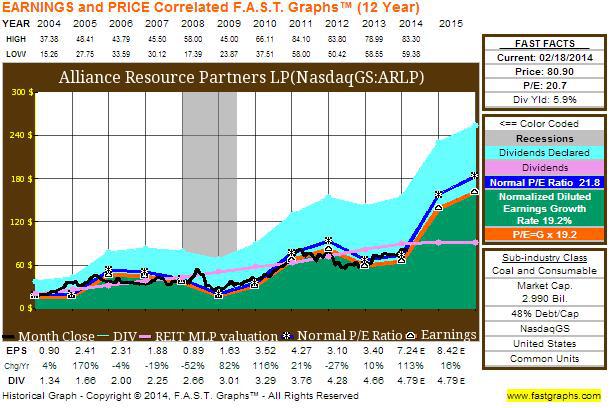 The company announced 2013 Q4 earnings on January 28 and announced an increase in the distribution of 2.9% over the previous quarter. The company forecasts stable coal prices and increased production in 2014 and expects continued growth in distributions.
The recent spike in natural gas prices and continued bullish cold weather should bode well for coal prices as well and could provide a catalyst for future revenue growth in 2015.
EOG Resources, Inc. engages in the exploration, development, production, and marketing of crude oil and natural gas. The company operates primarily in the United States, Canada, the Republic of Trinidad and Tobago, the United Kingdom, China, and Argentina. The company was founded in 1985 and is headquartered in Houston, Texas.
The company is an important player in three of the most productive shale oil fields in the U.S., with large acreage holdings in the Eagle Ford in South Texas (639,000 acres), the Bakken/Three Forks in North Dakota (90,000 acres), and the Delaware/Permian Basin in West Texas (320,000 acres).
The company has grown its oil production at a 38% CAGR over the last six years and has been an innovator in the oil patch by pioneering the use of oil transportation by rail and self-sourcing of frac sand to decrease drilling costs. With the large amount of acreage under control and increasing success in down-spacing of drilling units, the company forecasts greater than 15 years worth of drilling inventory according to current assets. The company projects double digit growth in liquids production through 2017.
EOG Resources is also a member of the Dividend Contenders List, having raised its dividend for the last 14 years with a 10 year average increase of 25%.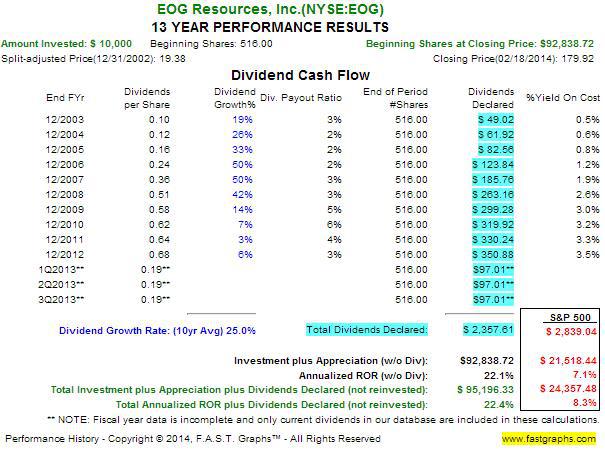 In looking at the historical earnings growth for the company over the period, EOG is a good example of how earnings can fluctuate wildly for high growth E&P company. In the first graph, you can see how earnings exploded in 2008 when crude oil prices spiked to over $150 before plummeting along with the markets in 2009 and 2010. Then, in the second graph, you can see how changing from earnings to operating cash flow you get a much clearer picture of how the company was actually performing and how much more closely the stock price tracked this metric.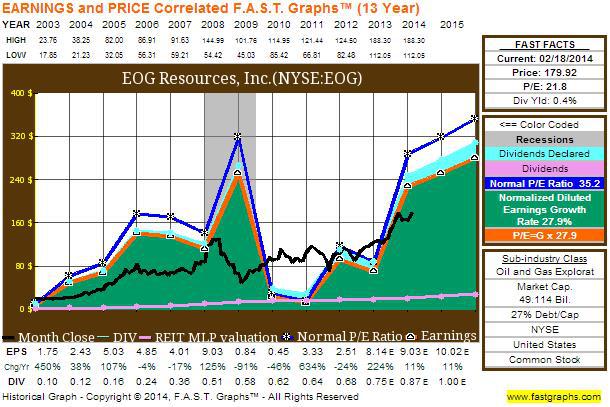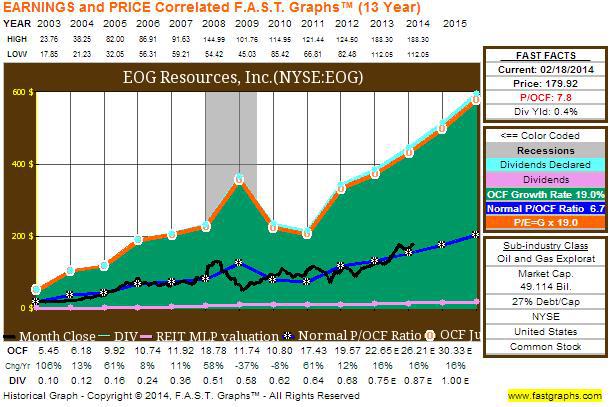 With crude oil and natural gas prices both moving higher and production expected to grow at double digit rates for the foreseeable future, the company looks to be a good bet for above market returns in the years ahead.
Enbridge Inc. operates as an energy transportation and distribution company in the United States and Canada. It operates crude oil, natural gas liquids and refined products and terminals and operates as a natural gas utility that serves residential, commercial, and industrial customers in central and eastern Ontario, northern New York State, Quebec and New Brunswick. The company also invests in natural gas pipelines, processing facilities, and fractionation and extraction businesses and is involved in renewable energy projects including wind, solar, and geothermal, with a generating capacity of approximately 1,800 MW. The company was formerly known as IPL Energy Inc. before changing its name to Enbridge Inc. in 1998 and is located in Calgary, Canada.
Like the two previous companies, Enbridge is also a member of the Dividend Contenders List. The company has a streak of 18 years of dividend increases and has raised them at a 16.8% average rate over the last decade.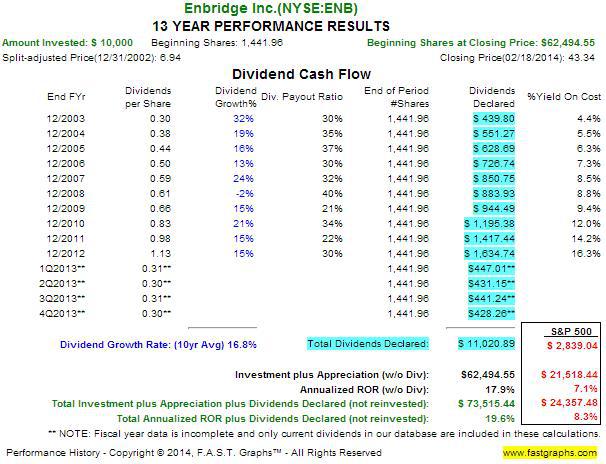 Enbridge is a great example of how a high initial yield coupled with a healthy dividend growth rate can really juice your returns over a longer time frame. The company has grown operating cash flow at an impressive 13.5% rate over the last decade, has provided shareholders with a 19.6% annualized ROR and has paid out 10% more than the original amount invested over that time frame.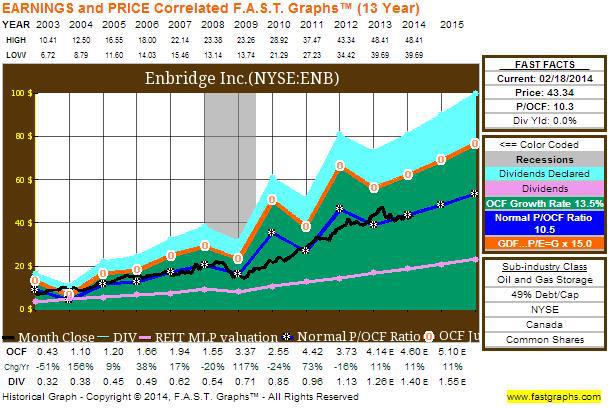 According to FAST Graphs, analysts project earnings growth at 11% going forward and the company projects similar growth rates in their most recent investor presentation, as seen in the chart below.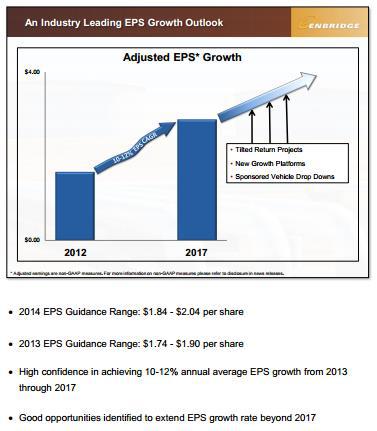 With the company trading at a reasonable multiple and providing a respectable 3% yield, double digit annual total returns could be expected to continue in the coming years from the stock.
Chevron Corporation engages in petroleum, chemicals, mining, power generation, and energy operations worldwide. The company's upstream segment is involved in the exploration, development, production, marketing and transportation of crude oil and natural gas. The company's downstream segment is engaged in the refining of crude oil into petroleum products and the marketing and transportation of the products. The company is also involved in coal and molybdenum mining, cash management and debt financing activities, insurance operations, real estate activities, and energy services. The company was formerly known as ChevronTexaco Corporation and changed its name to Chevron Corporation in 2005. It was founded in 1879 and is headquartered in San Ramon, California.
With a streak of 26 years of dividend increases, Chevron is the lone member selected that appears on the Dividend Champions List.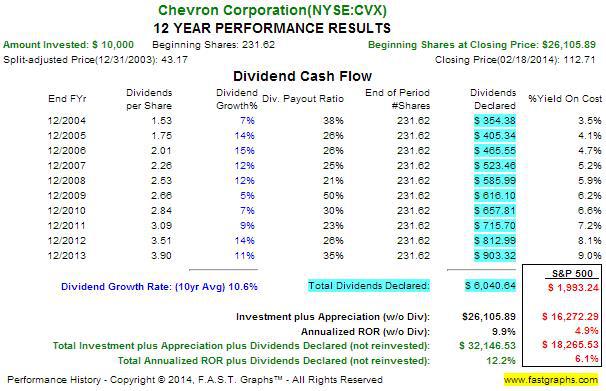 The company has doubled the return of the S&P over the last decade and has grown its EPS at a 9.4% rate over that time.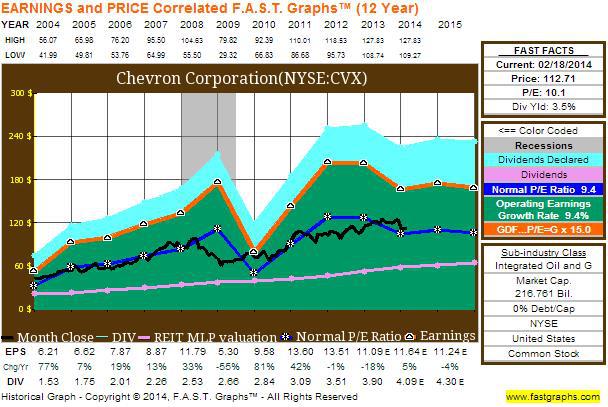 Analysts are projecting the company to grow earnings at just 5% per year over the next 5 years. With tailwinds including rapidly rising natural gas and liquids prices in North America and the impending completion of the Gorgon LNG project and increased production from deep-water projects in the Gulf in late 2014 and 2015, I think these earnings estimates will be rising as time goes on.
National Oilwell Varco, Inc. provides equipment and components for the oil and gas drilling and production, oilfield services, and supply chain integration services to the upstream oil and gas industry worldwide. The company was founded in 1862 and is headquartered in Houston, Texas.
National Oilwell is a new member of the Dividend Challengers List and has a 3 year dividend CAGR of 30%.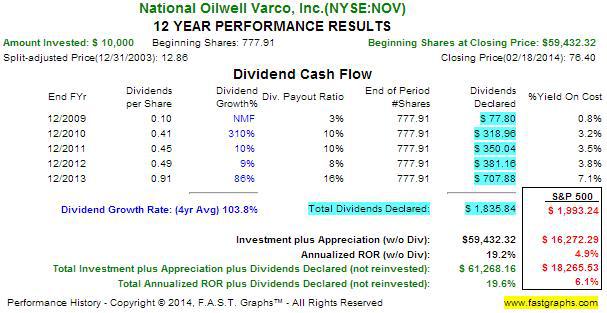 The company has grown earnings at an impressive 22% rate since 2004 and is projected by analysts to continue growing at a 13.8% rate going forward.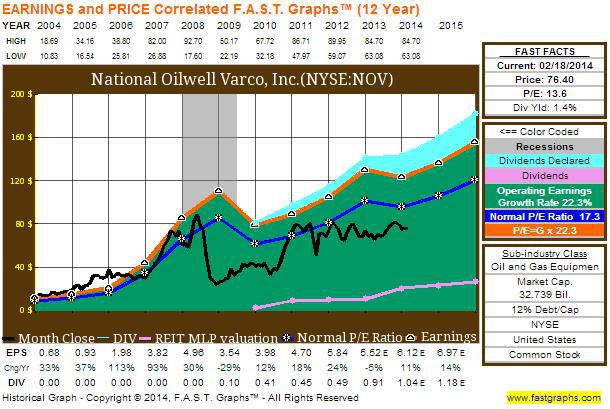 National Oilwell Varco has pulled back about 10% from its 52-week as the overall market had a correction to start the year. However, the stock is up off the recent lows after earnings were released on January 31. With the stock trading at a current PE of just 13.6, this appears to be a reasonable entry point for the stock.
Summary
While I covered just five stocks with this shopping list, there are plenty of attractive candidates available in the Energy Sector aisle. With crude oil again trading over $100 per barrel and natural gas at multi-year highs and still on an upswing on a cold winter, the future looks bright for the sector.
Disclosure: I am long EOG, CVX. I wrote this article myself, and it expresses my own opinions. I am not receiving compensation for it (other than from Seeking Alpha). I have no business relationship with any company whose stock is mentioned in this article.
Additional disclosure: I am a Civil Engineer by trade and am not a professional investment adviser or financial analyst. This article is not an endorsement for the stocks mentioned. Please perform your own due diligence before you decide to trade any securities or other products.