Natural gas futures broke above $6/MMBtu today. It's the first time in many years since natural gas prices have been this high. This continues the trend I reported a month ago in The Natural Gas Storage Glut Is Over. At that time, I said chances were very good that nat gas storage levels would fall significantly below the 5 year min-max range. Indeed, according to the EIA's latest report, that has happened. The blue line, indicating lower-48 working gas in underground storage, is now significantly below the 5-year min-max range: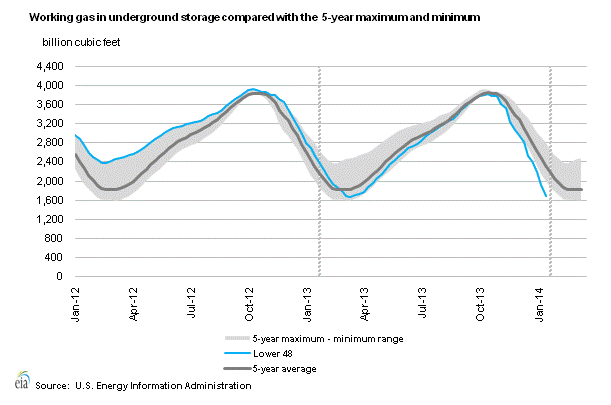 Obviously the abnormally cold winter has accelerated weekly drawdowns. Yet, as I pointed out in the previous article, the country has become more reliant on the Marcellus as other shale plays like the Haynesville have actually seen production decline due to inferior economics.
California Drought Impact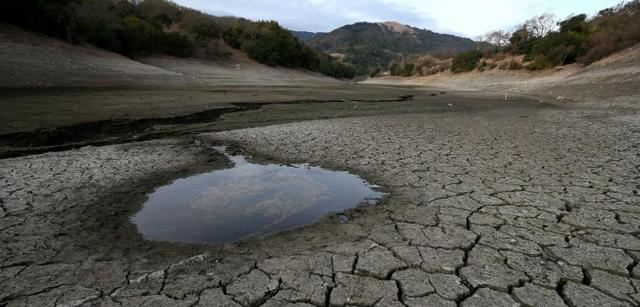 Click to enlarge
As more coal plants have been shuttered, summertime electricity demand is increasingly moving to natural gas. In addition, the drought in California means less hydro power and more dependence on natural gas. 14% of the nation's hydroelectric supplies come from California. The state's worsening drought conditions drew the attention of the EIA last Thursday following dire reports from most of the state's major water measurement locations:
Forecasts for the water supply at nearly every major water gauge in the states of California and Nevada were less than half of average seasonal norms.
The EIA also said the driest December ever recorded left nearly 60% of California in extreme drought conditions. Barclay's Capital estimates that reduced hydro-power output could raise California's natural gas demand by 300 MMcf/day compared with last year.
Lower water levels are also seen across Washington and Oregon. The total impact of low water supply on natural gas use in the Pacific Northwest and California could come to ~400 MMcf/d more in 2014 as compared to last year.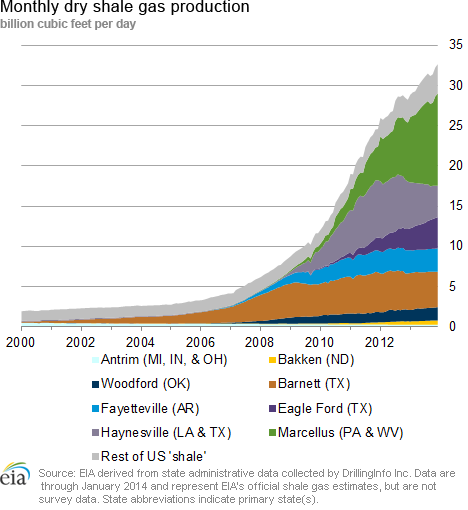 Given the very low natural gas storage supplies as we exit winter, the question increasingly becomes: can natural gas storage supplies be replenished over the summer months in time for next winter? With dry gas drilling increasingly centered on the Marcellus shale, it will be very interesting to see how it plays out. Luckily, associated gas production in shale plays like the Eagle Ford, Permian, and to a lessor extent the Bakken will help. However, until new dry gas drilling restarts in earnest in plays like the Haynesville and Barnett, natural gas supplies are likely to be touch-and-go for some time to come. Gas producers who have lost their shirts over the past few years as natural gas prices stayed very low for an extended period of time are probably not anxious to increase production only to replay the same story once again.
Investment Options
With the price of WTI over $100/bbl, and to prevent getting whip-sawed should nat gas drop again, it seems prudent to invest in companies that also produce lots of oil. With that in mind, I like companies like Enerplus (NYSE:ERF). Enerplus was early into the Marcellus and its nat gas operations in the play are discussed in this piece. StatOil (NYSE:STO) is another company that looks very good here and has over 600,000 net acres in the Marcellus. And of course there is ExxonMobil (NYSE:XOM), the #1 producer of natural gas in the United States at over 3,500 MMcf/day as of Q3 2013.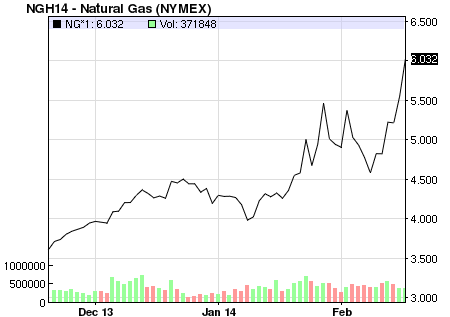 Disclosure: I am long ERF, STO, XOM. I wrote this article myself, and it expresses my own opinions. I am not receiving compensation for it (other than from Seeking Alpha). I have no business relationship with any company whose stock is mentioned in this article.
Additional disclosure: I am an engineer, not a CFA. The information and data presented in this article was obtained from company documents and/or sources believed to be reliable, but has not been independently verified. Therefore, the author cannot guarantee its accuracy. Please do your own research and contact a qualified investment advisor. I am not responsible for investment decisions you make. Thanks for reading and good luck!