Instead of just searching for top performers like we did in our previous post, we reconfigured our screener to find top performing healthcare managers. The criteria we used included performance, track record length, and a concentration in small and micro cap healthcare stocks. After the initial screen, we once again cut out concentrated and illiquid managers. A healthy dose of common sense was also used to exclude those who appeared to have good overall performance but whose returns were dependent on only one or two extraordinary quarters and lacked consistency. The aim was to find asset managers who have shown the ability to pick the right healthcare stocks over time even though their sizing may have been inappropriate or their non-healthcare positions may have performed poorly. To be fair, many managers have large portfolios, and it would be difficult for them to outsize a micro or small cap stock due to liquidity constraints and their risk management policies. The asset managers we were left with after this process were Palo Alto Investors, Perceptive Advisors, Perkins Capital Management, and Michael Murphy.
Palo Alto Investors: ($1.07bn, 16% annualized average quarterly return) This fairly well known fund stands out because of its high allocation to healthcare stocks. Over the last two years, it had an average allocation of 94% to healthcare stocks and 48% to small cap stocks. The manager has an explicit focus on small cap stocks and has recently increased the concentration level of their portfolio. A whole article could be written about how stock market correlation and volatility dynamics has impacted strategic allocation decisions for many managers in the last few years, but we'll simply state here that this isn't really a cause for concern and not at all unexpected. They have run around 30-55 positions in their book over the last few years, whereas before mid-2010 this number was closer to 60-70. Their top five positions accounted for around 50% of the overall portfolio in recent quarters, but has been nearer to 30% in the past.
Perceptive Advisors: ($830mn, 30% annualized average quarterly return) This healthcare focused fund had the best average performance of the managers we selected. Similar to Palo Alto Investors, over the past two years they had an average allocation to healthcare and small cap stocks of 89% and 54%, respectively. They had a higher turnover rate than the other two asset managers on our list and a large number of positions. Even though they had close to 100 positions in their Q4 2013 filings, the top five of them accounted for 41% of the overall portfolio.
Perkins Capital Management: ($148mn, 12% annualized average quarterly return) Based out of Minnesota, this investment advisor barely made the cut at only 12% average performance. Although they have over 100 positions recorded in their filings, their firm doesn't run a fund but rather several individual managed accounts. This simply means that the conviction level we have with their picks may not be as high, but their overall returns were good enough to stay in and their risk metrics were reasonable.
Michael Murphy: ($260mn, 16% annualized average quarterly return), Chief financial editor for New World Investor, he certainly deserves credit for an excellent public stock picking record. Even though his background and writing suggest a technology focus, his healthcare track record is quite good, too. This isn't too surprising given the overlap between the two sectors. His filing data indicates a well diversified portfolio, and although liquidity risk seems to be high, this is an individual's filings and not a collective investment vehicle. Over the last two years, small cap stock allocation has averaged 69% and healthcare 31%.
Historical Returns
The following table shows the total return of the micro, small, or mid cap healthcare stocks in each of the four manager's holdings using real portfolio weights and simulated equal weights calculated from March 31st, 2007. The performance is compounded from the holding date of the filings.
| | | |
| --- | --- | --- |
| | Portfolio Weights | Equal Weights |
| Palo Alto Investors | 106% | 886% |
| Perkins Capital | 173% | 349% |
| Perceptive Advisors | 206% | 224% |
| Michael Murphy | 610% | 399% |
It's interesting to note that although Perceptive Advisors had a much higher annualized average quarterly return than the others, performance of only their micro-small-mid cap healthcare selections was actually not that impressive. Equally relevant is that Palo Alto's equal weighted portfolio outperforms their actual portfolio by a factor of more than 8-to-1! This means we should ignore position weights when looking through Palo Alto's positions to find trade ideas. The story is the same with Perkins Capital Management, although the ratio is smaller.
The data and analysis from our manager selection process emphasizes the fact that although 13F filings provide a wealth of data and useful information, special care must be taken to extract the right ideas from the right asset managers. In other words, the methodology should match the task at hand. Searching for healthcare investment ideas in 13F filings should be done by first picking, which managers have a track record of outperformance in selecting healthcare companies and then carefully studying their decisions as reflected in their filings. Sound investment strategies come from understanding what to look for in managers' holdings, not from simply mimicking them.
Filings Data
We used the latest 13F filing data to find new or redeemed positions, then simulated the performance of a stock selection strategy based on their historical filings.
New Holdings
Palo Alto Investors: Ariad Pharmaceuticals (NASDAQ:ARIA) and NPS Pharmaceuticals (NASDAQ:NPSP), small cap and mid cap, respectively. Position sizes were 2.19% and 1.24%. As we saw with Palo Alto's returns though, position size isn't necessarily relevant. The other names they added were all small cap stocks: Clovis Oncology (NASDAQ:CLVS) and Hyperion Therapeutics (NASDAQ:HPTX).
Perceptive Advisors: They initiated many new positions this quarter but none were large. The top two positions were MacroGenics (NASDAQ:MGNX) and AbbVie (NYSE:ABBV).
Perkins Capital Management: They also invested in many new companies this quarter and all but one were less than 1%. However, similar to Palo Alto Investors, their sizing decisions may not be as relevant as their stock picking. The healthcare stocks in their portfolio were Conmed Corp. (NASDAQ:CNMD), CombiMatrix Corporation (NASDAQ:CBMX), Iridex Corp. (NASDAQ:IRIX), and Cardiome Pharma Corp. (NASDAQ:CRME).
Michael Murphy: There were no new healthcare stocks in Michael Murphy's filings but he did add eight new technology and services positions.
Redeemed Holdings
Palo Alto Investors: Both Perceptive Advisors and Palo Alto Investors were investors in Onyx Pharmaceuticals (NASDAQ:ONXX) for a long time. The company was bought by Amgen in 2013 and has appreciated significantly the last few years. Otherwise, they also liquidated a small holding in NxStage Medical (NASDAQ:NXTM).
Michael Murphy: Historical holdings data shows that Michael Murphy initiated a position in Given Imaging (GIVN) sometime during the second quarter of 2011. The June 30th, 2011 filings show a new position of around $15.25mn or 750,000 shares at the time. Although we can't be certain what price the position was bought at, the stock traded at around $15 in mid-2011 and in December 2013, Covidien (COV) announced it would buy Given Imaging for $30 per share. We'll get into this a bit more below, but this isn't the only healthcare company Michael Murphy has had a good call on.
Perceptive Advisors and Perkins Capital Management had a good amount of turnover for the quarter, but none of their redeemed positions were of a significant size.
Focused Portfolio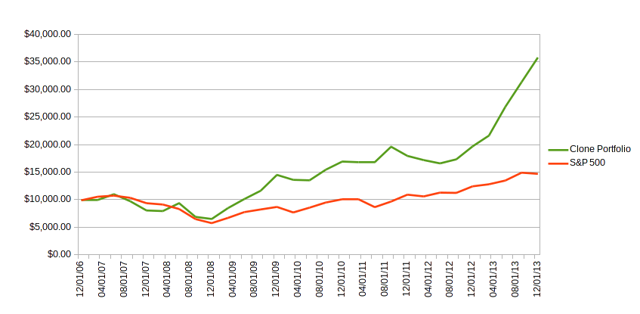 Using our stock screener, we constructed a simulated portfolio of equally weighted positions using the top two micro, small, and mid cap healthcare stocks from these four managers' filings going back to 2007. The resulting portfolio annualizes at 20.6% with a volatility of 26% compared to the S&P 500's annualized return of 5.8% and volatility of 20%. It's been said that you can get any results you want in a petri dish and the same thing might be true about back tested portfolios so let's dig a bit deeper. Below are four charts from our research platform that show the performance of each of these managers' top two micro, small, or mid cap healthcare positions over time.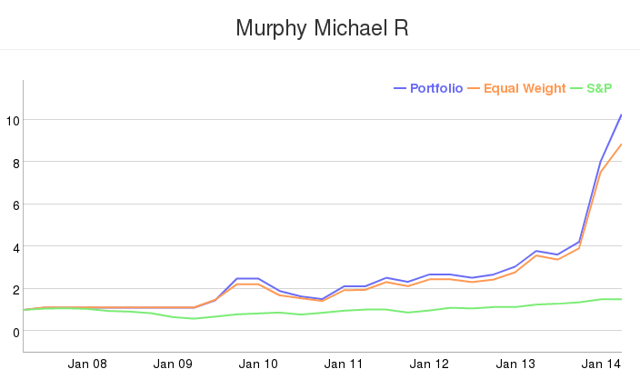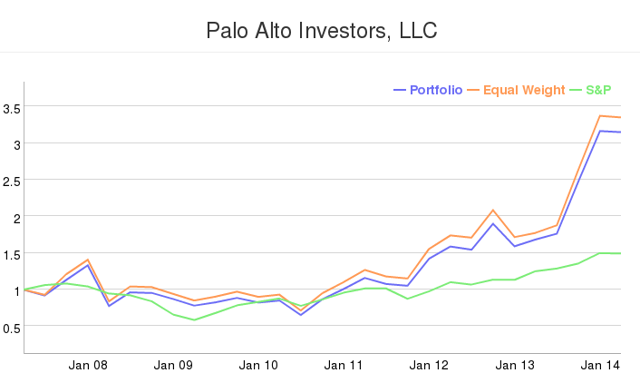 To be clear about what we're doing here, these calculations don't include performance from any sector other than healthcare. The orange lines represent an equal weighted portfolio while the blue lines were calculated using the managers' actual weightings (normalized to 100%, of course). These charts show the danger in simply copying well-known managers' largest positions without deeper analysis. We should drop Perkins Capital Management from our portfolio, and if we used Perceptive Advisors' actual portfolio weights we would have barely outperformed the S&P 500 while suffering through a lot more volatility. Michael Murphy and Palo Alto Investors' return profiles are seemingly well behaved, showing profitable jumps and low volatility. The next step is to look through the actual positions from this strategy over time. We ignore Perkins Capital Management since the selected strategy return profile isn't attractive.
Palo Alto Investors
| | | | |
| --- | --- | --- | --- |
| Stock | Filing Period | Quarter Return | S&P 500 Return |
| Onyx Pharmaceuticals | June 2007 | +61.78% | +1.91% |
| ViroPharma (VPHM) | September 2011 | +51.58% | +11.62% |
| Onyx Pharmaceuticals | June 2013 | +43.63% | +5.24% |
| | | | |
| --- | --- | --- | --- |
| Stock | Filing Period | Quarter Return | S&P 500 Return |
| Onyx Pharmaceuticals | December 2007 | -47.81% | -9.29% |
| AMAG Pharmaceuticals (NASDAQ:AMAG) | December 2007 | -32.76% | -9.29% |
| Onyx Pharmaceuticals | March 2010 | -28.70% | -11.36% |
Perceptive Advisors
| | | | |
| --- | --- | --- | --- |
| Stock | Filing Period | Quarter Return | S&P 500 Return |
| InterMune (NASDAQ:ITMN) | December 2009 | +241.79% | +5.43% |
| Medivation (NASDAQ:MDVN) | June 2008 | +123.86% | -8.84% |
| AcelRx Pharmaceuticals (NASDAQ:ACRX) | March 2013 | +79.65% | +2.94% |
| | | | |
| --- | --- | --- | --- |
| Stock | Filing Period | Quarter Return | S&P 500 Return |
| InterMune | March 2010 | -79.02% | -11.36% |
| Questcor Pharmaceuticals (QCOR) | June 2012 | -65.31% | -13.82% |
| Sarepta Therapeutics (NASDAQ:SRPT) | September 2013 | -56.87% | +10.53% |
Michael Murphy
| | | | |
| --- | --- | --- | --- |
| Stock | Filing Period | Quarter Return | S&P 500 Return |
| Horizon Pharma (NASDAQ:HZNP) | September 2013 | +127.46% | +10.53% |
| Endologix (NASDAQ:ELGX) | June 2009 | +84.78% | +15.37% |
| Cardiovascular Systems (NASDAQ:CSII) | December 2012 | +63.19% | +10.50% |
| | | | |
| --- | --- | --- | --- |
| Stock | Filing Period | Quarter Return | S&P 500 Return |
| BioTelemetry (NASDAQ:BEAT) | March 2010 | -28.37% | -11.36% |
| AtriCure (NASDAQ:ATRC) | June 2011 | -24.50% | -13.82% |
| Endologix | December 2009 | -23.48% | +5.43% |
While there were certainly negative periods, it's clear from the tables above that the upside/downside ratio is well above one. Furthermore, most of the negative periods occurred during downside periods for the market as a whole. A possible strategy here would be to construct an equal weighted portfolio using these holdings while also purchasing downside protection on the S&P 500 for the quarter via three month out of the money put options (struck at maybe 5% down from the traded price). To be realistic and rigorous, our cloning strategy would have to take into account the information lag from filings data. In the meantime, here are the six clone positions taken from these managers from the December period: Horizon Pharmaceuticals, Cyberonics (NASDAQ:CYBX), United Therapeutic (NASDAQ:UTHR), Sarepta Therapeutics, AcelRx Pharmaceuticals, and Cardiovascular Systems. An equal weighted portfolio of these six stocks has a YTD performance of 9.4%.
Disclosure: I have no positions in any stocks mentioned, and no plans to initiate any positions within the next 72 hours. I wrote this article myself, and it expresses my own opinions. I am not receiving compensation for it. I have no business relationship with any company whose stock is mentioned in this article.