Motorcar Parts of America (NASDAQ:MPAA) recently delivered another impressive quarter as net sales jumped 29% and EPS more than doubled year-over-year. And once again, analysts revised their estimates significantly higher after the earnings report, sending the stock to a Zacks Rank #1 (Strong Buy).
Since the company's former subsidiary Fenco has been shuttered and liquidated, the company has delivered 3 consecutive positive earnings surprises, with an average beat of 43%. And since my colleague Brian Bolan first wrote about Motorcar Parts as the 'Bull of the Day' on November 22, 2013, shares have jumped more than +50%.
Motorcar Parts of America remanufactures, manufactures and distributes automotive aftermarket parts, including alternators, starters and wheel hub assembly products. The company sells its products automotive retailers like AutoZone (NYSE:AZO) and O'Reilly (NASDAQ:ORLY). The market for aftermarket auto parts remains strong as the age of vehicles in North America is approximately 10 years.
Fenco in the Rearview Mirror
Motorcar Parts of America recently owned a subsidiary called Fenco that lost it a lot of money. Fenco sold undercar products like steering components, pumps and gears, brake calipers and master cylinders. MPAA acquired the company in May 2011 and tried to turn it around, but it was unsuccessful. On June 10, 2013, Fenco filed for Chapter 7 bankruptcy. It is now shuttered and has no recourse back to MPAA. Fortunately, because of the riskiness of the original acquisition, MPAA kept its debt isolated from the entire company.
This removed a dark cloud over shares of MPAA last year, and the visibility of its strong core business has been improving. In fact, in its first three earnings reports following the deconsolidation of Fenco, MPAA has delivered three big positive earnings surprise, with an average beat of 43%.
Its latest earnings beat was on February 10.
Third Quarter Results
On February 10, Motorcar Parts reported results for its fiscal 2014 third quarter. Adjusted earnings per share more than doubled year-over-year to 39 cents, crushing the Zacks Consensus Estimate of 26 cents.
Net sales jumped 29% to $65.6 million, well ahead of the consensus of $63.0 million. CEO Selwyn Joffe cited "strong industry dynamics" and stated that he "anticipate[s] this momentum will continue, supported by an aging vehicle population and recent extreme weather conditions throughout the nation."
Profit margins expanded too. Gross profit improved from 32.2% to 33.4% of sales, due to "enhanced utilization of our facilities, due in part to higher production and purchasing volume."
Estimates Soaring
Following the excellent Q3 results, analysts revised their estimates significantly higher for Motorcar Parts, for both 2014 and 2015. This sent the stock to a Zacks Rank #1 (Strong Buy).
The 2014 Zacks Consensus Estimate is now $1.39, up from $1.24 just 30 days ago. The 2015 consensus is currently $1.65, up from $1.50 over the same period.
You can see the sharp rise in consensus estimates (and the stock price) over the last several months below: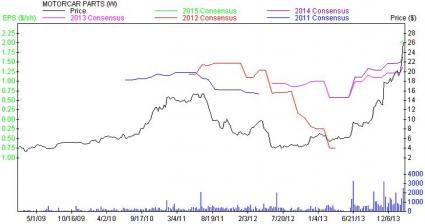 Reasonable Valuation
Shares of Motorcar Parts have soared since last summer. But the valuation picture still looks reasonable with shares trading at 16x 12-month forward earnings, below the industry median of 19x.
Its price to book ratio of 3.6 is also below its peer group at 4.5.
The Bottom Line
With reasonable valuation and surging earnings estimates amid strong financial results, Motorcar Parts still offers investors attractive upside potential.
Disclosure: The author owns shares of Motorcar Parts (MPAA).
Todd Bunton, CFA is the Growth & Income Stock Strategist for Zacks Investment Research and Editor of the Income Plus Investor service.
MOTORCAR PARTS (MPAA): Free Stock Analysis Report (email registration required)