(Editors' Note: This article covers a stock trading at less than $1 per share and/or with less than a $100 million market cap. Please be aware of the risks associated with these stocks.)
Executive summary:
Alloy Steel's Q1 release indicates continuing strong recent operational results.
The company includes the largest miners in the world among its customers, making it, essentially, a picks & shovels play on the mining industry.
That the company decided to release its Q1 earnings, after announcing a suspension of quarterly reporting last year, may earn back the attention of some nano cap investors turned off by the company's recent history of poor shareholder communications.
_________________________________
A 44% Year-over-Year Increase In Earnings
Alloy Steel International (OTCPK:AYSI) released its Q1 earnings after the close Tuesday, and they represented positive news for shareholders on more than one level. We'll look at the highlights first, then, for new readers, we'll recap what the company does, and finally, we'll note the significance of this release.
Some highlights:
A year-over-year increase in earnings from 5 cents per share in Q1 of the company's fiscal 2013 to 9 cents per share in its fiscal Q1 2014 (the company's fiscal year begins on October 1st), a 44% year-over-year increase.
Trailing 12 months EPS of 36 cents. So at the stock's closing price Tuesday of 70 cents per share, it was trading at 1.94x its trailing 12 months' earnings.
46 cents per share
Book value of $1.28 per share. As of Tuesday's closing price, the stock was trading at less than 55% of its book value.
Cash of 46 cents per share. Backing out the cash, as of Tuesday's close, the stock was trading at a P/E of less than 1.
Why the stock had such a low valuation as of Tuesday's close we'll discuss below. First, though, a quick recap of what Alloy Steel does.
A Picks And Shovels Play On The Mining Industry
Alloy Steel, headquartered in Western Australia, uses a high tech, proprietary process to manufacture protective wear plates for mining equipment. The image below, from the company's website, shows a front end loader bucket with Alloy Steel's Arcoplate wear plating installed.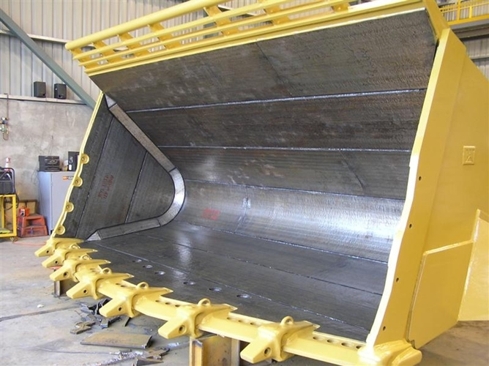 In addition to protecting against wear, Alloy Steel's wear plates are also designed to reduce "hang-up", which is the tendency of ore to adhere to the surfaces of mining equipment, reducing their efficiency. Some of Alloy Steel's corporate customers have included BHP Billiton Limited (NYSE:BHP), Caterpillar, Inc. (NYSE:CAT), Arch Coal, Inc. (ACI), Alcoa, Inc. (NYSE:AA), Rio Tinto, plc (NYSE:RIO), Fortesque Metals Group (OTCQX:FSUMF) and AngloGold Ashanti Limited (NYSE:AU).
Essentially, the company is a picks and shovels play on the mining industry, particularly iron ore and coal mining and as such, is positioned to potentially benefit indirectly from Chinese demand for those commodities.
The Significance Of This Release
In a recent article ("Alloy Steel Shares Spike 80% Thursday But Still Have A Bargain Basement Valuation"), we noted that the stock's low valuation was
due to the company's history of opaque corporate governance and shareholder communication, the latest incidence of which was its announcement last August that it would suspend reporting quarterly financials, ostensibly, to save costs.
Tuesday's release by the company of its 1st quarter numbers is the first positive step it has made with respect to its shareholder communications in recent memory. If the company's strong operational results continue, and it continues to report those results regularly, it may win back the attention of nano cap investors who eschewed the stock in part due to the company's recent history of poor shareholder communication.
Disclosure: I am long AYSI. I wrote this article myself, and it expresses my own opinions. I am not receiving compensation for it (other than from Seeking Alpha). I have no business relationship with any company whose stock is mentioned in this article.