By Carla Fried
Visit the PepsiCo (NYSE:PEP) investor relations site and the big headline is Q4 2013 Earnings. Click through and you'll have to wade well down into the release to learn anything about earnings or revenue results for the fourth quarter or the full fiscal year. If you're PepsiCo's investor relations department, that's a nice attempt at burying less-than-glowing results. If you're an investor, that should get the antennae buzzing.
Indeed, overall revenue rose less than 1% in 2013 to $66.4% billion, continuing the revenue stagnation that began in 2012: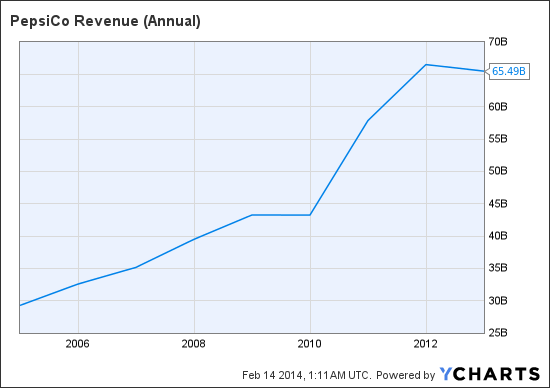 PEP Revenue (Annual) data by YCharts
Operating profit came in at 7% growth and PepsiCo guided to 7% EPS growth for 2014. That is at the low end of the long-term target the company has set. And like any growth-challenged company these days, a key part of the earnings puzzle is to tamp down expenses. One of the initiatives highlighted on page one of the earnings release is PepsiCo's commitment to save $1 billion a year over the next five years through productivity gains.
In 2012, laying off 6% of the workforce was part of the savings plan, and helped push revenue per employee that year up, though just 1% or so. No mention if there's more of that to come.
What we did learn in the latest release is that PepsiCo's 2014 business plan is to shovel a lot more money back to shareholders through increased repurchases and a steep dividend hike. The $8.7 billion PepsiCo plans to return to shareholders represents a 35% boost over 2013. This stock chart illustrates the pressing need to mollify shareholders right about now: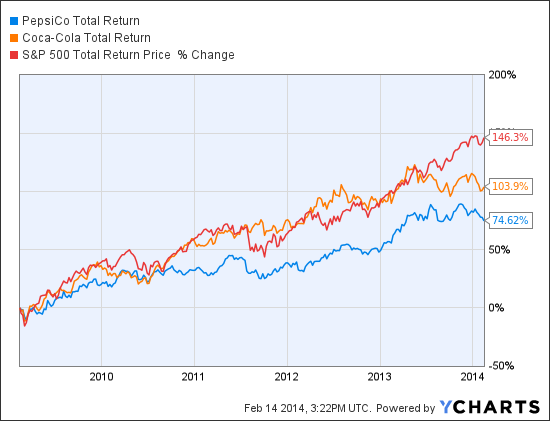 PEP Total Return Price data by YCharts
That said, one major investor who probably won't be mollified is activist Nelson Peltz who has been agitating for PepsiCo to sell off the sluggish soda division and focus on the healthier (business wise, as least) Frito-Lay and snack food division that now accounts for 52% of PepsiCo's business. In the Americas last year, beverage revenue fell 2%, while the food business grew 5%. PepsiCo announced it has decided to hold onto the beverage unit.
Nor is the slated cash return as generous as it might first appear. In 2013, $3 billion of the total $6.7 billion in cash returned to shareholders came via stock repurchases. This year the plan is to spend $5 billion of the total $8.7 billion in cash returns on repurchases, with the rest going toward dividends. So that moves repurchases from 45% of cash returns to 57%. Repurchases are like casual dating; you can call it off at any time. Dividends are more like a marriage; once you commit it's harder to change your mind.
PepsiCo's strategy is clearly the former. And even though PepsiCo's share price has not kept pace with the market gains since the financial crisis, it's not as if you can make an argument that it is buying back shares at a nice value discount, a la Apple (NASDAQ:AAPL).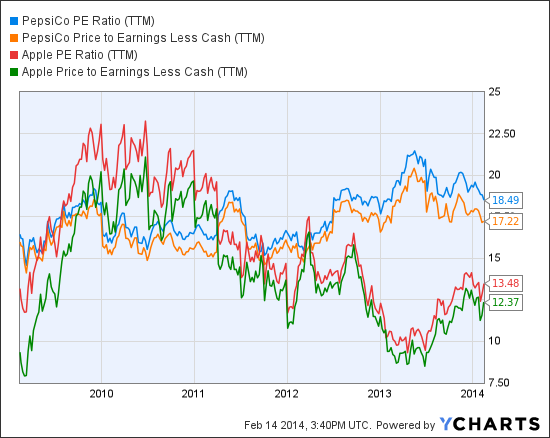 PEP PE Ratio (TTM) data by YCharts
That decision to allocate more to repurchases makes plenty of sense once you do some further investment research on PepsiCo's dividend relative to earnings and cash. To be clear, at the new projected per share dividend of $2.62, the dividend yield based on PepsiCo's recent share price is more than 3%. That's a fat 50% premium to the yield for the S&P 500. But given the rising level of PepsiCo's earnings payout ratio and its cash payout ratio, absent a nice pickup in earnings and free cash flow, that's a pace that will be harder to maintain.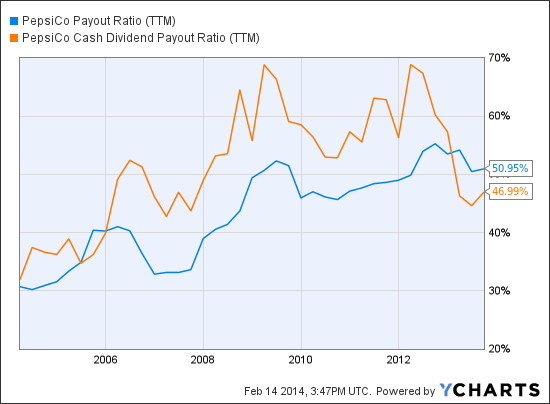 PEP Payout Ratio (TTM) data by YCharts
Those ratios are far from nosebleed, but it's the trend that bears watching. While PepsiCo has a sterling record of consistent dividend increases, the rate of growth might slow. For example, another global behemoth with a similar growth problem, Intel (NASDAQ:INTC), recently hit the brake on dividend growth, as its payout ratio flirted with 50%.
And it's not as if Intel needs to increase its attraction to yield chasers, as its current yield is above 3.5%. At a projected dividend yield of 3.3%, PepsiCo is similar catnip.
PepsiCo can clearly afford the cash payout. Management says it anticipates it will generate $7 billion in free cash flow this year. As this chart shows, PepsiCo is a cash-flow machine, which also has an ample pile of cash ready to deploy. The YCharts Pro PepsiCo Rating remains a very strong 10 for fundamentals.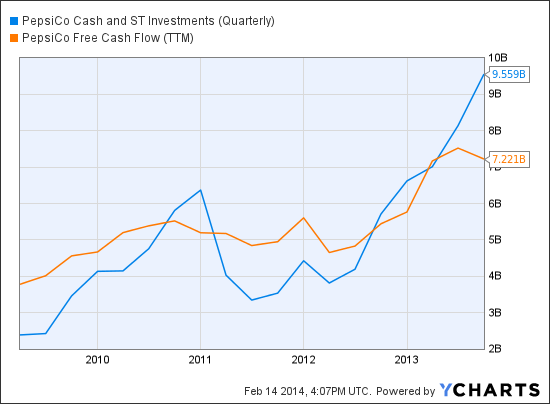 PEP Cash and ST Investments (Quarterly) data by YCharts
But now that it has set its 2014 cash return at $8.7 billion, free cash flow alone won't cover what PepsiCo plans to return to shareholders. If this year's big cash outlay buys PepsiCo time to get its growth mojo back, that's clearly not a problem. But if slow growth persists, somewhere down the line the cash-return-mollification strategy will be played out.
Disclosure: None