Argos Therapeutics (NASDAQ:ARGS) is a Durham, N.C.-based company that launched its initial public offering on Feb. 7, selling 5.6 million shares at $8 each. The company was co-founded by Ralph Steinman, who was awarded the Nobel Prize in Medicine in 2011 for the discovery of the role of dendritic cells in the immune system. The company is developing dendritic cell-based immunotherapy for cancer and HIV based on its proprietary Arcelis technology platform.
Technology
Dendritic cells are the antigen processing cells of the immune system. They process the antigens and present them to the T cells. Argos is testing its proprietary Arcelis system in various cancers and HIV. The technology uses only a small tumor or blood sample along with the patient's own dendritic cells, which are collected and optimized following a single leukapheresis procedure. The RNA isolated from the patient's disease sample (e.g., serves as the antigen payload) is used to program dendritic cells to target disease antigens. The activated, antigen-loaded dendritic cells are then formulated into the patient´s plasma and administered via intradermal injection.
Product Pipeline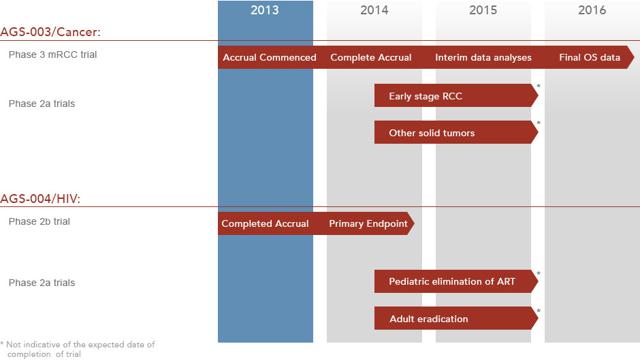 Click to enlarge
(Source)
AGS 003 in Metastatic Renal Cell Cancer (MRCC)
An estimated 65,150 new cases and 13,680 deaths occurred from renal cell (kidney and renal pelvis) cancer in the United States in 2013 (source). Approximately 85% of renal cell cancers are adenocarcinomas, and most of those are of proximal tubular origin. Most of the remainder are transitional cell carcinomas of the renal pelvis. Adenocarcinomas may be separated into clear cell and granular cell carcinomas; however, the two cell types may occur together in some tumors. Of these, clear cell type represents the most common type of renal cell carcinoma (60%-70%) and has the worst prognosis with median survival of 1.1 years for stage 4 (metastatic) cancer.
In a clinical Phase II trial of AGS 003 plus sunitinib in unfavorable metastatic renal cell cancer (clear cell) patients presented at the ASCO-Genitourinary conference in February 2013, 52% of the patients had overall clinical survival more than 30 months compared with 13% in sunitinib alone group. Overall clinical benefit rate was 81% in the treatment group. About one-third of the patients remained alive after four years or longer. No grade 3 or 4 adverse events were reported in the treatment group.
The ongoing ADAPT Phase III clinical trial will compare combination therapy with AGS 003 plus sunitinib in unfavorable metastatic renal cell cancer patients with a control arm treated with sunitinib alone.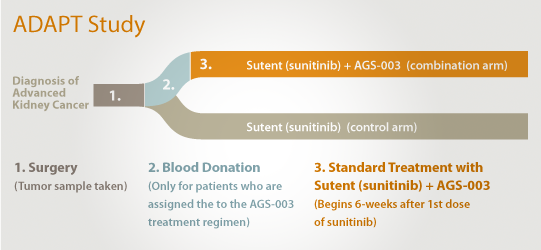 (Source)
Results of the ADAPT trial are expected in end of 2014. A Phase II clinical trial in metastatic non-clear ell metastatic renal cell cancer is expected to begin in 2014. Two Phase II clinical trials in early stage MRCC are expected to begin in the first half of 2014. Phase II clinical trials in other solid cell tumors are expected to begin in 2014.
AGS 004 in HIV: Enrollment in the Phase IIb clinical trial has been completed and data is expected in the second quarter of 2014. Two Phase II clinical trials (one for HIV eradication and one for long-term viral control in pediatric patients) are expected to begin in 2014. Additional pipeline programs include AGS-009 (interferon-alpha neutralizing monoclonal antibody, a Phase IIa clinical study completed in systemic lupus erythematosus), and AGS-010 (soluble CD-83 recombinant protein; preclinical stage development for transplantation rejection, inflammatory and autoimmune disorders) (source).
Financial Information
As mentioned in the IPO prospectus, Argos had cash, cash equivalents and short-term investments of $18.2 million and working capital of $18.1 million as of September 2013. In addition, in the fourth quarter of 2013, the company raised an additional $26.0 million in net proceeds from the sale of shares of series E preferred stock and received a payment of $1.0 million and a loan of $9.0 million from Medinet Co., Ltd. under a license agreement. Their net loss was $20.1 million for the year ended Dec. 31, 2011, $10.5 million for the year ended Dec. 31, 2012, and $15.9 million for the nine months ended Sept. 30, 2013, after attribution to the non-controlling interest (source).
Insider Buying
Notably, Pharmstandard international bought 1.275 million shares of ARGS, which I consider to be a bullish sign.
Risks Associated With Investment
The technology platform patent will expire in 2016 unless the company decides to extend it. The results of the Phase II trial may not be duplicated in the larger Phase III trial. Other treatment modalities -- like anti-PD1 therapy (nivolumab, ongoing Phase III trial in metastatic renal cell cancer) -- are being evaluated in MRCC as well and may provide competition to AGS 003.
I believe that shares of Argos Therapeutics remain undervalued and offer early investors a chance to get in before Wall Street pays attention to this company. The current stock offering has provided cash to the company to meet its obligations for the ongoing clinical trials. The company has several catalysts in 2014 which could offer the investors an upside, including Phase III trial results of AGS 003 and Phase IIb trial of AGS 004. Dendritic cell based cancer vaccine therapy has shown promise in early clinical trials and could represent a significant advance in the treatment of MRCC in combination with other therapeutic agents. The company's HIV therapies could represent a major breakthrough as well.
Disclosure: I am long ARGS. I wrote this article myself, and it expresses my own opinions. I am not receiving compensation for it. I have no business relationship with any company whose stock is mentioned in this article.