Executive summary:
Q4 net profit decreased by 14.8% to $3.4b and missed consensus of $3.5b, YE net profit decreased by 9.5% to $14,270b
Total reiterated its 2015 production goal of 2.6m barrels of oil equivalent a day (and the potential for 3m in 2017).
TOT is entering a transition phase after a $28billion peak of investments in 2013, which should impact positively the free cash flows.
Dividend increased by 3.4% to €2.38 ($3.2). Total remains one of the strongest French dividend payers.
The share price has been increasing over the last weeks and could hit the $64 top if the markets keep going up.
_________________________________
I wrote about Total in October when the share was almost trading at $60, stating that it could be an interesting opportunity to sell some shares, especially for those who bought Total in the middle of the year at $45. After disappointing Q3 results, the share decreased by 7% to $56 but is now up again after YE results. This article will focus on the YE results and analyze the perspectives for the French company.
YE results
| | | | | | | |
| --- | --- | --- | --- | --- | --- | --- |
| $m | 2013 | 2012 | Variation (%) | 4Q2013 | 4Q2012 | Variation (%) |
| Revenue | 251,731 | 257,038 | -2.1 | 64,992 | 64,664 | 0.5 |
| Operating profit | 27,597 | 31,948 | -13,6 | 6,492 | 7,545 | -14.0 |
| Operating margin | 11.0 | 12.4 | N/A | 10.0 | 11.7 | N/A |
| Net profit | 14,270 | 15,772 | -9,5 | 3,358 | 3,943 | -14.8 |
| Investments | 11,397 | 8,588 | 32,7 | 34,427 | 29,477 | 16.8 |
| Operating cash flow | 28,518 | 28,859 | -1,2 | 9,656 | 7,605 | 27.0 |
| Net debt/Equity (%) | 23.3 | 21.9 | N/A | N/A | N/A | N/A |
Source: Financials
2013 revenues decreased by 2.1% to $251,731, mainly due to an average Brent price of $108.7 in 2013 compared with $111.7 in 2012 (-2.7%). Total has been able to counter decreasing oil prices , which is very positive.
The production is stable at 2.3m barrels of oil equivalent a day in 2013 but slightly below the consensus.
YE operating profit decreased by 13.6% to $27,597b, mainly due to plummeting refining margin in Europe ($17.9/t in 2013 against $36.0/t in 2012). Total is still impacted negatively by its refining activities in Europe but keeps trying to close refineries despite strikes.
2013 net profit decreased by 6.5% to $14,270b, mainly due to net losses coming from asset disposals (Voyageur in Canada) and depreciations of activities in the US, France and Syria.
The" good" surprise comes from the cash flow statement with the operating cash flow only decreasing by 1.2% to $28,518b and increasing by 32% yoy at Q4. The free cash flow decreased by 62% to $2.6b mainly because of heavy investments in 2013 ($28b).
The net debt increased by 9.9% to $23,283 (with a stable net debt/equity ratio), which is positive regarding the peak of investment. The cash flows easily cover investments and dividends and the Balance Sheet remains strong.
Finally, the management proposed to increase the dividend by 3.4% to €2.38 ($3.2).
Total has not been affected by the decrease in oil prices and protected its margins in 2013. Increasing the dividend is a strong signal to shareholders and shows Total's capacity to generate cash even in a time of heavy investments.
Strong perspectives
The share price has been driven by the good perspectives announced by Total. First in terms of production objectives but also by the fact that the French company is transitioning to a stabilization phase with a focus on investments diversification/optimization (and reduction) along with sustainable dividend payments. The asset disposal plan should also strengthen the cash flows over the next years.
The French company has 11.5b of reserves in oil equivalent barrels, which accounts for a life expectancy of more than 13 years. According to the company, the renewal rate of reserves was about 130% in 2011-2013 compared with 110% in 2008-2010.
Total has historically invested in heavy and risky projects in countries with strong potential (especially in deep offshore) such Brazil or many countries in Africa. The investments paid out as production forecasts are maintained at 2.6m barrels of oil equivalent a day in 2015 and 3m in 2017 (+31%).
Total expects the oil demand to grow by 0.6% cagr by 2030.
Oil production and demand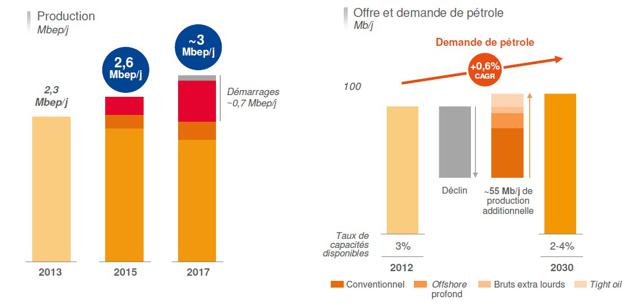 Source: YE presentation
Liquefied gas are one of the main growth engine for Total as the French company expects the demand to grow by 5% cagr by 2030. Liquefied gas already represented 25% of the upstream revenues in 2013 and Total started a massive investment in project Yamal that should generate 16.5mt/year starting in 2017. The production should more than double by 2017.
Total should limit its investments in expensive exploration in order to focus on gas over the next years, which is very positive. I believe that Total is on the verge of becoming a world leader in LNG.
Gas production and demand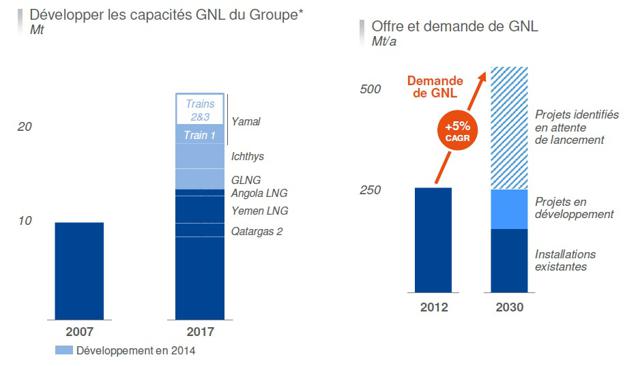 Source: YE presentation
Asset disposal and investments
The French company is in line with its asset disposal plan and should sell between $15b and $20b of assets by 2014 (and could do even more). The plan is combined with selected investments in order to simplify the asset portfolio and diversify geographically. However, total investments should decrease to $26b in 2014 after the $28b peak this year.
The strategy makes sense regarding Total's history and the perspectives for oil & gas. The impact on the cash flow statement should also be very positive.
Asset disposal plan and current investments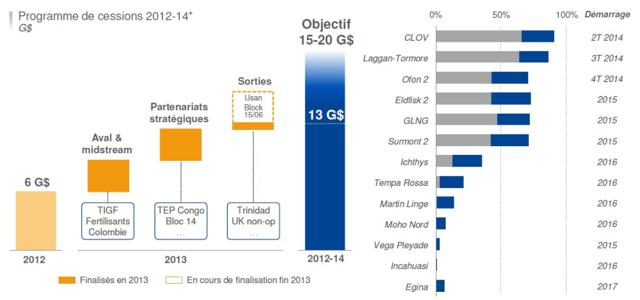 Source: YE presentation
Cash flows and dividend sustainability
TOT is one of the main dividend payer in France and has a very good reputation among individual shareholders. The dividend has been increasing over the last years and the payout ratio averaged at 50% from 2009 to 2013. Total is finally one of the only French company to pay a quarterly dividend. The current dividend yield is about 5.4%.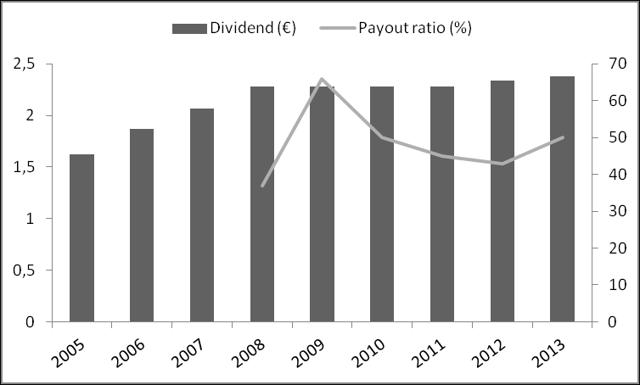 Source: Total
I believe that the key to analyze Total is the dividend sustainability. To do so, the French group must be able to generate increasing cash flows. If the company follows its asset disposal plan and reduces investments over the next years, the free cash flows could be quickly boosted and dividend increased. You can find bellow the FCF and Capex forecasts presented by the management: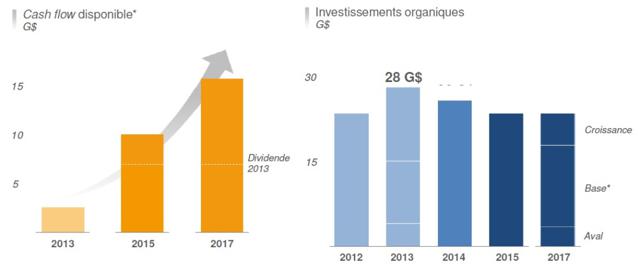 Source: YE Presentation
Valuation
The second reason why the share price has been going up over the last week regards the valuation of oil & gas companies.
The oil & gas sector appears to be still undervalued compared with the rest of the market and in terms of P/E and P/B, oil & gas companies lay far behind the other sectors. The share are still trading at an important discount, as shown in the following Datastream valuation charts.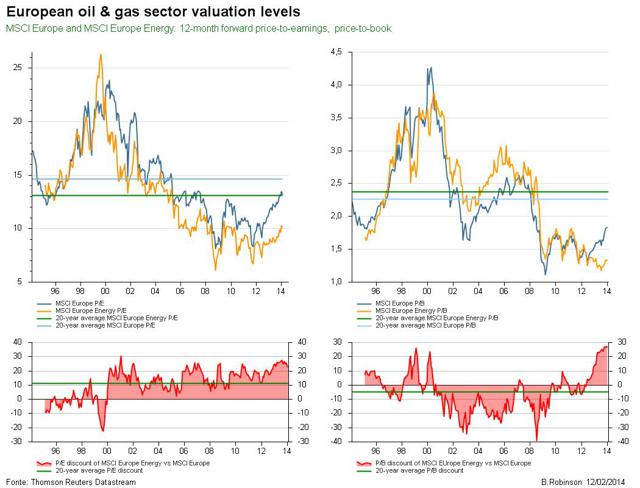 I believe that weak valuation ratios combined with more sustainable dividend payments could boost the share prices of the majors over the next year. As a consequence, the cash flow statements are going to be key in 2014 in order to understand and anticipate the evolution of the prices.
Regarding Total SA, the share is now trading at a 9.3P/E compared with 14/15 for the CAC40.
In order to get an indicative value of the share, I ran a simple Dividend Discount Model assuming that Total SA should provide growing dividends (+2.5% per year) for a very long time. I also used a 7.63% cost of equity capital using a CAPM approach.
| | |
| --- | --- |
| Risk free rate (US 10 years treasury bonds) | 2.7 |
| Average market return (S&P, 10 years avg return) | 6.99 |
| Beta | 1.15 |
| CAPM | 7.63 |
According to this simple model, the fair value of the share would be about $62.3.
Share price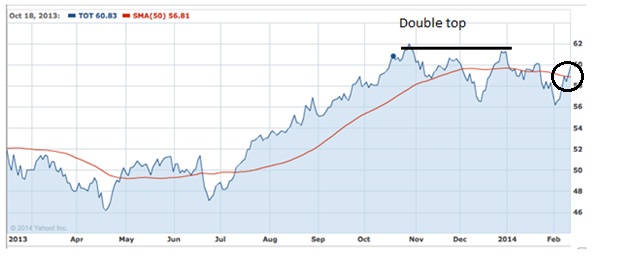 Source: Yahoo finance
The share price reached $61 at the end of last week, and if the $61/$62 double top is broken, the share price could go up to $64. However, I don't see it increasing much more as long as the crisis of the European refining sector will go on.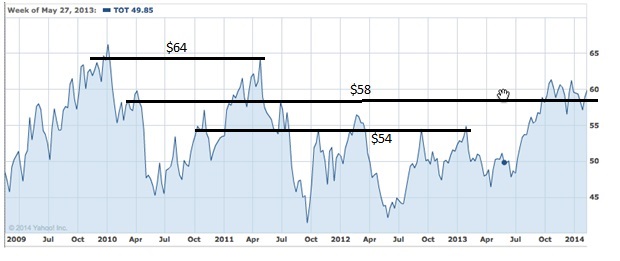 Source: Yahoo finance
A good entry price could be $57/58 or $54 in case of a more severe pullback.
Conclusion
Total SA is the biggest French company, one of the top integrated oil companies in the world and a historical dividend payer. As the group should start decreasing investments in massive projects, the FCF should be impacted positively over the next years, which makes the dividend sustainable and likely upgradeable. A diversification in liquefied gases and solar energy should finally compensate potential decreasing oil prices.
However at this price, I believe that the company is fairly valued by the market. If the share price keeps moving up over the next weeks/months, there will be great exit opportunities for value investors but Total remains a great asset for a dividend-oriented portfolio, even at this price (but I would definitely wait for a pullback!).
Disclosure: I am long TOT. I wrote this article myself, and it expresses my own opinions. I am not receiving compensation for it (other than from Seeking Alpha). I have no business relationship with any company whose stock is mentioned in this article.