Recently, I documented the differences in Forward P/Es between the Dow Industrials 30 (NYSEARCA:DIA) and the iShares DJ Transports (NYSEARCA:IYT). Simply stated, the Dow Industrials presented a more compelling argument for "value investing."
Throughout the first 4+ months of 2010, however, momentum investing has played a larger role. One can see (i.e., chart below) just how powerful that momentum has carried riskier stock assets over the last 3 months.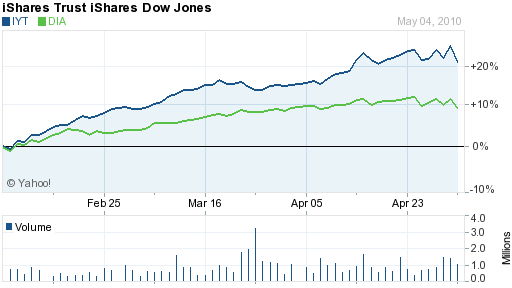 With 2 consecutive down days of trading on above average volume, though, many wonder if signs of sector rotation are emerging. After all, April's biggest laggard, SPDR Select Health Care (NYSEARCA:XLV), has been May's brightest performer.
So far, in the month of May, here are 3 ETFs that have demonstrated atypical trading patterns:
1. iShares DJ Transports (IYT). Overvalued or undervalued… it may not matter to true, blue believers. The $500M fund added $50 million more on nearly 2x the average trading volume on Wednesday, in spite of losing -1.3%.
It may be investor desire for a 5% price discount from the 52-week high, or it may be investor confidence in U.S. economic growth. Regardless, IYT remains in a fairly strong uptrend above both a 50-Day and 200-Day MA.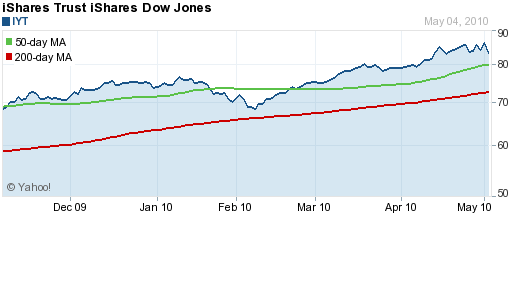 2. iPath Nickel ETN (NYSEARCA:JJN). A nickel for your thoughts? How surprising might it be to find this industrial metal at the top of a 3-month leader-board with 23% gains… and at the bottom of a 5-Day and 1-month performance table with -14.9% and -10.6% respectively?
Blame China if you've taken a recent mauling. When a country "industrializes" at the pace that China has, it requires a whole lot of nickel to manufacture everything from stainless steel to tubing to protective coating. Yet the recent sell-off for JJN can be directly tied to China's recent credit tightening through the raising of bank reserves. Indeed, China seems determined to slow growth… and that may mean less need for nickel.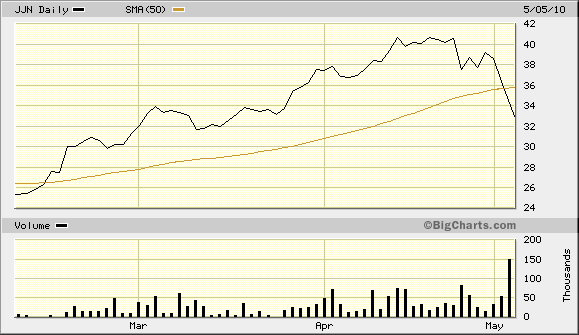 3. Claymore China Small Cap (NYSEARCA:HAO). Speaking of China, it's been 9 months with little-to-no tangible progress for small companies. HAO traded around $25.50 per share in August 09… HAO is trading around the same area right now.
The problem is… HAO experienced 2x the average volume with net inflows nowhere to be seen. What's more, when you're talking about 9 months, you're also talking about the possibility of breaking below a long-term, 200-day trendline.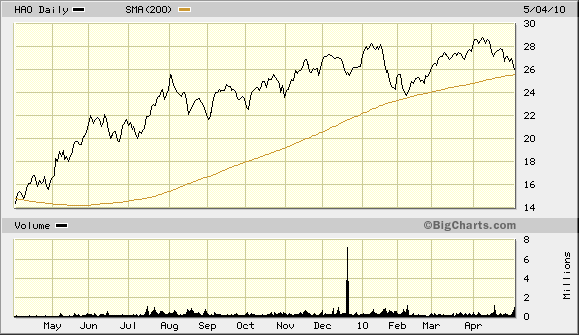 Disclosure Statement: Gary Gordon, MS, CFP is the president of Pacific Park Financial, Inc., a Registered Investment Adviser with the SEC. The company and/or its clients may hold positions in the ETFs, mutual funds and/or index funds mentioned above. The company receives advertising compensation at the ETF Expert web site from Invesco PowerShares Capital Management, LLC. The commentary does not constitute individualized investment advice. The opinions offered herein are not personalized recommendations to buy, sell or hold securities.