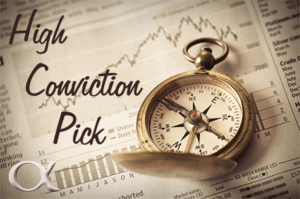 Amit Chokshi is the founder of Kinnaras Capital Management, a Norwalk, Conn.-based RIA that manages a hedge fund and separately managed accounts. The firm utilizes a deep value approach, focusing on undervalued companies that have company-specific catalysts that can result in the realization of an investment's intrinsic value within one to three years. Prior to founding Kinnaras, Amit worked in the Royal Bank of Scotland's Corporate Advisory Services group.
Seeking Alpha recently had the opportunity to ask Amit about his current highest-conviction holding.
What is your highest-conviction stock position in your fund - long or short?
I typically employ a concentrated portfolio so a handful of companies can all be very important to the performance of my hedge fund and managed accounts. That said, my highest-conviction investment is a long position in Sprint-Nextel (NYSE:S).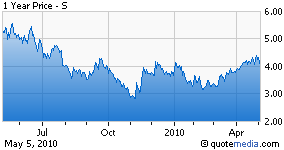 Sprint is the third-largest wireless carrier in the U.S. It's been undergoing a long and painful turnaround but the level of subscriber losses appears to be moderating, and the company has a number of intriguing catalysts paired with what I think is a very attractive valuation that should make it a compelling investment.
Can you talk a bit about the sector? How much is this an "industry pick" as opposed to a pure bottom-up pick?
My investment in Sprint is a bottom-up pick based on valuation and a few catalysts. The wireless industry is extremely competitive and offers a commoditized product, not exactly an attractive industry to invest in. Verizon Wireless (VZ, VOD) and AT&T (NYSE:T) are the two 800-pound gorillas in the space, but both have to spend considerable amounts of capital in rolling out their next-gen networks.
Sprint also competes with T-Mobile (DT), and in the prepaid space against Leap Wireless (LEAP) and MetroPCS (PCS) with its Boost and Virgin Mobile brands. Verizon and AT&T have bolstered their prepaid offerings as well, due to the growth in the space.
Can you describe the company's competitive environment? How is this company positioned vis-a-vis its competitors?
S is a weaker company compared with Verizon and AT&T. Those two peers are much larger and can leverage a larger subscriber base to generate higher margins. Sprint is the "value" plan of the three in consumers' eyes, so it's difficult for it to achieve operating margins similar to Verizon and AT&T. That doesn't mean that S can't be a much better investment than its peers.
Can you talk about valuation? How does valuation compare to the competitors?
Every investment I make is predicated on valuation and Sprint is undervalued across a number of metrics compared to its peers in both the postpaid and prepaid sectors. On an enterprise value-to-sales basis, S is valued at roughly half of the broader peer group and the same can be said on a price/book basis. Sprint is also very cheap on a free cash flow yield basis.
P/B multiples are not always appropriate for valuation - but for Sprint it's important, because they have hidden assets in the form of spectrum. Right now, companies across the telecom, media, and technology industries, whether it's Google (NASDAQ:GOOG), Microsoft (NASDAQ:MSFT), Apple (NASDAQ:AAPL), Cisco Systems (NASDAQ:CSCO), etc. - basically, take your pick - have a very strong appetite for spectrum. While I am optimistic about Sprint executing its go-it-alone strategy, I believe that the spectrum it holds on its balance sheet is more valuable than its carrying value, further amplifying the P/B valuation disparity.
In addition, Hewlett-Packard's (NYSE:HPQ) takeover of Palm (PALM) demonstrates that assets that can be exploited across a company - whether it's the WebOS system Palm has, or the spectrum S owns - can receive a healthy bid even when the target company has operational challenges.
What is the current sentiment on the stock? How does your view differ from the consensus?
The sentiment appears to slowly be changing on Sprint. Since last autumn, the sell side, with a few exceptions, was very bearish on S. However, improvements in subscriber trends, customer service, and cost controls started to attract some interest in the stock. S analysts have been in a "show me" mode, but as the investment community digests the recently released Q1 results, I think we'll start seeing some upgrades.
Does the company's management play a role in your position? If so, how?
CFO Bob Brust has done a good job in aligning the cost structure with the company's growth prospects and competitive landscape, and CEO Dan Hesse has been turning the ship around, which is evident in subscriber trends and the significant customer service improvement trends over recent quarters.
If I had one criticism, it would be that I don't sense S is going all out in terms of advertising vs. its competition. The fact is all wireless companies stink, nobody is ever raving about the actual wireless carrier they use, and the premiums Verizon and AT&T have charged over the years have been ridiculous. Consumers seem to be realizing this and we've seen a pricing war that Verizon and AT&T have initiated.
However, Sprint still is the best value in terms of what consumers get. It's also ahead of its big peers in terms of its next-gen 4G network, via its investment in Clearwire and the release of what is just going to be a spectacular phone this summer - the HTC EVO 4G. I'd like to see Hesse crank up the ad dollars ahead of the EVO 4G release, given the sweet spot S can take advantage of.
What catalysts do you see that could move the stock?
Rumors abound that by mid-June, the HTC EVO 4G phone will be released exclusively on Sprint's network. This is the first 4G phone on the market and has been incredibly well received by reviewers at third party sites like TopTechReviews and Engadget, the latter site calling the EVO 4G "the best specced phone we've ever witnessed." The phone even made a cameo appearance with Oprah Winfrey.
The EVO 4G is significant because for the first time S will have a truly compelling device to attract subscribers along with a growing network that can really showcase the phone's capabilities. Sprint does not have the cachet of a "premium" network that Verizon has, nor does it have the Apple iPhone like AT&T. The EVO 4G could be a huge catalyst for S because it could spark some serious growth in the postpaid segment of subs.
Aside from the release of the EVO 4G, Sprint has also been able to curtail subscriber losses and has been "rightsizing" its business. With sentiment generally neutral to negative, it wouldn't take much of an upswing in subscriber trends to drive share price appreciation. This is because management has streamlined the business to such a degree that marginal improvements in subscriber trends can yield outsized improvements in operating income.
What could go wrong with this pick?
Hesse and his team have done a great job in cost controls and rationalization, but that's just half the equation. The more important part is successfully executing its growth strategy, and it's not news that the wireless industry is extremely competitive.
Sprint has some very compelling products, but if it bungles the release of the EVO 4G, or if it can't aggressively curtail subscriber losses, then the stock will likely be rangebound in the $3-$4 range barring a takeover by a larger company. [Sprint closed Wednesday at $4.18.] It's also been funding the rollout of Clearwire. If there are setbacks or delays in that rollout, that could have a negative impact on S too.
Thank you very much, Amit.
Disclosure: Kinnaras Capital Management LLC manages a hedge fund and separately managed accounts that are long S.
Read more High Conviction Picks »
If you are a fund manager and interested in doing an interview with us on your highest conviction stock holding, please email Rebecca Barnett.