Shares of Coca-Cola (NYSE:KO) suffered a severe 4% decline on Tuesday as a result of a lackluster quarterly earnings report. While earnings and revenues were in line with expectations, the company spooked investors via its guidance, especially in regards to expected volume growth in 2014.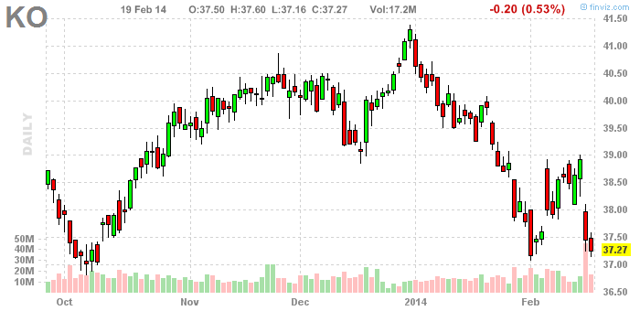 Q4 2013 Overview
For the quarter, Coca-Cola posted adjusted EPS of $0.46, up 2% from last year. However, when backing out the impact of unfavorable currencies, Coca-Cola's EPS growth was more towards 7%.
Revenues were down 5% to $11.0B. However, this was largely due to structural changes regarding deconsolidation of company owned bottling operations. Adjusting for these items, comparable currency neutral revenues were actually up 4% from last year.
Coca-Cola's weakest line item was in regards to its volumes. The company posted 1% volume growth this quarter, missing estimates for 2 to 3% volume growth. Coca-Cola noted that it is facing volume pressures from consumers shifting to "healthier" ready to drink beverages and away from sodas. Key areas of volume strength this quarter were Eurasia & Africa while North America and Latin America were areas of weakness.
2014 Outlook
Especially worrisome is Coca-Cola's guidance for 2014. The company expects its bottling operations restructuring to put further pressure on both volumes and revenues.
In addition, Coca-Cola is projecting unfavorable currencies to have a negative 7% impact on operating income growth. In Q1 alone, these headwinds may lower operating income by as much as 10%.
The company is also expanding its productivity initiatives, targeting cost cuts of $1.0B per year by 2016. The primary components of this program will include finding efficiencies in the global supply chain, lowering media spending, and technology system standardization. This program will likely have a negative impact on Coca-Cola's reported EPS figures in 2014.
Dividend increase coming soon
Perhaps the only bright spot this quarter for Coca-Cola was in its capital return program. In 2013, Coca-Cola bought back over $3.5B shares and paid out nearly $5.0B in dividends for a total shareholder return of $8.5B, or about 5.2% of the current market cap.
In 2014, the company is targeting share repurchases of $2.5B to $3.0B.
In addition, it is very likely that Coca-Cola will be increasing its dividend sometime in within the next few days. The company's last quarterly dividend increase came on February 21, 2013, and was for 10% to $0.28 per share, up from $0.255.
I predict Coca-Cola to increase its quarterly dividend by at least $0.02 per share to $0.30, implying a forward yield of 3.20%. My reasoning is that while EPS growth has stalled, FCF remains robust for the company. Increasing the dividend to $0.30 per share would result in a dividend payout ratio of 70% of FCF and about 60% of EPS. While less than ideal, Coca-Cola is more than capable of having its dividend at this level given its ample cash reserves and debt metrics.
Coca-Cola hit a homerun via its Green Mountain Coffee Roasters investment
Earlier in the month, Coca-Cola made a surprise $1.25B investment into Green Mountain Coffee Roasters (NASDAQ:GMCR). That company will issue 16.7M shares to Coca-Cola resulting in a nearly 10% equity stake. As part of the agreement, both companies will be collaborating with the production and sale of cold Coca-Cola branded products delivered via the pod-based Keurig platform.
As noted in the above-linked article by SA contributor Bill Maurer, this move reeks of desperation on the part of Green Mountain Coffee Roasters. The company has been seeing revenue growth flatline over recent quarters. However, with this deal sending shares much higher, investors in the company will likely now ignore these fundamental trend reversals.
As a Coca-Cola investor, I think this move is a good one. First, the company has already made money on the investment. At current prices, Coca-Cola's stake value has increased by over $700M.
However, more important is that Coca-Cola products will now be available via the Keurig machines. This platform has a massive install base, being ubiquitous in nearly every doctor's office, waiting room, commercial office space, etc.
Meanwhile, the SodaStream (NASDAQ:SODA), with its sole focus on carbonated beverages, is the clear loser. Coca-Cola will now likely not be available via that platform. However, there is the outside chance that PepsiCo (NYSE:PEP) makes a similar equity investment into SodaStream.
Given consumers' strong brand preferences, this is a serious blow to SodaStream's long-term viability. Also, let us be honest, a dual coffee/soda machine makes much more sense than a pure play soda making machine, especially if many consumers already own and are familiar with the former.
Conclusion
Overall, Coca-Cola reported a decent quarter. However, the guidance stunk, hence the 4% decline. There are some bright spots though, with the very likely upcoming dividend increase and the growth potential via the Green Mountain Coffee agreement/investment.
Disclaimer: The opinions in this article are for informational purposes only and should not be construed as a recommendation to buy or sell the stocks mentioned. Please do your own due diligence before making any investment decision.
Disclosure: I am long KO. I wrote this article myself, and it expresses my own opinions. I am not receiving compensation for it (other than from Seeking Alpha). I have no business relationship with any company whose stock is mentioned in this article.