BlackBerry (NASDAQ:BBRY) was in-play after yesterday's regular trading session as Facebook (NASDAQ:FB) announced the $19 billion acquisition of WhatsApp -- the wildly popular messaging application. On February 19, 2014 Facebook disseminated the following press release laying out the deal terms and motivation for its most recent acquisition:
MENLO PARK, Calif., Feb. 19, 2014 /PRNewswire/ -- Facebook today announced that it has reached a definitive agreement to acquire WhatsApp, a rapidly growing cross-platform mobile messaging company, for a total of approximately $16 billion, including $4 billion in cash and approximately $12 billion worth of Facebook shares. The agreement also provides for an additional $3 billion in restricted stock units to be granted to WhatsApp's founders and employees that will vest over four years subsequent to closing.

WhatsApp has built a leading and rapidly growing real-time mobile messaging service, with:

Over 450 million people using the service each month;
70% of those people active on a given day;
Messaging volume approaching the entire global telecom SMS volume; and
Continued strong growth, currently adding more than 1 million new registered users per day.

The acquisition supports Facebook and WhatsApp's shared mission to bring more connectivity and utility to the world by delivering core internet services efficiently and affordably. The combination will help accelerate growth and user engagement across both companies.
WhatsApp is the leading instant-messaging application exciting investors in the social media space with stunning growth rates in user numbers and high user engagement:
(Source: Facebook + WhatsApp Transaction Summary Presentation)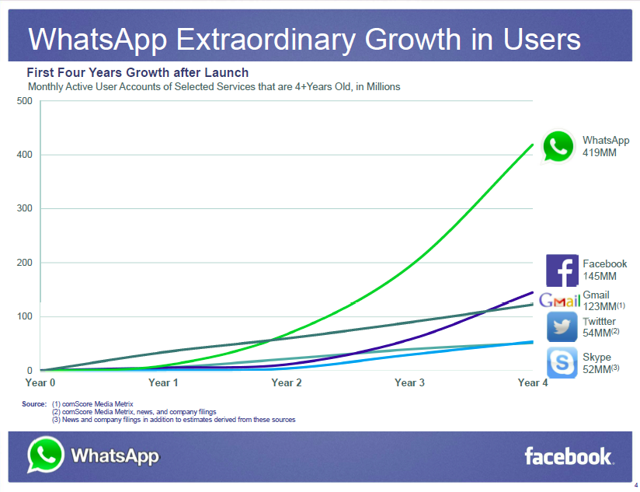 To some extent, the purchase of WhatsApp reminds me of the time when Microsoft (NASDAQ:MSFT) bought Skype -- the instant-messaging client that offered both free- and premium chat-, phone- and video call services. Microsoft ultimately shelled out $8.5 billion for a company that didn't even make a profit.
Many innovative, large-cap tech companies ultimately run into constraints in terms of growth and Facebook is no different here.
When growth finally slows because of deep market penetration and -saturation, companies often resort to acquisitions to add above-average growth. I think many of those acquisitions aren't necessarily driven by economic considerations but because investors want to see capital deployment. Consider Apple (NASDAQ:AAPL) and the activist push that prompted the tech company to pay a dividend and buy back shares instead of just sitting on more than $100 billion in cash.
Not surprisingly, I think Facebook's whopping $19 billion transaction overvalues WhatsApp. Facebook's deal is unlikely to be driven by pure economics but rather because Facebook needs to be associated with explosive growth rates to justify its premium valuation.
As a result of Facebook's news release yesterday, BlackBerry shares jumped in after-hours trading and are now up 6% as investors anticipate a higher valuation for BlackBerry's 'BlackBerry Messenger.'
(Source: Yahoo Finance)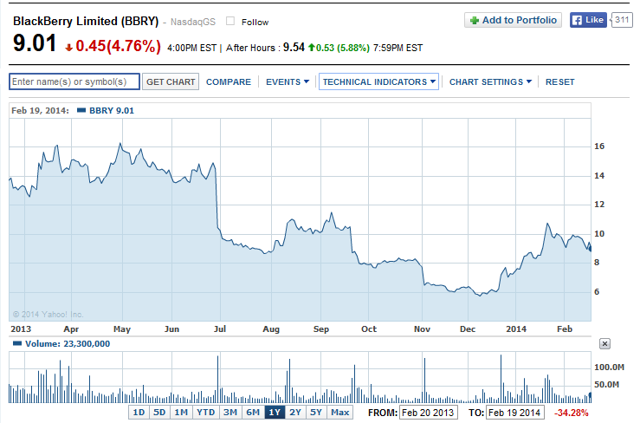 BBM valuation based on Facebook's deal terms
WhatsApp has around 450 million users. As Facebook paid $19 billion for the transaction, this translates into approximately $42 per user - a proud price indeed. BlackBerry has about 80 million monthly active users (data from October 2013) and has much more potential to grow its user base as its messaging application went cross-platform to include Android- and iOS users in the fourth quarter of 2013. On October 29, 2013, BlackBerry issued the following press release:
After the amazing launch of BBM™ on Android® and iPhone® devices, with more than 10 million downloads in the first 24 hours, BBM has now ended its first week with more than 80 million monthly active users, including over 20 million new users on Android and iPhone devices.

During its first week, BBM was the top free overall app in 35 countries in Google Play™ and in 107 countries in the App StoreSM, and continues to maintain a strong position in key markets such as Canada, the US, the UK, Indonesia and much of the Middle East, to name a few.

"It is great to see so many people downloading BBM, but the true measurement for us is engagement - the connections being made and the conversations in which our BBM community engages. The power of BBM has always been the active, real conversations and interaction that our customers enjoy," said Andrew Bocking, Executive Vice President of BBM at BlackBerry. "From here on out, we will focus on active users of BBM and will no longer focus on simple download numbers."
With 80 million monthly active BBM users, the Facebook deal would value BBM at $3.36 billion. In other words: Given the deal terms of Facebook's WhatsApp acquisition, BBM alone would account for approximately 72% of BlackBerry's current market capitalization.
While I think Facebook pays a significant premium for WhatsApp's leadership position in the instant-messaging segment and rapid user growth, it shows what valuation upside certain business units can have when investors are forced to change their perception.
Conclusion
Facebook's WhatsApp acquisition has implications for BlackBerry's BBM valuation. The acquisition highlights that BlackBerry sits on a promising asset that could develop into a crown jewel if BBM continues to be a success with Android and iOS users and user engagement remains high. However, BBM alone is not BlackBerry. While the valuation implications are attractive, the Facebook deal is likely to make for a quick pop in BlackBerry's share price only.
I still think that the long-term prospects of a restructured BlackBerry with a strong enterprise business, QNX and potentially a hardware unit define the core intrinsic value of the company. BlackBerry's stock price is likely to remain volatile in the short term because of the deal economics laid out above and because speculators will try to make a quick dollar. Long-term investors, however, should benefit from a fundamental turnaround and repositioning of the company that will happen slowly and without much excitement at the beginning. Investors who are only focusing on BBM and buy on the hype surrounding the Facebook deal are likely to miss the bigger turnaround story unfolding in front of us. Strong, long-term BUY.
Disclosure: I am long BBRY, AAPL. I wrote this article myself, and it expresses my own opinions. I am not receiving compensation for it (other than from Seeking Alpha). I have no business relationship with any company whose stock is mentioned in this article.