In the United States, Cinco de Mayo has become an excuse to celebrate Mexican culture often with a round of libations. Many participants may not even realize what they are celebrating (it's NOT Mexican Independence Day), but when the Mexican beer and tequila flows no one seems too concerned about legitimizing. So in the spirit of this unique observance of the Battle of Puebla, we produced a screener related to stocks in the Alcoholic Beverage segment of Consumer Goods sector.
At Ockham, we cover 11 companies that produce beer around the world. Of the two large Mexican breweries we have coverage on Formento Economico Mexicano (NYSE:FMX) but we do not have coverage on Groupo Modelo at this time. Interestingly, we do not have a single one of these 11 companies rated as Undervalued or Greatly Undervalued. However, data collected by the Motley Fool CAPS survey suggests they believe 10 of the 11 companies will outperform the indexes (claiming a rating of either 4 or 5 stars). Apparently, the crowd is "thirsty".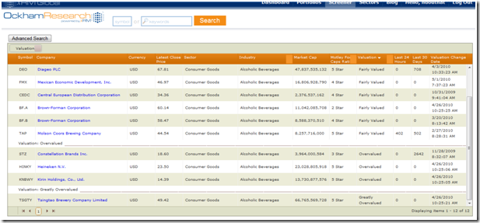 Seven of the beer and spirits makers that we cover currently have grabbed our Fairly Valued or neutral rating. Among that group is Formento Economic Mexicano, the parent company of FEMSA which makes such noteworthy cervezas as Sol, Dos Equis, Bohemia and Tecate. We are not suggesting that investors go out and buy this stock because it will get a sales boost on Cinco de Mayo; although, we do not believe the valuation is excessive.
Other stocks that we are less enthusiastic about their valuation in this segment include Constellation Brands (STZ), Heineken (HINKY.PK), and Kirin Holdings (OTCPK:KNBWY). All of the stocks are a little too hot according to our methodology and receive our Overvalued rating. Each of these companies has seen their stock price rise more than we think is justified by the underlying fundamentals of cash earnings and sales.
However, the one brewery that stands apart from the pack is Tsingtao Brewery (OTCPK:TSGTY) as it receives our most bearish Greatly Overvalued. This is nothing against their delicious products, but the stock has easily outperformed its peers over the last year. We only recently initiated coverage on them, but we believe the stock has gotten overheated at this time and could use a breather. Furthermore, the crowd as measured by the Motley Fool remains extremely bullish on Tsingtao, and according to their records no one has voted for this company to underperform the S&P 500 since March of 2008! Over the longer term, these opinions have been correct as TSGTY has outperformed SPY if you look back over a year. However, more recently, Tsingtao has taken a fall versus the S&P 500 and contrarian investors may want to cash in profits on this stock before the crowd's perception changes.
Besides, Cinco de Mayo is for Mexican beer. Speaking of…