Introduction
In this article I'll have a closer look at IAMGOLD (NYSE:IAG), a gold producer which saw its share price plunge by approximately 50% in 2013. I'll provide my view on the company's financial results and the status of its balance sheet as of the end of last year. Thereafter I will provide my outlook for 2014 and this will result in my conclusion at the end of this article.
All images in this article were directly sourced from the company's press release.
My view on the financial results
IAMGOLD reported a gold production of 835,000 ounces for 2013, which resulted in a total revenue of $1.15B, a 21% decrease compared to 2012 which is obviously mainly caused by lower gold prices. The company recorded a net loss from operations of $670M as it had to incur an impairment charge of $888M related to the value of its assets. This resulted in a net loss of $832.5M attributable to IAMGOLD which corresponds to a net loss per share of $2.21.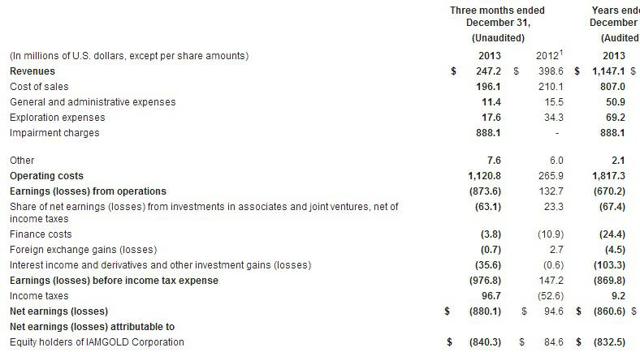 As a non-cash charge always has a huge impact on the bottom line but doesn't necessarily impact the underlying business, I always like to have a look at the cash flow statements of a company as well, as I believe these statements provide a better view of the quality of the underlying business.
So when looking at the cash flow statements, IAMGOLD had an operating cash flow before changes in working capital of approximately $306M which was absolutely insufficient to cover the $617M the company spent on capital expenditures (see the third column on the following image).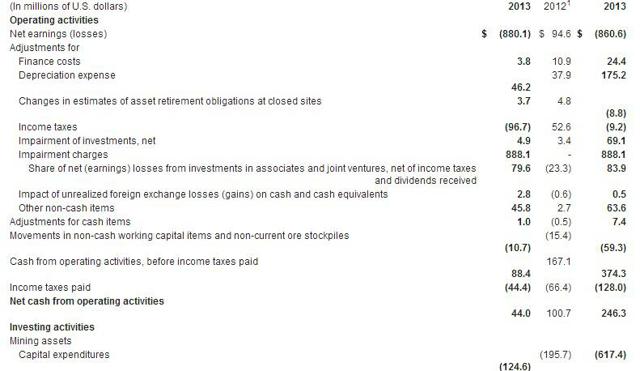 My view on the balance sheet
Moving over to the balance sheet, IAMGOLD had a very healthy working capital position of approximately $521M which will very likely be tapped into to fund the expected capital expenditures in 2014 (see next paragraph). The current ratio was a very high 3.42 which indicates IAMGOLD won't run into financial difficulties in the short run, as a ratio higher than one indicates the company's current assets are sufficient to cover its current liabilities.
After deducting the impairment charge from the equity side of the balance sheet, IAMGOLD's book value was roughly $7.50/share so the company is currently trading at a discount of 46% on its book value which is a bit surprising as IAMGOLD has a very robust working capital position and just $1.3B in total liabilities.
The outlook for 2014
IAMGOLD has provided a production guidance of 835-900,000 ounces of gold for 2014. As the lower side of the guidance is the production number of 2013, I feel quite confident to state I expect a decent production increase. The midpoint of the official guidance is 867,500 ounces of gold which would be an increase of almost 4% compared to last year. If IAMGOLD is successful in keeping its costs under control, 2014 should be slightly better than 2013.

The expected capital expenditures for 2014 are estimated to be $400M which is 40% lower than the level in 2013. Thus by increasing revenues from the increased gold sales and by decreasing the capital expenditures, IAMGOLD negative free cash flow should be reduced but will very likely still be negative as I doubt IAMGOLD will have more than $400M in operating cash flow.
Conclusion
I'm not keen on initiating a long position in IAMGOLD at this moment because I seriously doubt the company will be free cash flow positive in 2014 based on the current gold price of approximately $1300/oz. Even though the company will slash its capital expenditures, I'm afraid the operating cash flow will be insufficient to cover the remaining planned capex, which will cause IAMGOLD to tap into its current working capital of over half a billion. This will further deteriorate the status of the balance sheet if IAMGOLD isn't able to return to a free cash flow positive status sooner rather than later.
In IAMGOLD's case, it could be a good idea to write some put options, as the option premiums are relatively attractive. I'm looking at the P3s expiring in September of this year at an option premium of $0.20/share. This would result in an annualized return of 11.4% which isn't bad considering there's a safety cushion as the current share price is trading approximately 33% above the strike price. I do believe IAMGOLD could be an attractive takeover target for another mining company if sufficient synergies could be created.
Disclosure: I have no positions in any stocks mentioned, and no plans to initiate any positions within the next 72 hours. I wrote this article myself, and it expresses my own opinions. I am not receiving compensation for it (other than from Seeking Alpha). I have no business relationship with any company whose stock is mentioned in this article.