In today's Oxen Group market recap, What's Next For The Market, we will be examining today's important news, digesting key economic data, delving into company news that matters, charting the markets, and forecasting what we see coming next. Our focus ticker today will be BlackBerry (NASDAQ:BBRY). We want to examine whether two new stories that broke for BBRY that led to a nearly 5% decline were important and whether they impact the long-term outlook for the name.
Market Overview
The market was only slightly weaker on Wednesday (mostly dropping the last thirty minutes), despite expected data coming in quite bearish. The key to the day was the announcement of Housing Starts and Building Permits for January, along with FOMC Minutes. Housing came in much weaker than expected, with a 16% drop in Starts, as well as a 5%+ drop in Permits. Yet, the market may have gotten a "free pass" due to the fact that severe weather may have caused part of the drop.
Looking more at housing numbers, this was the lowest reading for Starts since September of 2013, when the number was at 873K. As for weather in January, the hardest-hit regions were the Midwest and South, and that is where we see a lot of the weakness. The Midwest saw housing starts drop 68% and South down 14%. In the Northeast, housing starts were actually up 62%. The West has had mixed weather, and the numbers dropped 17% there. In essence, the Midwest was the crushing blow, as the number went from 155K in December to 50K. During that time, though, the region saw massive snowstorms as well as unusually cold temperatures.
While not just throwing this data under the covers, the data does suggest that certain regions did experience unusual drops that can be attributed to weather. At the same time, the matter of fact is that housing has slowed down, so some correcting off of that makes sense.
What may have helped the market not roll over completely was the prospect of the Fed's Minutes, and the Fed potentially acknowledging some economic troubles in their latest meeting. Just acknowledgement would like be good enough for the market, as it means that a slowdown to taper could occur. The minutes were relatively inconclusive, though, upon release. Some members wanted slowdown in taper, others to speed it up. Most agreed that the borrowing rate could not increase when we get to 6.5% unemployment, and that was slightly bullish. Overall, it was nothing new.
In general, the market is consolidating at highs, and it will take a bigger catalyst to break out. In company news for the day, we were limited with the only major story being Zale (NYSE:ZLC) being bought out by Signet (NYSE:SIG). BBRY was also in the news for two separate reports about problems with T-Mobile (NASDAQ:TMUS) as well as Typo LLC, a company they sued.
At the close, the Dow Jones (NYSEARCA:DIA) is down 89 points. The Nasdaq (NASDAQ:QQQ) is down 35 points, and the S&P 500 (NYSEARCA:SPY) is down 12 points.
In Focus - BlackBerry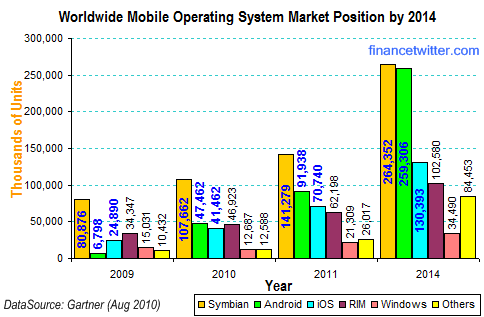 Today, in our In Focus section, we will be focusing in on BlackBerry. Over the past few months, we have been supportive of the company under new leadership from CEO John Chen. In fact, we placed the company in our Four Stocks That Have 100% Potential article to begin the year. In that article and in support of the company, we highlighted that BBRY is undergoing what could be a very beneficial restructuring process, in which it moves away from consumer devices into four new divisions: software, enterprise, consumer devices, and cross-platform messaging. The company's diversification of revenue, as well as move to reinvigorate enterprise and software over consumer hardware is helping the company get back to what it does well (see its lag in OS share above). The only uncertainty now is how long the process will take and how successful the company will be in this transformation. Given current valuations (price/sales at 0.4x and price/book at 0.5x), these risks are more than priced into the stock. As we noted in our previous article:
This is the make-or-break for BBRY. The company has to start to show that they can transform their business, shed the consumer-based market for other markets, and have success in the four key areas for the company. Execution is the key here, and the company will be skewered (and maybe bankrupt) if they cannot properly execute the four-prong plan. Yet, if they can start to see some pickup and reformation of the business, this story will move up, quick, fast, and largely. This is a stock that can grow 100% and potentially more…not that they will or are likely to. Yet, the upside potential is huge given that literally everyone appears to be against them.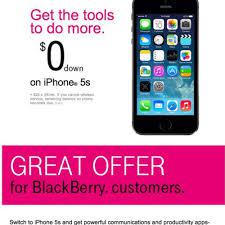 BBRY saw a somewhat significant drop today after news broke yesterday that CEO John Chen took issue with T-Mobile US for encouraging BlackBerry users to move to Apple's (NASDAQ:AAPL) iPhone, reported by Bloomberg. T-Mobile offered its customers $0 down to switch to iPhone 5S, highlighting the "powerful communications and productivity apps." The move by TMUS was definitely a shot to the consumer device portion of BBRY's business. Yet, TMUS later commented that it would provide "free, expedited shipping of BlackBerry devices by the end of this week as an additional courtesy to our BlackBerry customers."
Additionally, another somewhat bearish news article broke today, in which Typo Products told a U.S. judge that BlackBerry's patent claims were invalid. BlackBerry sued Typo Products in January over an attachable keyboard for the Apple iPhone. Today, Typo rebutted by noting that the patents that BBRY was claiming were invalid due to the design being available previous to the patent in 1988. This legal suit is unlikely to develop any verdict in the near term, but it does set an interesting precedent for BBRY to defend keyboards for phones that could give it some leverage to attract QWERTY customers moving forward.
Both of the news pieces have some sort of negative headline impact on the company, thus the movement down today. The question, though, is whether these developments change the overall thesis that we have for the company in 2014. As we can see, these developments are just "noise" and are not game changers. For the first news item, BlackBerry is moving away from its device business and focusing more on its software and enterprise businesses. For example, The Pentagon's large purchase of BBRY phones is an important move for the company, as it shows that BBRY can have success getting back into the enterprise market. As the company is restructuring itself, the device business's issues, such as today's issues with TMUS, will have less and less importance moving forward.
For the second news, the patent that BlackBerry claims is the attachable keyboard, which is an important part of BlackBerry's devices. We believe that the adoption of the attachable keyboard accessory for Apple's iPhone wouldn't affect BlackBerry's device business a lot, because customers usually don't concern too much about the keyboard accessory when make the purchasing decisions of mobiles. What's more, as we mentioned before, as the company's device business is going to be less and less important in the future, the patent wouldn't affect its overall business much.
Moving forward, we see today's pullback as well as the recent the drop of about 10% in the past few weeks is producing another great opportunity to get involved in BBRY. As the company moves away from consumer devices, negative headlines around this area of the business, while still important, can be used as ways to enter the stock. Many in the market still see BlackBerry as mostly a device company, but in our thesis, we see BBRY as moving into new directions under new leadership. The important headlines to watch are how software, messaging, and enterprise develop throughout 2014. The rest is simply noise.
On this recent pullback, a great way to approach this company is by selling puts. We can make money in the short term, and if we do see significant dips in the stock, we have the potential to add the stock at a lower price. Right now, we can sell the $6 puts for April expiration, which is worth more than 25% potential.
Charting the Markets
In this section, we examine the current market setups in the S&P 500, Dow Jones, Nasdaq, and Russell 2000 (NYSEARCA:IWM).
S&P 500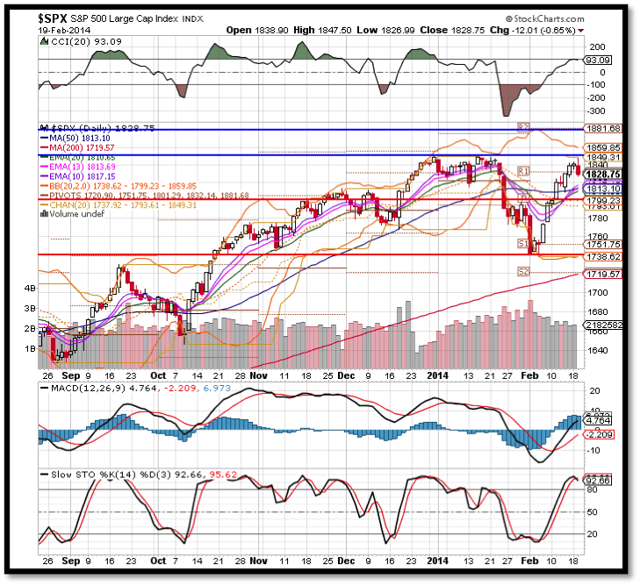 Resistance lines to watch:
1st - 1850 2nd - 1880
Support lines to watch:
1st - 1800 2nd - 1730
Current Sentiment:
Range-bound at Inflection Point
Analysis:
The S&P retook 1800 and is nearing key resistance at 1850. A test of that line this week will be key to see if we are chugging higher or staying range-bound. 1800 is now support with another key line now until 1730.
Dow Jones Industrial
Resistance lines to watch:
1st - 16150 2nd - 16500
Support lines to watch:
1st - 15470 2nd - 14800
Current Sentiment:
Bottoming of Correction
Analysis:
The Dow Jones retook its 200-day MA at 15470, and it has formed some support at the 15400 area. From there, the 148-line is the next major support line. 16150 is the key resistance area right now before 16500. Dow is not as strong as the S&P.
Nasdaq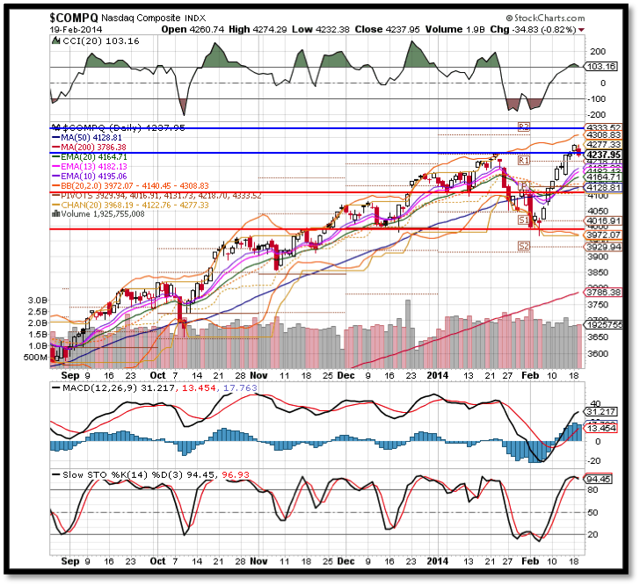 Resistance lines to watch:
1st - 4250 2nd - 4300
Support lines to watch:
1st - 4120 2nd - 4000
Current Sentiment:
Bullish
Analysis:
The QQQ is the most bullish, as it broke key resistance on Tuesday at 4250, which was the high of the year. That breakout is strong and now has resistance at 4300 next. Support now sits at 4120. If we see follow-through tomorrow, it will signal another cycle higher.
Russell 2000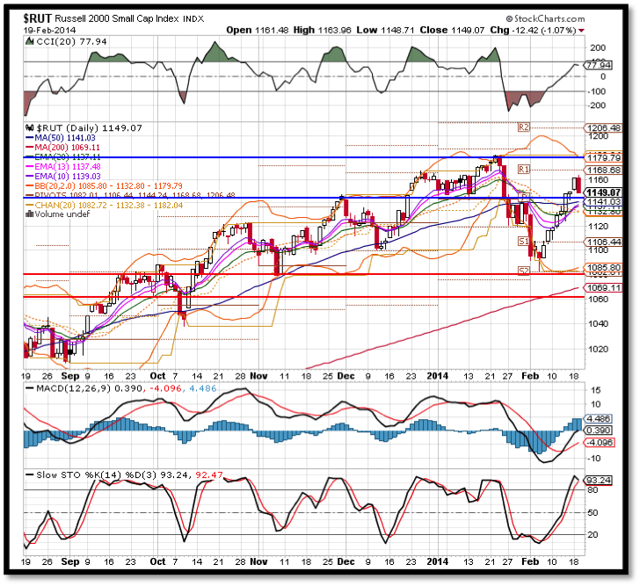 Resistance lines to watch:
1st - 1145 2nd - 1180
Support lines to watch:
1st - 1080 2nd - 1060
Current Sentiment:
Bullish, Inflection Point
Analysis:
The small-cap index finally broke out from the 1145 area but still has a ways to go before the 1180 resistance area. The "V" recovery looks strong, and the CCI, MACD both have room to grow.
Thursday's Outlook
The market has been holding up relatively well despite some weakness in economic data. Many market experts blame the weather, and the Fed sees the issues as transitory. Should we be afraid? Some have suggested we are destined for a 1929-style stock crash, while others suggest we are consolidating before another major move higher. The question and uncertainty is playing out with the flat market and wild ups and downs we have seen so far this year. The bad news - we don't expect this to stop anytime soon for the marketplace.
Moving into Thursday, the market will be digesting several important developments. On the data side, we get some more insight into employment data with initial jobless claims, CPI, the Philly Fed Index, and Leading Indicators. Another busy morning of data is unlikely to calm any recent woes, as Philly Fed focuses on February and Leading Indicators focuses on January. While the market, in some ways, appears numb to the data due to cold weather excuses, at some point, some more negative moves on data will likely occur.
The data, though, may end up being overshadowed by earnings reports from Tesla Motors (NASDAQ:TSLA), Wal-Mart (NYSE:WMT), and DIRECTV (DTV) before tomorrow's open. While TSLA is in no way a bellwether, it is the "growth stock" of the market right now and could control the fate of many momentum names. WMT is an important bellwether, and after a blunder by Coca-Cola (NYSE:KO), it plays an important role.
Additionally, we have an important HSBC Flash Manufacturing PMI for China tomorrow morning that should give insight into whether the downside is done for now in that region, as well as crucial manufacturing PMIs for France, Germany, Italy, and the entire Euro-Zone. Foreign data has become critical to the market, as a rebound in both Southeast Asia and the European bloc remain important storylines to watch this year.
Disclosure: I have no positions in any stocks mentioned, and no plans to initiate any positions within the next 72 hours.
Business relationship disclosure: I have no business relationship with any company whose stock is mentioned in this article. The Oxen Group is a team of analysts. This article was written by David Ristau, one of our writers. We did not receive compensation for this article (other than from Seeking Alpha), and we have no business relationship with any company whose stock is mentioned in this article.