Editors' Note: This article covers a stock trading at less than $1 per share and/or with less than a $100 million market cap. Please be aware of the risks associated with these stocks.
Boeing's (NYSE:BA) fuel-efficient aircraft like the 737, 787, and 777 helped the company gain new orders for its commercial airplanes. Boeing's commercial-aircraft segment contributed around 63% to the total revenue in the third quarter of 2013. In the same quarter, Boeing reported commercial-aircraft delivery growth of 7.8% (yoy) to 648 aircraft, mainly driven by the redeliveries of Boeing 787 Dreamliner, 737, and 777 aircraft. Its 737-Family aircraft are generating significant revenue growth opportunities for the company and contributed nearly 79% of Boeing's total orders in 2013.
Boeing's 737-MAX aircraft is one of the fuel-efficient aircraft in 737-Family, with advanced LEAP-1B engines, developed by CFM international, a joint venture between General Electric (NYSE:GE) and Snecma. With superior fuel efficiency of 737, Boeing received orders for this aircraft. By upgrading their fleets with 737 family aircraft, airliners will reduce fuel consumption by 14% compared to current-generation aircraft model.
Strong order book
Boeing recently received an order of 40, 737 aircraft from General Electric Capital Aviation Services (GECAS), the financial and leasing arm of General Electric. This order consists of 20, 737-MAX 8 and 20 Next-Generation 737-800 worth $3.9 billion. With this order, GECAS's total order for 737-MAX reached 95 aircraft and the Next-Generation 737 reached 387 aircraft. Another airliner, SpiceJet recently ordered 40, 737-MAX aircraft worth $4 billion and will replace its existing fleet of current-generation 737 with these fuel-efficient aircraft. One more airliner, Flydubai also placed an order of 75 Boeing 737-MAX 8 and 11 Next-Generation 737-800 worth $8.8 billion last month.
Boeing had a steep rise in its order book for 737 models from 178 aircraft in 2009 to 1,208 aircraft in 2013. Its 737 models are leading the company's order book as depicted in the graph below.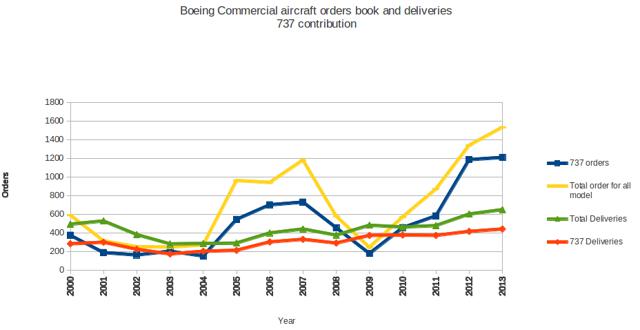 Click to enlarge
Source: Company data
Boeing struck deals with more than 30 customers, which leads to a backlog of 1,763 Boeing 737-MAX aircraft. It is expected the company with the strong backlog for its 737 aircraft and its timely deliveries could significantly boost its top line.
Boeing's backlog as on December 2013

Source: Company Data
In the fourth quarter of 2013, Boeing received orders of 366 aircraft for 737 models and delivered 110 aircraft. With the 737 aircraft, its backlog for 2013 grew by $26 billion to $441 billion. Furthermore, I expect the company's initiatives for expanding the manufacturing facilities will monetize the company's backlog into revenue, to support its 2014 revenue guidance of $87.5 billion-$90.5 billion.
Enhancing production rate
To speed-up its 787 Dreamliner production, Boeing will expand its South Carolina facility and Helena facility. With this, Boeing will raise the production rate of its 737 from 38 aircraft to 42 aircraft a month. Boeing will incur capital expenditure of around $35 million to enhance the Helena manufacturing area by around one-third of the current area, to 167,099 square feet.
By enhancing the production activity of 737 aircraft, Boeing could boost its top line with additional revenue of around $4.8 billion from 737-Family aircraft in this year. This calculation is based on the increased production rate, and at the average 737-Family aircraft price of $95 million, without considering the discounts.
Boeing's expansion plan will also enable it to compete with Airbus, a unit of European Aeronautic Defense and Space Company (OTCPK:EADSY), which had 53% market share last year. Airbus is manufacturing A320 aircraft, a close competitor of Boeing 737, at the production rate of 42 aircraft a month. Boeing, with the above discussed production enhancement strategy will deliver higher aircraft compared to Airbus A320. Boeing's decision of increasing the production rate will help it face the competition from Airbus.
On the other side, Airbus is also expected to raise its aircraft list prices by around 2.6% this year. I expect the increase in aircraft prices by Airbus will give Boeing the leverage to raise its prices, which will further enhance revenue.
Conclusion
The strong order growth for its 737 family from various airline operators will enhance Boeing's top line. With more fuel-efficient 737 aircraft, Boeing is expected to strengthen its presence in the industry and help the company achieve its revenue guidance of $86 billion. Further, the production expansion plan will enable the company to convert its backlog into revenue at a good pace.
Disclosure: I have no positions in any stocks mentioned, and no plans to initiate any positions within the next 72 hours. I wrote this article myself, and it expresses my own opinions. I am not receiving compensation for it (other than from Seeking Alpha). I have no business relationship with any company whose stock is mentioned in this article.