Altria (NYSE:MO) has always been one of the premier dividend stocks out there. The company has a long history of dividend-growth as well a culture of extreme focus on shareholder returns. However, Altria also has something else going for it, namely the possibility of gaining a foothold into the fast growing e-cigarette market.
Altria plans to introduce MarkTen nationwide starting in Q2 2014
On February 19, Altria announced that its wholly owned Nu Mark subsidiary plans to launch its MarkTen electronic cigarette brand nationally sometime during Q2 2014.
While Altria currently controls nearly 50% of the regular US tobacco market, it has nearly zero presence in the burgeoning e-cigarette marketplace.
The reason? Simply put, Newport maker Lorillard (NYSE:LO) beat Altria to the punch when it bought Blu in 2012 for $135M. As a result, Altria and others have fallen way behind Lorillard, with the Blu brand now enjoying an estimated 40% market share.
The e-cigarette market will likely be the last area of major growth for US based tobacco companies as traditional cigarette smoking is clearly in secular decline. It is estimated that 90% of adult smokers are aware of e-cigarettes with about two-thirds having already tried them.
As shown below, this market is seeing extremely fast growth, with a CAGR of over 80% to $1.0B since 2011. For 2014, some analysts call for e-cigarette sales to nearly double again, to an estimated $1.7B.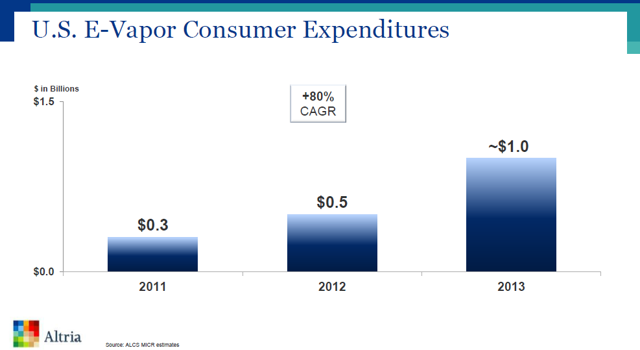 How big can MarkTen be?
MarkTen has huge potential given that it will have Altria's extensive marketing resources and supply chain behind it. The company has been investing significantly into the product, trying to improve its flavor appeal. This is a very important feature as cigarette smokers generally dislike changes to the "feel" of the product.
Altria is also providing USB chargers with its single unit MarkTen packs. While this does add some upfront costs, it allows for buyers to use the product without needing a separate charger.
In Arizona, where MarkTen has been available since late 2013, it has already gained a remarkable retail market share of nearly 50% in a mere 7 weeks. This is likely due to the product quickly gaining distribution to over 1,900 retail stores in the state. If MarkTen is able to gain any traction nationwide, it will provide a huge boost to Altria overall.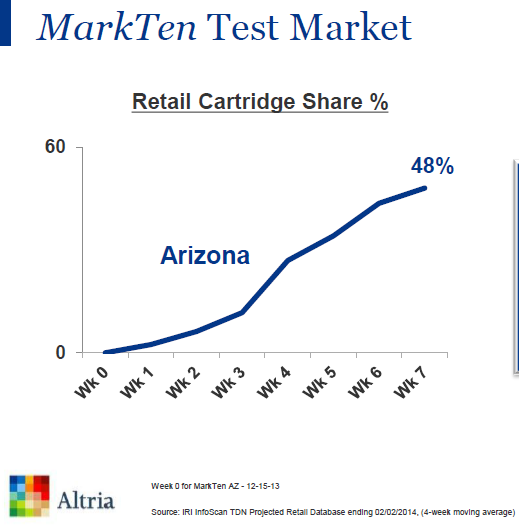 Conclusion
In my opinion, Altria's stock price is currently not pricing in any sort of revenue growth via e-cigarettes. However, it is clear that MarkTen will steal some market share from Lorillard's Blu brand. Even a modest 10% of the market may result in added revenues of $170M in 2014.
Given Altria's current 5.50% dividend yield and modest forward PE of 14x, the stock is hardly expensive. For those looking for a cheap income stock with a potential upside catalyst via MarkTen, Altria is a stock worth considering.
Disclaimer: The opinions in this article are for informational purposes only and should not be construed as a recommendation to buy or sell the stocks mentioned. Please do your own due diligence before making any investment decision.
Disclosure: I am long MO. I wrote this article myself, and it expresses my own opinions. I am not receiving compensation for it (other than from Seeking Alpha). I have no business relationship with any company whose stock is mentioned in this article.