Executive summary:
Lower global smoking and tobacco use is pure hype.
As the industry moves into the high-tech world, even more profits will be achieved.
The largest tobacco companies will continue to reward shareholders with very real dividends, and perhaps capital appreciation.
___________________________________
I have been hearing for quite a few years now, how the anti-smoking campaigns have been working so well that fewer and fewer people smoke, or use tobacco products. The regulations on the tobacco industry actually have transformed the business sector from a runaway train, into a despised product by virtually every public organization in the world.
How can anyone consider investing in Altria (NYSE:MO) or Philip Morris (NYSE:PM) when the core business of both of these enormous companies are shriveling up and dying?
There are simply no virtues that any normal human being can think of that can defend a product that kills people, and is still legal. Of course while the "freedom" to smoke has been regulated to an extent that it makes the cigarette smoker more reviled than the pot user, the evidence of the actual numbers simply does not support the claims that fewer cigarettes are being smoked!
Let's Look At The Facts
The University of Washington recently concluded perhaps the largest study of its kind, and has clearly pointed out the exact opposite of the propaganda that we have been told is simply untrue: Smoking has INCREASED since 1980, not decreased.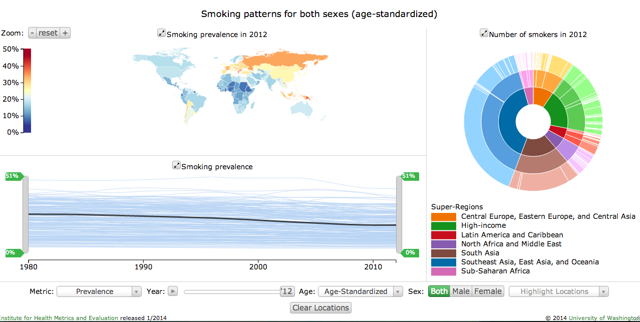 While the geographic numbers have rotated, with less smoking in the west, yet more in the east, and even more in the emerging market countries, according to the study the number of adults who smoke has increased from 721 million to nearly 1 billion between 1980-2012. The actual number of cigarettes consumed has gone from 5 trillion to 6.25 trillion.
As the study noted:
The study shows that while remarkable reductions have been made in the wealthier countries of the world, low or middle-income countries have only increased their consumption of the substance....The rise in the number of smokers reflects both population growth - particularly in nations such as China and Indonesia and the effect the tobacco industry's heavy marketing campaigns have had in poorer nations. At one point during the study, the global smoking rate did drop from 26 percent to 18.7 percent for roughly a decade but rose again in the past three years.
Stanford historian and best selling author Robert Preston, who has written perhaps the most chilling book on smoking and the tobacco industry: "Golden Holocaust: Origins of the Cigarette Catastrophe and the Case for Abolition" has had plenty to say, but the number one conclusion drawn, comes directly from his own research:
Myth #1. Nobody smokes anymore. If you read the media, smoking sounds like a dying habit in California. That's far from true, said Proctor. Californians still smoke about 28 billion cigarettes per year, a per capita rate only slightly below the global average. (*emphasis added by the author)

So why do we have this illusion? "We don't count the people who don't count. It's not the educated or the rich who smoke anymore, it's the poor," said Proctor.

Also, look at popular social trends - the recent trendiness of cigars, for example. Or the current fad for hookah parties. He recalled one such event at Stanford: "They would never have a Marlboro party. But hookah is just as addictive, and just as deadly."
We all know the takeaway here; smoking is bad, it causes health issues and literally kills people, but globally, people still smoke more than ever.
Take a look at this chart: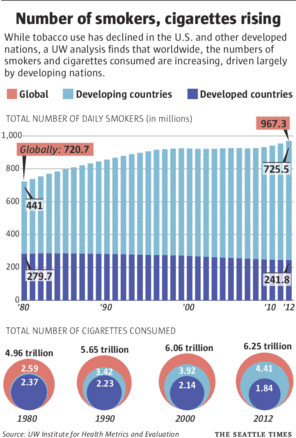 Does this look like a dying industry to you?
What Does This All Mean To The Big Tobacco Companies?
To put it bluntly, the more cigarettes that are consumed, the more money Altria and Philip Morris will make. The more money these two companies make, the more shareholder value will be realized, in the form of increased dividends year after year.
While earnings have been "choppy" for MO, it appears that future projections are gearing up for growth: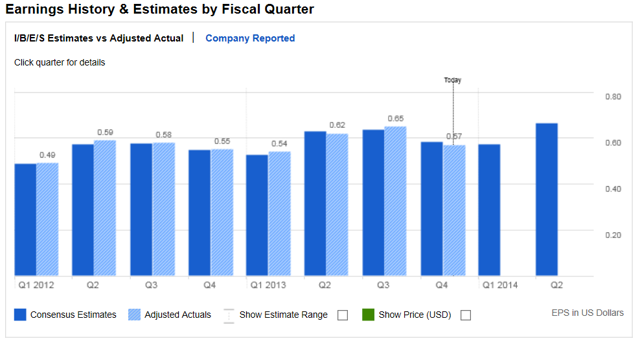 The "dip" seems ready to turn to the upside.
The same chart for PM shows a somewhat similar pattern: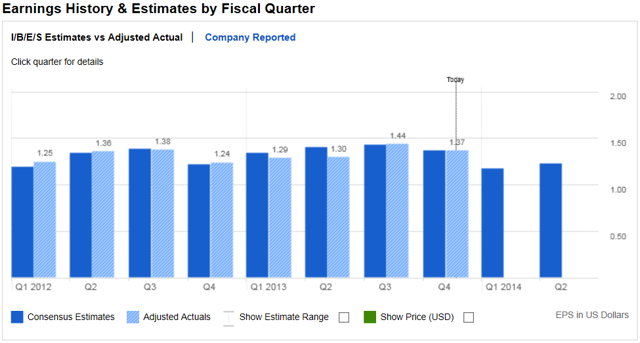 A dip, and then a return to growth by the 2nd quarter of 2014.
These companies are virtual cash machines and even with the ebbs and flows of the overall business, both MO and PM make money for shareholders.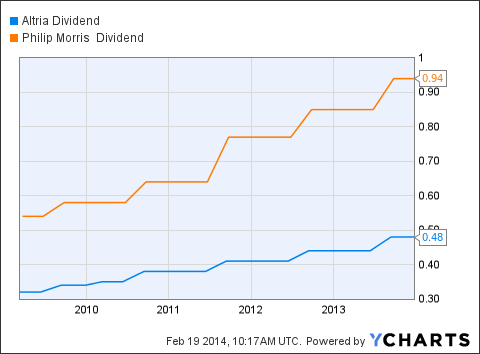 I am using a 5 year chart because Altria spun off Philip Morris and Kraft (KRFT) in 2008, so the longer time horizon charts show that MO cut dividends, when that is actually misleading. These two companies are dividend champions, (MO has actually increased dividends for over 47 consecutive years) and in my opinion will continue to be cash machines for investors for decades to come.
The basic fundamentals of each of these companies tell the story as well:
Altria:
Enterprise value of over $80 billion.
Operating margins are nearly 46%.
The current payout ratio is 81%.
The current dividend yield is 5.40%
Philip Morris:
Enterprise value of over $153 billion.
Operating margins are over 44%.
The current payout ratio is 68%.
The current dividend yield is 4.70%
These two companies are not going anywhere. In fact, they MIGHT even become growth companies once again, especially Altria.
The High Tech World Of E-Cigarettes
While the entire concept is not exactly new, the technology of the nicotine delivery system for mass production and massive growth is very evident. The E-Cigarette business has exploded over the last few years, to the point that the anti-smoking groups are scrambling around trying to place the same restrictions on the high-tech smoking business as there are in the regular old smelly tobacco business.
The problem (for the anti-smoking groups) is that they face an uphill battle, and quite frankly are losing for now. I am not suggesting that these groups will fail, but in my opinion they face a more difficult road than with regular tobacco products. Nicotine is the primary substance that is delivered by the technology, and is very similar to the same nicotine that are in patches, pills and gum, to help folks STOP smoking. That fact alone will make restrictions tricky.
That being said, while the anti smoking groups scramble around, companies like Altria, Reynolds America (NYSE:RAI), and Lorillard (NYSE:LO) will be growing their "technology" business.
As noted in this article:
Bonnie Herzog, with Wells Fargo Securities, has estimated Reynolds will have $4 billion in revenue from e-cigs in 2021 compared with $3.9 billion from conventional cigarettes.

That's compared with barely any e-cig revenue and $6.4 billion in conventional cigarette revenue for 2013. R.J. Reynolds Vapor Co. is conducting a statewide test market in Colorado for its Vuse digital vapor product.

By 2023, Herzog projects Reynolds having $5.2 billion in electronic-cigarette revenue and $3.1 billion in traditional cigarette revenue. The expectation among analysts and some industry officials is that conventional adult smokers will switch solely to e-cigs or choose both and smokeless tobacco products as tobacco options.

Herzog forecasts similar trends for Altria and Lorillard, with all three manufacturers having about a 50 percent decrease in conventional cigarette revenue by 2023.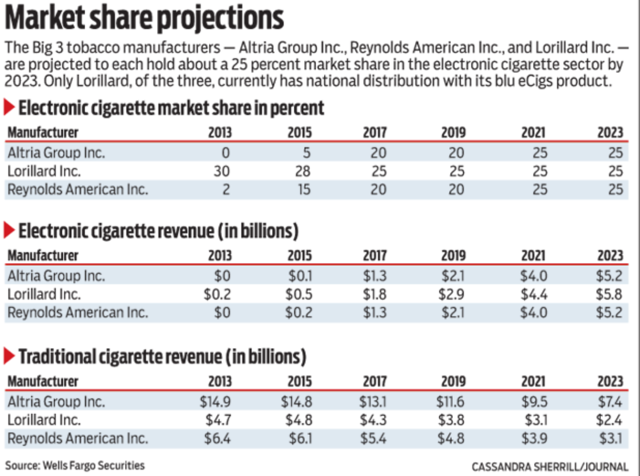 To me, this appears to be an entire new growth path, and even though the projections for regular cigarettes are seen to be decreasing, the new world of hi-tech smoking is ready to take its place anyway.
When the industry can cite an FDA advisor for stating the following:
E-cigs "likely pose less direct hazard to the individual smoker than tobacco cigarettes and might help smokers quit smoking or reduce harm by smoking fewer tobacco cigarettes," former FDA adviser Dr. Neal Benowitz co-wrote in a July 15 report posted on the Journal of the American Medical Association's website.
Then this analyst appears to be quite accurate in her assumption:
Herzog said pending FDA regulation and taxation "shouldn't derail the long-term growth trajectory" of e-cigs...."We've long believed the e-cig category will be regulated, possibly similar to the conventional cig category, and that e-cigs will likely be taxed, but in a way that better reflects the potential relative risk."
Welcome to the world of hi-tech smoking folks. While Philip Morris is not yet up to "snuff", you can bet they will be, and this hi-tech world of E-cigs will mean even higher profits, continuing revenue growth, and most importantly, a steady stream of dividend income, without the second-hand smoke issues.
The Bottom Line
For dividend seeking investors, both MO and PM offer wonderfully high yields with the potential for future growth as the entire business changes. Investing in these stocks could add years to anyone's financial well-being.
Just don't smoke!
Disclaimer: The opinions of the author are not recommendations to either buy or sell any security. Please remember to do your own research prior to making any investment decision.
Disclosure: I am long MO. I wrote this article myself, and it expresses my own opinions. I am not receiving compensation for it (other than from Seeking Alpha). I have no business relationship with any company whose stock is mentioned in this article.