Introduction
In this article I'll once again provide my view on the status of Taseko Mines (NYSEMKT:TGB), which is operating the Gibraltar Copper Mine in British Columbia, Canada. I will discuss the company's financial results and the status of its balance sheet as of at the end of 2013. Thereafter I'll try to look forward to this year, which will result in my conclusion at the end of this article.
All images in this article were directly sourced from the company's press release.
My view on the financial results
The Gibraltar Mine produced in excess of 120 million pounds of copper, and as Taseko owns a 75% stake in the project, its attributable output is more than 90 million pounds of copper. As the company sold 85.4 million pounds, it recorded a total revenue of $260M for the year. This resulted in a profit from mining operations of almost $39M. Unfortunately Taseko reported a net loss for 2013 totaling almost $31M, even though it reduced its general and administrative expenses as well as its exploration expenses. The loss is mainly caused by a higher finance expense and forex loss, as well as taking a $12.5M hit on the value of its marketable securities.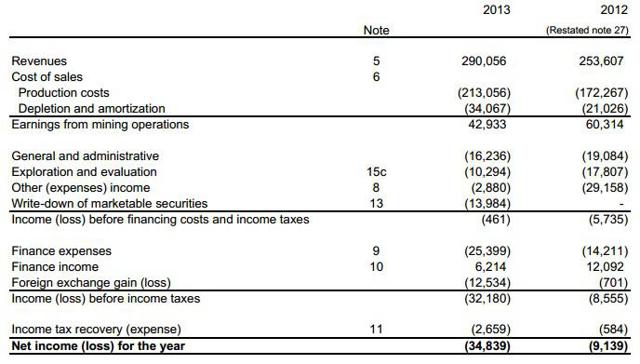 Click to enlarge
As there are some non-cash charges, I would also like to have a look at the cash flow statements of Taseko, which should provide a better view of the underlying business. So when looking at the cash flow statements, you see the company recorded an operating cash flow before changes in working capital of approximately $53M which was insufficient to cover the $98.5M in capital expenditures (related to the Phase III expansion program at the Gibraltar mine). This means Taseko Mines was actually free cash flow negative in 2013. This isn't really bad, as most of the cash was spent wisely on expanding the production profile of Taseko's only producing mine. The capital expenditures in 2014 will be much lower, which should result in Taseko being free cash flow positive this year as the revenues will increase as well.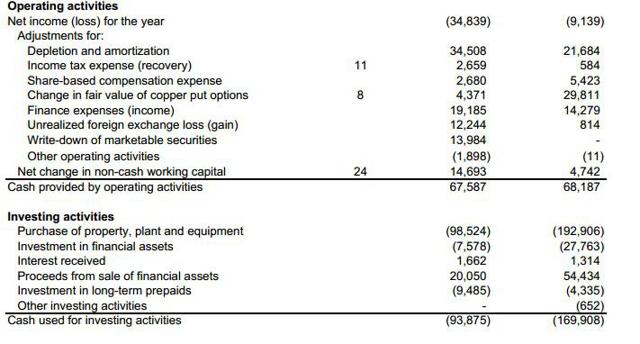 Click to enlarge
My view on the balance sheet
Moving over to the balance sheet, Taseko Mines had a working capital position of $112M which is decent. As of at the end of 2013, Taseko's current ratio was 1.96 which indicates the working capital position is definitely under control (a ratio higher than one means the company has sufficient current assets to cover its current liabilities).
The book value per share was $2.20/share which indicates Taseko is trading at a slight discount to its book value. This surprises me a bit, as I'm expecting Taseko to grow its cash flow profile substantially in 2014 and 2015 and offers decent upside should the New Prosperity project be permitted and a decision to move ahead with the Aley niobium project be made.
Outlook for 2014
Taseko Mines hasn't offered an official guidance for 2014, but I'm hopeful this year will be quite a good one if the copper price remains relatively stable. As most of the capital expenditures at Gibraltar have already been incurred, the capex will drop substantially in 2014 and this will result in a higher operating margin and cash flow.
A major bonus for Taseko Mines this year is the extremely weak Canadian Dollar. Taseko is very fortunate to sell its copper in US Dollar and incurring its operating costs in Canadian Dollar. As the USD/CAD exchange rate has now increased to 1.105 from 1.025 just six months ago, it means that the operating margin will expand thanks to a lower operating cost in USD.
I was hoping for the approval of the New Prosperity mine by this time, but unfortunately any definitive decision on the approval of the project will take a while longer as according to the company's court filing, the federal review panel 'based its decision on an erroneous finding of fact.'
Conclusion
Even though Taseko Mines was free cash flow negative in 2013, I'm looking forward to 2014. As most of the planned capex has already been spent, I expect Taseko Mines to be free cash flow positive this year to the tune of at least $40M, or $0.21/share.
Depending on the option premiums, it might once again be a good idea to write some put options on Taseko Mines. I'm specifically looking at writing a P2 May 2014 for an option premium of $0.20. This would result in an annualized yield of almost 40%. The annualized yield is this high because Taseko is currently trading at a premium of just 8% to the strike price of the option.
Disclosure: I have no positions in any stocks mentioned, and no plans to initiate any positions within the next 72 hours. I wrote this article myself, and it expresses my own opinions. I am not receiving compensation for it (other than from Seeking Alpha). I have no business relationship with any company whose stock is mentioned in this article.
Additional disclosure: I currently have no long position but will very likely write some put options, as explained in the article.