It wasn't that long ago that a lot of people were seriously suggesting that the housing market in the United States would never recover.
But as per usual, time has a way of healing even the deepest of wounds.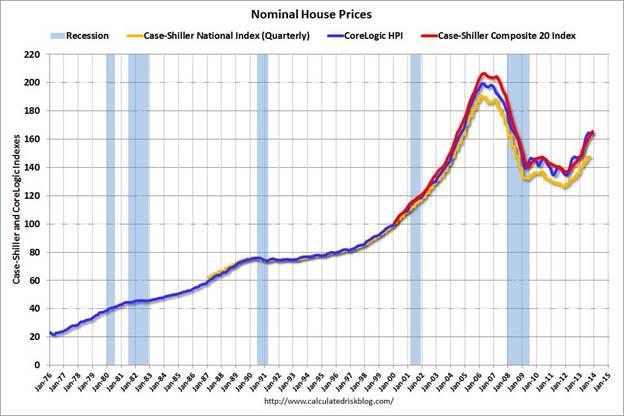 We aren't going to go back to the gaudy home prices that existed in 2006 and 2007 any time soon. And we shouldn't, those prices were inflated by ridiculous amounts of credit put forward by ridiculous lenders.
Home prices are however back on the upswing, on a trend that is now closer to where we should have been had the great bubble never happened.
This increase in housing prices over the past couple of years in my mind should put one sector of stocks on everyone's radar in 2014.
I'm referring to home furnishing companies that I think are on the verge of benefiting from the rebound in home prices.
For the first time in a long time, the equity value that each home owner has in his or her home has increased over the past couple of years. That is an increase in wealth just waiting to be tapped into.
With increased amounts of equity in their homes, owners are now starting to head into their banks to have their home equity lines of credit updated.
The result of this is going to be a large segment of the population having a significant increase in buying power. Big ticket items that were being put off are now going to be back on the shopping list.
This is great news for the home furnishings companies that sell many of these expensive home furnishings items.
The recovery in the home furnishing sector lags the recovery in home prices by about a year.
I think a basket of these home furnishings stocks stand a very good chance of outperforming the market over the next couple of years.
But I don't just want any basket of home furnishers. I want a diversified basket.
I want a basket that includes fast growth, a solid reliable brand name and a source of dividend income. That will give me exposure to the sector that I want, but some diversification should the different types of stocks fall out of favor.
Stock #1 - My Fast Growing Home Furnisher - Nova Lifestyle (NASDAQ:NVFY)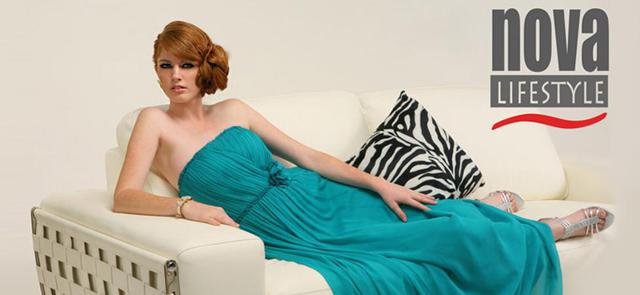 For the growth portion of my home furnishing basket I want Nova Lifestyle.
Nova Lifestyle is a designer, manufacturer and distributor of modern lifestyle furniture, headquartered in California. Nova's products feature upscale luxury designs appealing to middle and upper middle-income consumers. The company sells the vast majority of its products in the U.S., China and Europe.
The company manufactures its products in a 100,000 square meter production facility based in the Nange industrial area of Dongguan, China. The production facility covers every aspect of the manufacturing process, from woodcutting to warehousing and distribution.
I like the fact that Nova sells its product both in America and around the globe.
In the United States I believe Nova's business is going to have the tailwind of the housing recovery behind it. In Europe, economies are also healing which should improve business.
Having exposure to China for the long term is a big plus. We all know how quickly the middle class is growing in the emerging economies. Home ownership and home furnishings items are big ticket items that start becoming important once people have a higher level of discretionary income.
I think Nova is primed for growth in all of its markets.
Nova Lifestyle - Financials / Valuation
Nova is already a fast growing company. The growth is both organic and acquisition driven.
Sales were up more than 50% in 2012 and are on pace to be up another 33% in 2013.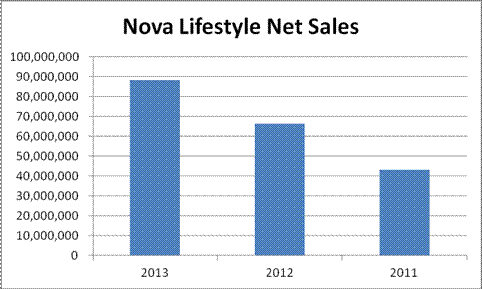 Depending on what happens in fourth quarter of 2013, it appears that Nova is again on pace for a record level of earnings and at the current share price will for 18 to 20 times trailing earnings.
At that multiple Nova is priced in line with the overall market. In other words, Nova has an average valuation.
In my opinion, Nova has much better than average growth prospects.
As I wrote at the beginning, I believe that the home furnishings market in the United States is going to have a very strong couple of years. The long-term wind at Nova's back is going to come from China and the emerging economies where Nova also operates.
A price-to-earnings of 18 to 20 on a slow growing company is an expensive multiple. On a company growing at the rates Nova has been and will be a price to earnings of 18 to 20 is a different story.
Many great investments have been made in reasonably priced, fast growing companies.
Nova's balance sheet is conservative and liquid. Current assets stand at $34 million while current liabilities are $12 million. There is very little long-term debt.
And to be honest, if I'm picking home furnishings companies to invest in, how can I not include the one that is a major supplier of the legendary Nebraska Furniture Mart?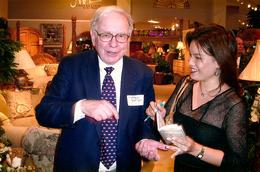 Nebraska Furniture Mart of course being a subsidiary of Warren Buffett's Berkshire Hathaway [(NYSE:BRK.A) (NYSE:BRK.B)] and a business that Mr. Buffett long coveted and eventually acquired (as detailed often in his annual shareholder letters).
Stock #2 - My Strong Brand Name Home Furnisher - La-Z-Boy Incorporated (NYSE:LZB)
If Nova Lifestyle is going to provide the growth component for my home furnishings basket, then La-Z-Boy is going to provide the stability.
This is a brand name that everyone recognizes. A brand that has staying power.
The first La-Z-Boy recliner was introduced way back in 1928. The original La-Z-Boy was manufactured in America and that is still the case today. Corporate headquarters remains based in Michigan and the company has five U.S. manufacturing plants, six distribution centers and almost 100 company owned retail stores.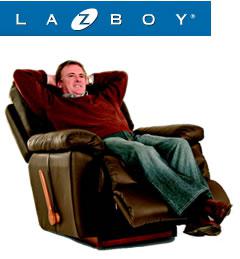 La-Z-Boy - Financials / Valuation
La-Z-Boy is not exactly at the high end of fashion. This is a product that is all about function and comfort. Function and comfort are priority number one for most of us who aren't part of the 1%.
Similarly the financial statements of this company do not tell a sexy story. And I don't expect that to change much going forward.
Yes, La-Z-Boy will benefit from the improvements in the home furnishings market, but we aren't likely talking about high growth here.
We are talking about a solid company, with steady growth and a strong balance sheet.
Like all companies, La-Z-Boy struggled during the depths of the housing crisis. Over the past three years though, sales have been marching steadily higher.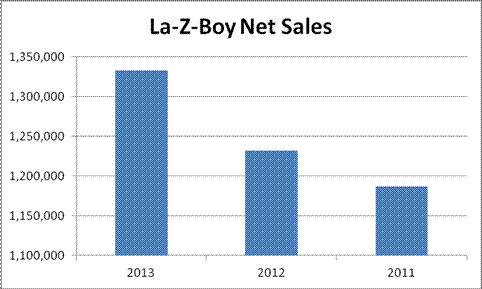 La-Z-Boy has 52 million shares outstanding and a share price of $27. That gives the company a $1.4 billion market capitalization, but if you back out the net cash and net working capital, the enterprise value of the company is not much over $1 billion.
La-Z-Boy has had more than $70 million of cash flow from operations over each of the past two years. On an enterprise value of $1 billion that means La-Z-Boy is generating a 7% (and growing) return to shareholders.
This isn't dirt cheap, but it is a company with a very strong brand name and an excellent balance sheet. With the recovery in home furnishings lagging the housing recovery and now about to take off, growth over the next couple of years should also be quite strong.
At the end of the last quarter, La-Z-Boy had $131 million of cash and only $7 million of long-term debt.
This is a brand that has been around since 1929. With a pristine balance sheet and such a strong brand, there is no reason that this company won't be selling chairs eighty years from now too.
Owning La-Z-Boy isn't going to make you rich in a hurry, but it is pretty likely that twenty years ago this company will still be doing well and your investment will have provided solid returns.
Stock #3 - My Dividend Paying Home Furnisher - Hooker Furniture (NASDAQ:HOFT)
Incorporated in 1924 and ranked among the top ten largest publicly traded furniture producers based on shipments to U.S. retailers, Hooker Furniture is an importer of residential wood and metal furniture and a manufacturer and importer of upholstered furniture based in Martinsville, Va.
Major wood furniture categories include home entertainment, home office, accent, dining and bedroom furniture in the upper-medium price points sold under the Hooker Furniture brand.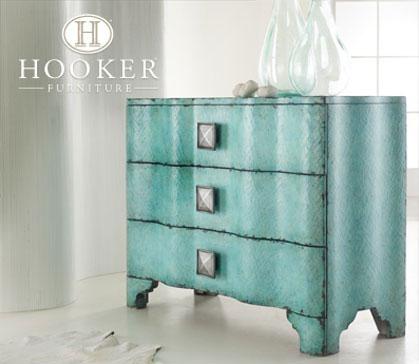 For my basket of home furnishers, I've chosen Nova Lifestyle for growth, La-Z-Boy for strength of brand and I will add Hooker Furniture for dividend income.
Hooker Furniture - Financials / Valuation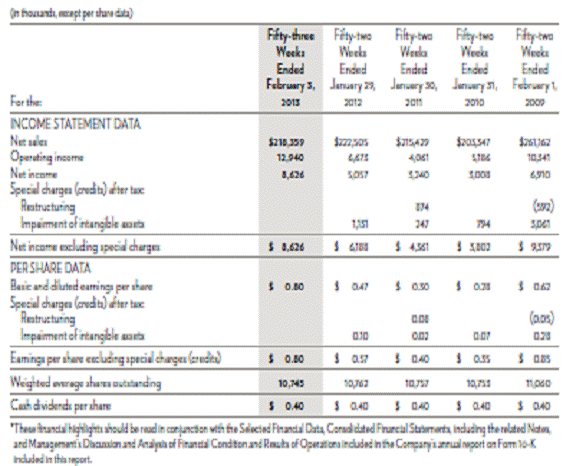 Hooker has paid a $0.10 per quarter dividend every quarter dating back to the start of 2007. That is not an unimpressive feat considering those payments continued through the weakest economy in decades and the worst housing market ever.
At the current share price, that is yield of 2.6%.
This is a solid company.
What I think could surprise about Hooker is the amount this steady company might grow over the next several years.
Over the last few years Hooker has been laying a foundation for future growth with a plan that includes new business units, products, people, and systems.
Of particular interest to me are Hooker's P3 Partnership Retail Program, the "H" Contract and a focus on international operations. These three initiatives will target on-line business, a growing senior population and the expanding Asian middle class.
Hooker will likely have earnings of somewhere near $10 million in the current fiscal year. With 10.7 million shares outstanding and a $15.40 share price, Hooker has a market capitalization of $164 million.
That puts Hooker at a P/E ratio of 15 to 16 times which is reasonable, but ignores the balance sheet. I think there is significant per share value embedded on the balance sheet that is on top of the value of the business as a going concern.
Against a market capitalization of $164 million, Hooker has almost $90 million of net current assets (cash, accounts receivable, inventory, less accounts payable).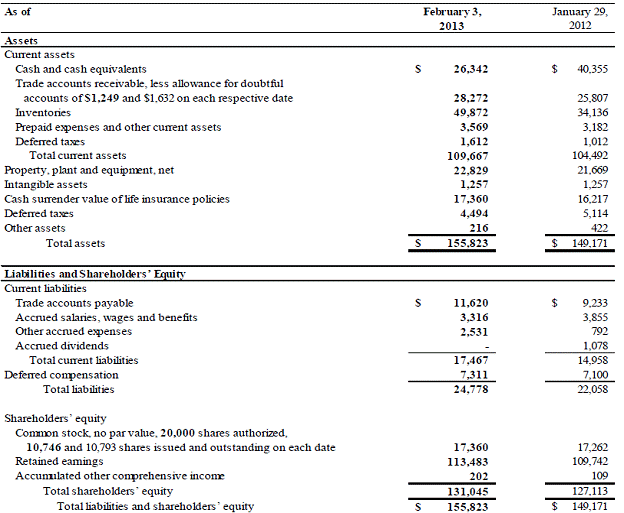 That means that if you back out the value of the liquid balance sheet assets, the market is really not assigning much value to the Hooker business.
If this company can start to show some growth over the next couple of years, the market may start to pay a little more attention and revalue these shares.
The nice thing about Hooker as an investor is that there likely isn't much downside and the dividend also provides some nice income.
Disclosure: I have no positions in any stocks mentioned, and no plans to initiate any positions within the next 72 hours. I wrote this article myself, and it expresses my own opinions. I am not receiving compensation for it (other than from Seeking Alpha). I have no business relationship with any company whose stock is mentioned in this article.