Executive summary:
Despite successfully implementing the Shift Plan, investors still do not believe Alcatel-Lucent will turn around by 2015.
Debt restructuring, cost-cutting, and asset sales ensure profitability growth achievable.
Double-digit (minimum $10) share price justified for five reasons.
_________________________________
There is nothing more frustrating for investors than companies in a multi-year turnaround. A lack of a patient mindset will lead investors to sell their shares of a recovering company too early. Alcatel-Lucent (ALU) looks like a short-term trade, since its shares are nearly double in the past year. Its stock tested $4.50 recently, only to pull back that level each time. Investors will be rewarded if they view the company as being on the path towards sustained profitability growth. There are five reasons Alcatel-Lucent's shares will reach the double digits as early as later this year, if not by 2015.
1) Higher profitability
Alcatel-Lucent improved its operating margin by EUR 0.5 billion in the fourth quarter of 2013. Its margin was positive for the year. Helped by cost cutting and exiting weak businesses, cash flow was EUR 363 million. The company's Shift Plan aims to generate positive cash flow and profitable growth by 2015. In its quarterly presentation, Alcatel-Lucent described 2013 as an inflection year in growth and profitability.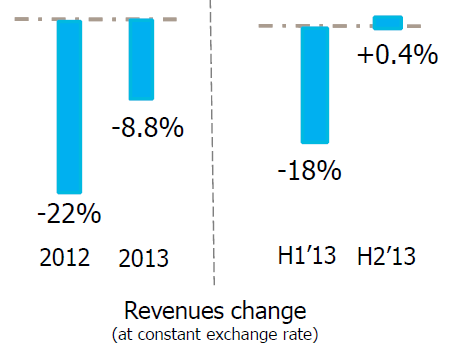 Source: Alcatel-Lucent
Revenues stabilized last year, as the rate of decline slowed. Last year, 100G shipments were 28% of total WDM (Wavelength Division Multiplexing) shipments: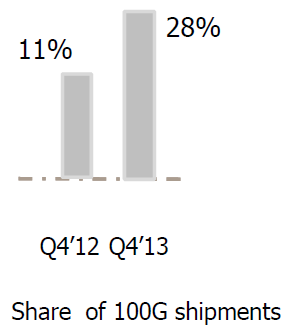 In 2014, adoption of WDM and 100G will likely accelerate.
2) Growth in China
Although Alcatel-Lucent won key customers in China, that included China Mobile and China Telecom, rollouts for LTE in the region only began last quarter. The phase two rollout will help the company grow faster than the 1% rate in the Asia-Pacific region this year. There are still risks, as pricing pressures will limit the margin levels for its wireless business this quarter. Despite the near-term challenges, Alcatel-Lucent has a firm footing in China, and is better positioned than it was in 2012 to expect accelerated growth.
3) Growth to resume in the U.S.
Growth slowed in the fourth quarter, but is set to resume this year. Alcatel-Lucent has momentum for IP Routing, LTE, fixed network, and Optics with North American carriers. It remains the vendor of choice for Verizon (NYSE:VZ), AT&T (NYSE:T), and Sprint (NYSE:S). For example, Verizon selected Alcatel-Lucent's 1830 PSS (Photonic Service Switch) platform. As management noted on its conference call, 1830 PSS is in 44 of the top 50 service providers worldwide.
4) Healthier balance sheet
Alcatel-Lucent re-profiled EUR 1.6 billion in debt obligations by extending its maturity dates. This lowered yield to an average of 5.9%.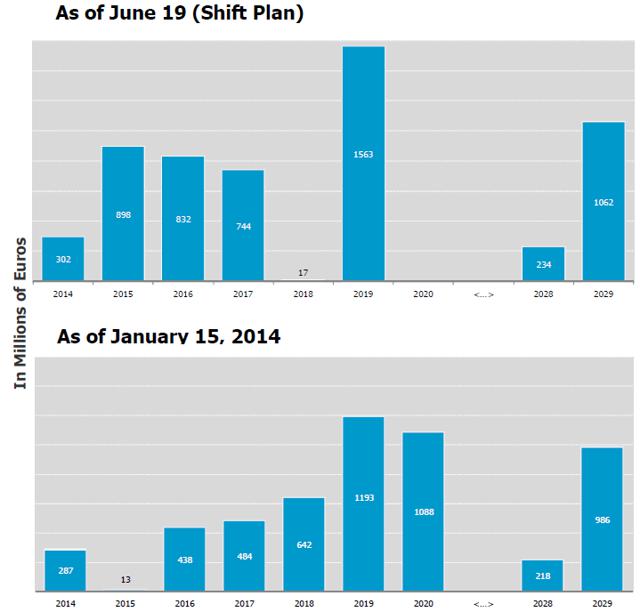 Click to enlarge
The net effect on the balance sheet is better cash flow. The 12,000 reduction in headcount to 64,000 people will also lighten the strain that weighed on the company's balance sheet in previous years.
5) Qualcomm partnership
Alcatel-Lucent's partnership with Qualcomm (NASDAQ:QCOM) will start contributing positively to both companies' R&D activities in broadband wireless access. The companies first announced the partnership in July, 2013. This year, the companies could have next-generation small cells for ultra-broadband wireless access ready. Qualcomm has a price/sales 10-fold higher than that of Alcatel-Lucent. R&D was EUR 2.3 billion for Alcatel-Lucent in 2013: successful product releases from the two companies will support a higher valuation for Alcatel-Lucent.
EUR 7 billion revenue target and bottom line
Achieving EUR 7 billion in revenue for the Core Networking by 2015 looked unlikely when Alcatel-Lucent first announced the goal in mid-2013. Now, it is appearing likely that Alcatel-Lucent will meet this goal, provided purchases from carriers in North America grow, cost reductions continue, and sales to China accelerate. At a recent close of around $4.30, the market is valuing the company at just one-fifth the price/sales that of Cisco Systems (NASDAQ:CSCO). Cisco's problems in China are unlikely to reverse quickly, whilst Alcatel-Lucent is likely to win more business. Investors should continue to accumulate Alcatel-Lucent on weakness. Shares could dip to the $3.50-$4 range, which gives an even more attractive risk-reward for those willing to hold shares for at least a year.
Disclosure: I am long ALU. I wrote this article myself, and it expresses my own opinions. I am not receiving compensation for it (other than from Seeking Alpha). I have no business relationship with any company whose stock is mentioned in this article.