One of the worst post-earnings reactions this quarter was for shares of social media giant Twitter (NYSE:TWTR). Shares of Twitter fell more than 24% after the company's Q4 report. The post-earnings fall was perhaps the worst in tech land this time around, eclipsing the 8% drop in shares of Apple (NASDAQ:AAPL) after its earnings report.
Twitter shares fell because user numbers were not as high as hoped, despite a revenue and earnings per share blowout. The high flyer came crashing down, but shares have bounced off their post-earnings low, as analyst estimates have rocketed higher. Today, I'll look at Twitter again, and determine if a more reasonable valuation gives investors an opportunity.
Fourth quarter results:
About two weeks ago, Twitter reported its fiscal fourth quarter. This was the first earnings report for the company since going public. The headline numbers were tremendous. Revenues came in at nearly $243 million, beating estimates by about $25 million. On the bottom line, non-GAAP EPS came in at a profit of $0.02, which beat estimates for a loss of that amount.
Twitter also gave guidance well above expectations, but it was some bad news that hit the stock. Timeline views were down 7% quarter over quarter, and while up 26% year over year, Q3 saw a 50% year over year rise. Additionally, monthly active users of about 241 million were well below expectations.
Twitter ended 2013 with approximately $2.2 billion in cash and short-term investments. That was up from about $321 million at the end of Q3, mostly thanks to the IPO. Twitter has a very healthy balance sheet at the moment. Current assets were more than $2.57 billion against just $225 million in current liabilities. Total liabilities were just $416 million, against $3.37 billion in total assets.
Estimates are on the rise:
I mentioned that Twitter issued guidance well above expectations. For fiscal Q1, Twitter guided to revenues of $230 million to $240 million, while the street was at $215 million. For the full year in 2014, Twitter guided to revenues of $1.15 billion to $1.20 billion, while analysts were at $1.13 billion. In the table below, I've complied analyst estimates from the day after earnings versus where they stood as of Wednesday.

Analysts are at the high end of Twitter's Q1 revenue range currently, and above the top end of the company's full year range. You will also notice that analysts are now predicting a non-GAAP profit for the year, as opposed to a 4 cent loss that was expected a few weeks ago. This rise in estimates is similar to Facebook (NASDAQ:FB), which has seen its estimates shoot higher after another huge beat.
This rise in estimates thanks to the huge Q4 beat and strong guidance poses an interesting question. What do investors care about more, user growth or revenues/earnings? Twitter shares plunged on bad user numbers, but even with the low number of users, revenues and earnings handily beat. If Twitter can get user growth back to a level more are comfortable with, shouldn't that mean a tremendous revenue opportunity? I think the revenue/earnings angle partially explains why shares bounced back to $59 post-earnings rather quickly, and are not at $45 or so now.
The valuation is more reasonable:
When I took a look at Twitter at the end of December, the valuation was way out of control. I provided the following table, showing Twitter against peers such as Facebook, Zillow (NASDAQ:Z) and LinkedIn (NYSE:LNKD), fellow momentum name Tesla (NASDAQ:TSLA), and established industry giants such as Apple and Google (NASDAQ:GOOG). These growth and valuation numbers were based on the 2014 estimates for each at that time.

*All earnings numbers above are non-GAAP except for Apple, and thus these are non-GAAP P/E values. Tesla's analyst estimates for revenues are also non-GAAP.
**Apple numbers are based on fiscal year ending in September 2014. All others use a calendar year.
As 2013 was coming to a close, Twitter was trading for 2-3 times industry peers such as Facebook and LinkedIn on a P/S basis. The multiple was 5-6 times that of Google and Tesla, and more than 11 times the P/S value of Apple. At that time, Twitter did not have a 2014 P/E value because analysts were expecting a loss.
Obviously, a lot of things have changed since the last time I did a full comparison of these names. In the table below, I've compiled the expected revenue and earnings growth for each in 2014 like I did in the table above. This table is as of Wednesday, and does not include any impact from Tesla's earnings report. Tesla announced earnings after the bell, so that company's numbers will change a bit in the coming days and weeks. The table also does not include any impact from the Facebook acquisition of WhatsApp.

*See prior table for asterisk descriptions.
Let me first discuss Twitter and then talk about the comparisons. As I showed above, the revenue estimate for 2014 has soared since the company reported, and the revenue growth rate has jumped as well. Twitter provides the highest amount of estimated revenue growth. With shares also coming down since that last update, the P/S has come down by nearly 6 points. A price to sales of 25 still looks astronomical on paper, but it isn't as high as the nearly 31 value in my last comparison. Also, because analysts now expect a non-GAAP profit of a penny for 2014, the P/E looks completely ridiculous. Yes, the number is high, but at least it exists. The alternative would be to not have a P/E because the company was losing money. Like many other names that are just starting to become profitable, the P/E value will fall as the company improves its earnings.
Last time I analyzed these names, Twitter traded for 2.35 times what Facebook did on a P/S basis. That number was down to just 1.62 times as of Wednesday, not including Facebook's after-hours decline on the acquisition. But think about this. Facebook on Wednesday was trading at more than 15 times expected 2014 revenues, expected to be over $11 billion currently. If Twitter got a 15 times P/S value on even $3 billion in revenues, that would give Twitter a market cap of $45 billion. Twitter's market cap was $30.8 billion as of Wednesday's close. That's nearly 50% upside on market cap, which will be offset partially by share dilution. How soon can Twitter get to $3 billion? Perhaps 2016 would be the best guess at the moment, depending on any acquisitions done before then.
Twitter's valuation has also improved mightily against other top tier tech names. Twitter has gone from 11.25 to 9.46 times the P/S value of Apple, and 5.71 to 4.36 times the P/S value of Google. Twitter is not going to approach the P/S value of these industry giants anytime soon, and investors shouldn't expect it to. Just look at Facebook still trading well above normal industry valuations. As many have suggested, Twitter will "grow into its valuation" over time, and I agree with that. But I also don't believe that Twitter can't go higher. As I showed above, a P/S of 15 on $3 billion in revenues for example still leaves plenty of upside from here.
The most recent short interest update:
Just last week, we got the end of January short interest update from NASDAQ. The table below shows Twitter's short interest history since going public a few months ago.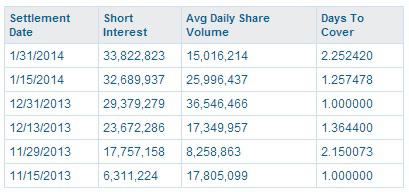 We have not yet seen a decline in short interest at any update. Short interest has rocketed higher since the IPO, although the most recent number still represents a small portion of shares outstanding. The first true test will be the next update (late next week). That will be the first update post earnings. It will also be interesting to see how short interest fares after some of these lock up expirations are over with, and insiders start to sell shares.
So what's the potential here?
The big question investors want answered is what is Twitter worth going forward? Well, in the following table, I've done a range of prices based on revenues (billions on left side) and P/S values (across the top). For this table, I am assuming a share count of 600 million, which assumes some dilution going forward. CNBC.com lists Twitter's shares outstanding at 555.2 million.

If Twitter holds a premium valuation, and you can make this argument for all of the social media names, there is the potential for tremendous upside. I used 15 for a P/S value on $3 billion in revenues above, which gives a target of $75. What if by that revenue amount Twitter still gets a 20 P/S value? Then you are looking at a stock at $100.
Final thoughts:
Twitter's valuation still appears to be sky-high to many, but that valuation is coming down. Q4 revenues and earnings blew past estimates, despite a user number coming in light. Twitter's guidance was also well above expectations, sending estimates shooting higher in recent weeks. In late 2013, Twitter traded for nearly 31 times expected 2014 sales. That number is down to about 25 times. Facebook has shown in recent quarters that revenues and earnings can be much better than expected. If Twitter follows on that path, this valuation might become a bit more appealing to investors, and shares could easily go higher. Twitter is not going to have the valuation of a Google or Apple anytime soon because Twitter is in the early stages of growth. I think Twitter shares do go higher in the long run, and I would use any pullback towards the post-earnings low of $49.99 as an opportunity.
Disclosure: I have no positions in any stocks mentioned, and no plans to initiate any positions within the next 72 hours. I wrote this article myself, and it expresses my own opinions. I am not receiving compensation for it (other than from Seeking Alpha). I have no business relationship with any company whose stock is mentioned in this article.
Additional disclosure: Investors are always reminded that before making any investment, you should do your own proper due diligence on any name directly or indirectly mentioned in this article. Investors should also consider seeking advice from a broker or financial adviser before making any investment decisions. Any material in this article should be considered general information, and not relied on as a formal investment recommendation.