Facebook (NASDAQ:FB) announced that it would pay $19 billion for WhatsApp after the close Wednesday. WhatsApp is 5 years old and has about 50 employees. The purchase has a Nortel look and feel to it.
On June 15, 1998, Canadian electronics giant Nortel acquired Bay Networks for $9.1 billion and changed its name to Nortel Networks, signaling its intention to become the giant in the emerging world of the Internet.
Those days were heady times for Nortel, a subsidiary of Bell Canada Enterprises. Bell spun off Nortel in 2000 and in September 2000, Nortel had a market capitalization of close to $400 billion.
Nortel celebrated its independence by continuing a head spinning string of acquisitions, purchasing among others Cabrian Systems, Qtera, JDS Uniphase Zurich, Photonic Technologies, Xros, and Coretek and a small company named Alteon for $7.8 billion in 2000. Alteon was later sold in the winding up of Nortel for $18 million.
Too often, at least in my view, the acquired company had a "technology" that was more promise than fact, a handful of patents, and an even smaller number of "key employees" who instantly became rich and as I saw it less interested in work and more interested in ways to take advantage of their newfound riches. You could almost smell the collapse that was sure to follow. Valuations made very little sense. Founders were unlikely to find the corporate structure of Nortel as much fun as running their own show. And, many competing ideas were popping up almost daily as entrepreneurs sensed a gold rush in optical networking.
I was Chief Executive of a public company at the time and found the Nortel episode really frightening as two of my own children were in university and thinking of what career to follow and where to invest their savings. My advice to them then and to my younger children now is simple. It is the race that is fun, not the winning. Work hard, tell the truth, have real friends and take time to smell the roses. And, with respect to investments, I passed on the best investment advice I have ever heard given to me by a very successful Canadian businessman. He said if it eats oats, burns diesel fuel or wears perfume it is a bad investment. Otherwise, you are on your own.
By 2002 Nortel's market value had dropped to $5 billion on its way to virtually zero when Nortel ultimately sought bankruptcy protection.
Like Nortel, Facebook has had a terrific run and today has a market value of over $170 billion.
WhatsApp has grown briskly over the past few years with its user base more than doubling in less than a year to 430 million.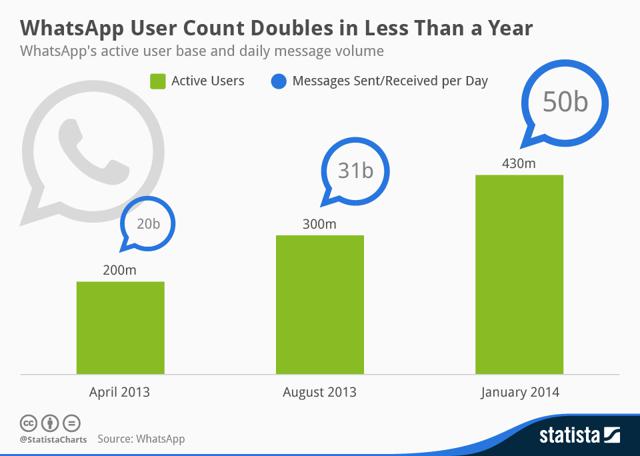 It is among the most popular mobile apps with an estimated 19% share of mobile internet users in the fall of 2013, no doubt higher today.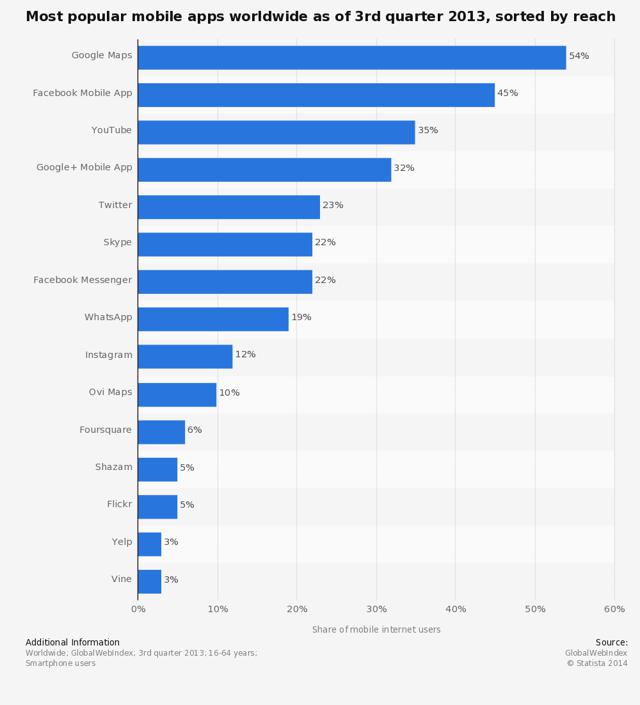 WhatsApp has revenue. As of April 13, 2013 WhatsApp generated $355,000 revenue in the Apple app store in the United States and $207,000 in Germany, with another $331,000 in revenue from Google Play in the same month. It might be reasonable to guess that it has annual revenues of somewhere between $15 and $25 million. I don't know.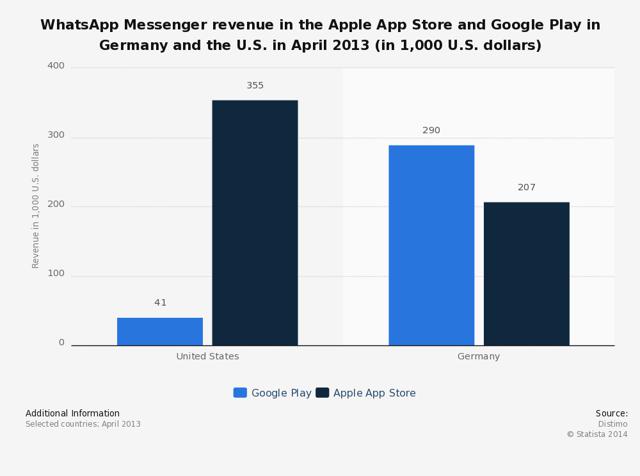 Of course, WhatsApp has a "freemium" approach where you get one year free and then it's $0.99 a year for the service. With 430 million users, at some point revenues will reach $400 million or so.
It is hard to guesstimate just how many users WhatsApp might be able to attract. Certainly, it is not the only messaging service. WeChat, Skype, Line, Viber, Nimbuzz, Kakao Talk and Kik are somewhat similar and have combined 1.7 billion users. BlackBerry's (NASDAQ:BBRY) BBM messaging application has somewhere around 100 million users. I wonder how many people use two or three messaging applications. Some, I suppose.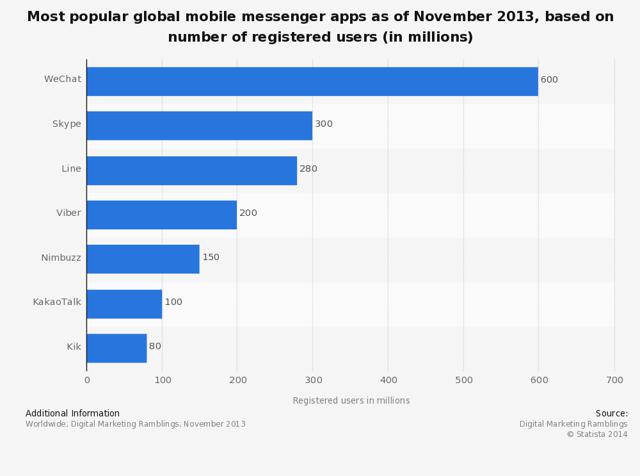 The price paid by Facebook for WhatsApp amounts to about $42 a user. That puts a value on the entire instant messaging space of about $100 billion assuming the competitors have also grown and the total number of users has reached 2.5 billion.
$100 billion? More than Boeing, American Express or McDonald's?
Facebook CEO Mark Zuckerberg said WhatsApp is "the only app we've ever seen with higher engagement than Facebook itself." That may be more of an argument for the frailty of Facebook than for paying $19 billion for WhatsApp.
I was a Facebook bull until now. This is just plain silly. The WhatsApp purchase will add virtually no new users to Facebook since it is unlikely you will find many WhatsApp users not already on Facebook in my opinion. Can Facebook use WhatsApp to increase advertising? Likely not, unless they put ads in the way of messages and make the application annoying rather than convenient. Zuckerberg says they won't put ads on WhatsApp in any event.
Do WhatsApp subscribers have alternatives? Plenty!
In the heyday of Nortel, otherwise intelligent managers found ways to justify paying a billion or two for what seemed like four twenty-something engineers, two patents and no revenues, and repeated that acquisition model almost on a monthly basis. The internet had arrived and the $400 billion Nortel was going to own the technology that made it work and the foundation for our mobile world. Exuberance overtook common sense, and boards that bought into a sense of urgency rubber stamped dozens of deals that simply made no sense at all. In the end, thousands lost their jobs, careers and pensions were destroyed and a once great company lies in ashes.
The problem with instant messaging as a valuable platform is that it has so few barriers to entry and it is already a crowded field. Maybe WhatsApp will emerge as the "dominant" (tech executives like to use that word!) platform. Maybe not. With the vast majority of the future growth of messaging likely to be in Asia I think the Asian incumbents have as much chance as WhatsApp to capture the lion's share of this market for whatever it is worth.
The acquisition of WhatsApp may have made strategic sense to Facebook. Paying $19 billion for it makes no sense at all.
I have no position in Facebook but will enter on the short side soon.
Disclosure: I have no positions in any stocks mentioned, but may initiate a short position in FB over the next 72 hours. I wrote this article myself, and it expresses my own opinions. I am not receiving compensation for it (other than from Seeking Alpha). I have no business relationship with any company whose stock is mentioned in this article.