The value in BlackBerry (NASDAQ:BBRY) is just starting to get clearer to most investors. As we move through 2014, I'm expecting it to become even more obvious to investors that BlackBerry is undervalued. We are now just starting to unravel that concept to the public through a few headlines over the past week.
It was just days ago that I penned my article about Dan Loeb taking his stake in the company. He obviously saw the impressive fundamentals and core value in the company - and he's obviously confident, as am I, that John Chen is the man that can turn things around for BlackBerry.
Just yesterday we learned a little bit about what the potential value of BlackBerry messenger could be, when it was announced that Facebook (NASDAQ:FB) was going to purchase WhatsApp (a similar messaging program) for a monstrous $16 billion. The Verge reported:
Facebook has entered into an agreement to purchase WhatsApp, the massively popular messaging client, for $16 billion in cash and stock. A document filed with the SEC today confirms the huge purchase. As was the case with Instagram, the company says WhatsApp will continue to operate independently after the acquisition - separate from Facebook Messenger - but claims the deal "accelerates Facebook's ability to bring connectivity and utility to the world." Facebook is also throwing in an extra $3 billion in restricted stock units that will go to WhatsApp's employees; those will vest over a period of four years after the acquisition is finalized.

In a press release announcing the monumental buyout, CEO Mark Zuckerberg said, "WhatsApp is on a path to connect 1 billion people. The services that reach that milestone are all incredibly valuable." He also shared news of the deal on his personal Facebook page, saying, "WhatsApp will complement our existing chat and messaging services to provide new tools for our community." Over 450 million people use WhatsApp each month, according to statistics in the press release, with 70 percent of those users active on a given day. WhatsApp co-founder and CEO Jan Koum will join Facebook's board of directors as part of the deal, but his team will remain stationed in Mountain View, California.
In my last article, I talked about BlackBerry messenger and the company's coming foray into monetizing it. BlackBerry messenger has been pointed out as one of the biggest opportunities that the company has for monetizing what it brought into the John Chen era. Most recently, the company released a new version of BBM with tons of new features. Forbes reported:
BlackBerry has taken another step towards revamping itself by releasing a new version of its free, BBM mobile messenger, adding a raft of extra features. Four months ago BlackBerry made BBM go cross platform for the first time, making it available on iPhones and Android phones and swelling its user base to more than 80 million people. Now it's adding voice calling, conversation "channels" for brands and communities, an integration with DropBox and a partnership with the location-sharing app Glympse.

The biggest feature in today's BBM 2.0 update is a direct challenge to free, calling apps like Viber and Skype, letting users call their BBM contacts over Wi-Fi or a data connection. The "channels" feature also looks like it could be a route to bringing in ad dollars for BlackBerry: it invites users to follow and converse with brands on the service, not unlike Twitter.
So, it wasn't a surprise to me that when the WhatsApp announcement came out that BlackBerry shares got a bit of a jolt, running as much as 8% after hours on Wednesday and now currently poking around 4% up pre-market on Thursday. The reasoning behind this is that WhatsApp backhandedly put a valuation on the company's BBM app. The valuation works out to about $42/user. BBM has over 80 million users - roughly 1/6th of WhatsApp, which would (performing a back of the napkin valuation) put a value of around 2.5 billion on BBM.
More importantly, John Chen has made it clear that BBM isn't going anywhere - after the company finally made it available on all platforms, they're hoping BBM can continue to gain traction.
After the news of Loeb taking his stake in BBRY, the company ran a bit and pulled back to $9 yesterday. Now, the company is getting another jolt upwards towards the $9.50 region - the question will be whether or not BBRY can hold those gains this time.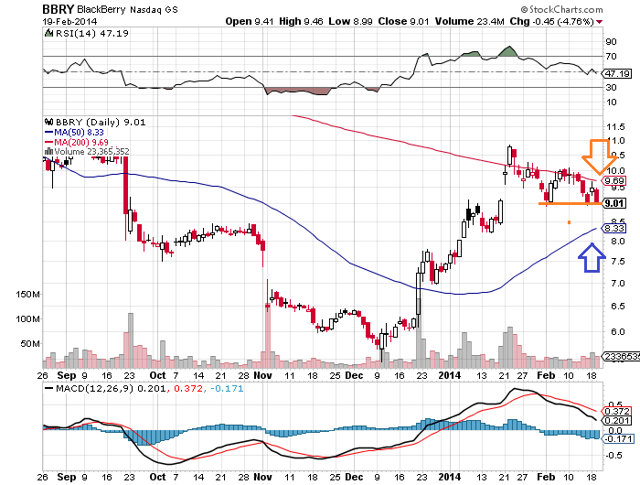 The technical picture becomes increasingly important. If BlackBerry can hold $9, which it looks like it will do today, the question will be when it breaks about the 200DMA, now at $9.69. After that, the next resistance will be at $10. All the while, the 50DMA should start to curl upwards (blue line) and head towards a coveted "golden cross," at which point chart nerds all over the world will spill their Diet Mountain Dews from excitement as algorithms furiously execute buy orders.
BlackBerry remains my largest position. In the shadow of the Loeb news and now this positive news regarding WhatsApp, I continue to be confident that BlackBerry is undervalued and that John Chen is going to be the man that returns this company to greatness. I continue to hold my price target of $17 for the company by the end of 2014.
Best of luck to all investors.
Disclosure: I am long BBRY. I wrote this article myself, and it expresses my own opinions. I am not receiving compensation for it (other than from Seeking Alpha). I have no business relationship with any company whose stock is mentioned in this article.