It isn't often that you find a growth stock trading at value multiples. The day comes where the past high flier misses a step. If the high flier can find its way and resume were it left off then it can result in high profits for shareholders. Zagg Inc. (NASDAQ:ZAGG) may be such a case.
ZAGG designs, manufactures and distributes accessories for mobile devices. This includes protective coverings, keyboards, cases, earbuds, etc. Their invisibleSHIELD protective film cover for smart phones and tablets is their largest product.
The company grew sales from $20m in 2008 to $262m in 2012 while net income went from $2m to $15m. The stock followed suit from under a dollar to a high of $17.10. However, first quarter of 2013 was a catastrophe.
1Q13 and in general 2013 has been horrible as both sales and profits declined. However, the problem is not so much of a decline in growth but rather a spectacular 2012. In each quarter of 2012 sales rose versus the year before 30% - 106%. Over all sales rose 50% in 2012! This is a hard act to beat. Comparably 2013 looks horrible with sales dropping 7% - 17% year-on-year. Take a look at the table below.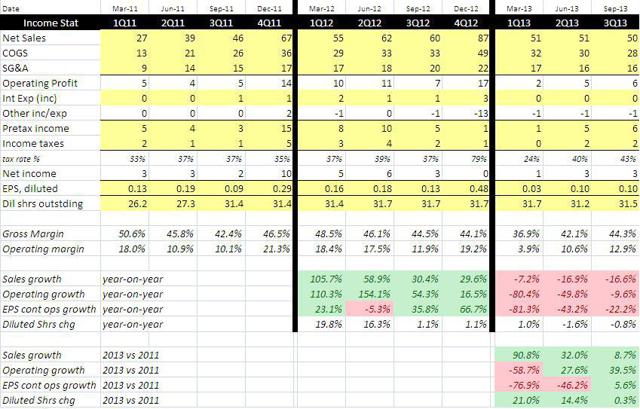 If we ignore 2012, and look at 2011 and 2013 then we see the company has grown sales from $179m to $212-218m (based on guidance given in the third quarter) and EBITDA from $34m to $37.5-39.5m (guidance). Furthermore, sales and operating profits in 2Q13 and 3Q13 have been better than the corresponding quarters in 2011, while gross margins have rebounded from the dismal 1Q13 to the 40%+ and operating profit is at 13%. Based on this improvement there could even be an earnings surprise when they announce 4Q13 results. So rather than being pessimistic, I see that sales have grown from 2011 by 20% (using mid-guidance of $215m), gross margins have stabilized at mid-40s and operating margin in the third quarter was better than 3Q12 and 3Q11 at 12.9%.
This company is definitely not without risk. The company depends on demand for new mobile devices and the constant introduction of such devices into the market. According to management, lack of new devices contributed to the decline in 1Q13. Distributor relationships is also key to help the company forward. Inventory levels have risen and need to be watched as indicated by another SA contributor here. Furthermore a larger competitor (eg. Logitech) could come out with competing products which wipe ZAGG off the map.
Having said that, I find the valuation attractive and it appears that these risks have been priced in. The company has $8m in debt with $13m cash and a market cap of $129m. So even if the company misses and EBITDA registers at $35m then the company is valued at an EV/EBITDA of 3.5x. Price/earnings is at 11x 2013E EPS which is relatively good considering the few opportunities available at these prices, and even fewer opportunities among companies with double digit growth rates. Current Assets exceed Total Liabilities by $62m or around $2 per share while book value around $4.15. The company is therefore trading at book value. The company is small and so has significant room to grow, and if it manages to get back on track then it could re-rate significantly. It it re-rates the stock could trade at around sales per share of around $7 or even higher, as it has traded in the past. I have personally allocated around 5% of the my portfolio at a price of $4.10.
Disclosure: I am long ZAGG. I wrote this article myself, and it expresses my own opinions. I am not receiving compensation for it (other than from Seeking Alpha). I have no business relationship with any company whose stock is mentioned in this article.