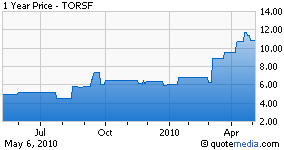 By Andrew Willis
Torstar (OTC:TORSF) is catching a tail wind as it makes a play for CanWest Global Communications (OTC:CWGVF), with the media company headlining rising revenues and shrinking debts in financial results posted on Thursday.
Torstar beat analysts' forecasts by reporting sales of $334 million in the first quarter of 2010, and a 16 cents per share profit. The Street was predicting $327 million of revenues and a 12 cents per share profit. Stonger than expected advertising, a growing contribution from CTVglobemedia and a zeal for cost cutting are the story behind the numbers.
More importantly, Torstar showed its balance sheet is improving, at a time when the company is contemplating paying something tn the neighborhood of $950 million for the 46 newspapers that lenders to CanWest are trying to flog.
Debt at Torstar now stands at $493 million, compared with $619 million a year ago. The company's all-important debt to EBITDA ratio is at 2.3 times, according to a report Thursday from Scotia Capital's Paul Steep, a relatively conservative figure. A year ago, leverage was much higher, at 3.1 times EBITDA.
If Torstar were to snag CanWest, and fund the purchase entirely with borrowed money, TD Securities analyst Scott Cuthbertson calculated in a recent report that the debt to EIBTDA multiple would jump to 3.9 times. The TD Securities analyst characterized that level of borrowing as high, but acceptable to the company's directors and lenders.
Improving operations mean Torstar's financial flexibility is rising, and the company has more room to borrow, if needed. The company is likely the only bidder for CanWest with any operating synergies. In addition, Torstar has support for a CanWest bid from Fairfax Financial. This is clearly the strongest player in the CanWest sweepstakes.