By Jon "DRJ" Najarian
The rumors have been out there all week, about a hedge fund or funds being liquidated, and that certainly could be true. Today's move, particularly in the last hour, makes it feel as though that could indeed be happening.
Someone pulled the trigger on closing a big player yesterday two hours into the bell, and the market then settled down in the final hour. Today they've matched that pattern exactly, but I doubt we will see much calming by the close.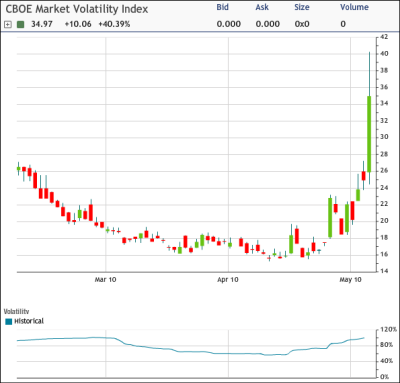 If you have dry powder this is when you deploy, but the smart money may not want to do that into the weekend. It is a perfect storm for the bears, of which I was one!
We show 2.6 to 1 puts trading in the S&P 500 Exchange-Traded Fund (SPY). The May options in the SPY show more than 1.4 million puts trading from a total of 2.2 million puts as of this writing.
On the selloff the VIX followed a scary but predictable pattern: Panic lifts volatility, which is usually met with selling, retracing the VIX to half of its recent gain. This played out, as the volatility index shot to 27.23 yesterday, then pulled back to $23.50. But then that predictable second wave of panic hit, and the volatility popped to new highs today, now nearing 35.
The VIX was coming from a multi-month low in the mid-15s only three weeks ago, indicating that there was little fear and the options were pricing in confidence, or some might say overconfidence.
The options in the farther-out months have expanded like crazy. Here is what the June 2011 straddle at the 1150 strike was and where it is now: Ten days ago the June 2011 1150 straddle priced at $158. Today it is $233 -- a move of $75, or 47 percent.
But hang on, that is pricing the straddle at a 25 volatility. If we were to price in 30 -- the front-month VIX contract has already topped 32 -- then the straddle would price at $280, a 77 percent increase!

Disclosure: No positions