Introduction
In this article I'll have another look at Pan American Silver (NASDAQ:PAAS) which has just reported its financial results for 2013. I will provide my view on the company's financial statements and balance sheet. Thereafter I will briefly discuss the outlook for 2014 which will result in my investment thesis at the end of this article.
All images in this article were directly sourced from the company's press release.
My view on the financial results
In 2013, Pan American Silver produced 26 million ounces of silver and almost 150,000 ounces of gold which resulted in a total revenue of $824.5M which is approximately 11% lower than in 2012. Unfortunately, the operating costs increased which put a lot of pressure on the operating margin and the mine operating earnings, which decreased by almost 57% to $131.5M.
Even though Pan American Silver slashed its G&A and exploration expenses, there still was a considerable net loss due to an impairment charge of $540M in 2013. This resulted in a net loss of $446M or a loss per share of $2.94.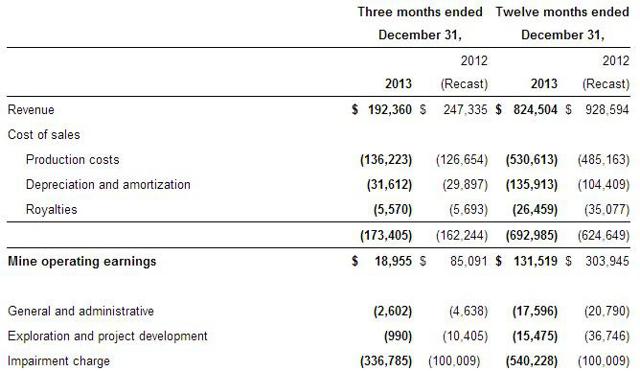 However, as the net loss is caused by an impairment charge which obviously is a non-cash charge, I think it's important to have a look at the cash flow statements as well, as these statements usually offer a better indication of the quality of the underlying business. The cash flow statements show us a completely different story. In 2013, the company generated $120M in operating cash flow, which unfortunately wasn't sufficient to cover the $160M in net capital expenditures. This isn't good, but the situation isn't as dramatic as the income statement would like you to believe. As the capital expenditures are expected to drop this year, I'm actually pretty hopeful Pan American Silver will be free cash flow positive at the current silver price.

My view on the balance sheet
Moving over to the balance sheet, Pan American Silver still has a very robust and pristine balance sheet with a working capital position of $689M which will help the company to weather any storm. The current ratio is a very high 4.77 so I don't expect Pan American to run into any problems in the short term (keep in mind a current ratio higher than one means the company has sufficient current assets to cover its current liabilities). As the current assets are higher than the total liabilities, Pan American Silver probably has one of the most robust balance sheets in the industry.
The book value at the end of 2013 was $14.40/share, which means Pan American Silver is currently trading at its approximate book value, so the company definitely isn't overpriced on this metric.
Outlook for 2014
The main takeaway for 2014 is the fact that the production is expected to remain relatively stable, but that the capital expenditures will go down considerably. The guidance for sustaining capex is just $95M (down from $112M) which will lower the pressure on the company's cash flow. Pan American Silver expects to produce between 24.5 and 25.4 million ounces of silver at an all-in sustaining cash cost between $17 and $18 per ounce of silver. The main question however will be the impact of the new Mexican mining tax on companies and I'm looking forward to see some more official guidance from PAAS on this matter.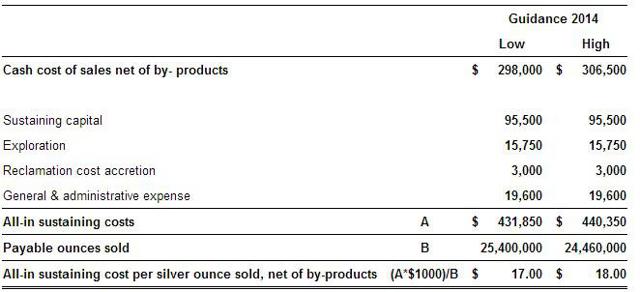 Conclusion
Pan American Silver lost money in 2013 but seems to be trying to tackle the cash drain as it expects to slash its operating costs and to reduce its sustaining capital expenditures by approximately 15%. As the cash drain was very moderate in a difficult year and as I expect the negative free cash flow situation to improve this year, I'm starting to think PAAS deserves a spot in a balanced portfolio.
In this situation I'd prefer to write some put options and I'm particularly looking at writing a P12 July 2014 at $0.50 and/or a P10 January 2015 for an option premium of $0.60 for an annualized yield of respectively 10% and 6.5%. In my previous article I also recommended to write a P10 January 2014 for an option premium of $0.50, and as PAAS traded higher than $10 at the expiration date, these options expired worthless and I kept the cash from the option premium in my pockets.
Disclosure: I am long PAAS. I wrote this article myself, and it expresses my own opinions. I am not receiving compensation for it (other than from Seeking Alpha). I have no business relationship with any company whose stock is mentioned in this article.