By Bryan McCormick
The Nasdaq 100 and S&P 500 are attempting a rebound from the mini-crash we saw earlier this afternoon. While the fall today may have seemed to have stopped arbitrarily, the intra-day highs of the February lows appear to have been significant buy stops, or areas where buyers at least were willing to step in.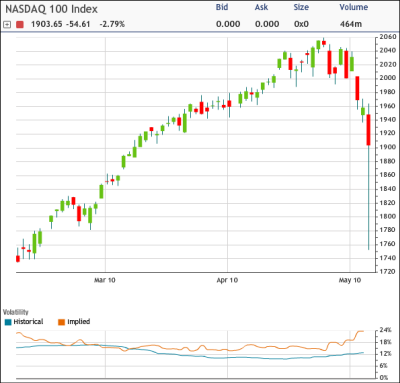 Whether these levels become important again at the close or or tomorrow is an open question. The high of the February low for the Nasdaq 100 is at 1748.77, and the high of the February low for the S&P 500 is at 1067.13.
The damage to emerging markets and trading in other developed countries was even more extreme today than our own. Australia was down 18 percent at one point, as reflected in the exchange-traded fund that is used to track its index. Its currency also took a sharp fall of nearly 4 percent against the US dollar before snapping back.
How Asia and Australia behave overnight will be key to what happens now. For Europe, it is clear that the markets have sent a message of extreme distress. How, or if, officials there respond will also be of utmost importance. A failure to address the crisis of confidence could inflict another round of damage on global markets.
At the same time, while the situation overseas is dire, the United States benefited from a flight to its currency and Treasuries away from Europe, though US equities obviously paid a price because their goods and services immediately became more expensive on the global market.
In the potentially toxic environment of contagion from Europe and the troubles in China, however, the US economy could be a beneficiary of asset flows. Many others have said it of late, but the United States could indeed become the proverbial one-eyed man in the land of the blind.
Disclosure: No positions