Cold weather is pushing demand for U.S. crude oil higher and after a few days of rising temperatures the forecast is for more severe cold weather.
Weather
After record low temperatures over the last several weeks things are beginning to thaw out in Chicago, but according to the National Weather Service the warm up will not last long. In the last two days temperatures in Chicago got up to 40 degrees and today's temperature is expected to be 50 degrees and back down to 20 on Sunday. With traders revising their outlook we asked Henry Marchell from Stanton Analytics how he sees cold weather as a factor in the higher prices.
Henry: It is the last data point that has been driving crude prices higher. The drawdown of stockpiles from Cushing, which is the delivery point for NYMEX crude oil, has caused the price to rise to match that of its cousin Brent. The opening of the southern Keystone pipeline has drawn supplies from the Midwest to the Gulf Coast. As the cold weather continues the demand for WTI has increased. Moreover there have been run cuts due to refinery maintenance which has exacerbated the supply situation for products. You might call it the perfect storm (pun intended).
Four-month highs in Crude Oil
March crude oil futures closed up 0.37 , or 0.35% on February 19 on the NY Mercantile Exchange. After a 12-dollar rally since the January 9 low, crude oil prices are trading at the highest level since October of 2013 and trading near 2014 highs. Greater demand is pushing crude oil prices higher and traders we talked to in the energy complex continue to think demand will remain strong.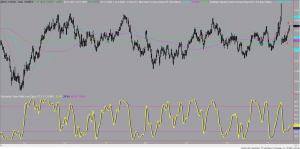 With heating oil trading 22% above its average prices for this time of the year we asked Henry what he expects heating oil may do over the short term and how much do fundamentals play a part in the current price?
Henry: The fundamentals for distillate are very strong. Aside from the weather situation in the U.S., there are heavy exports to South America. Violent protests in Venezuela are also being watched by traders. Venezuela has a huge refinery complex at Amuay that has fallen into disrepair. However, prices have climbed sharply and consolidation may be in order before the next leg higher is manifest. Nevertheless the larger degree pattern remains bullish and we will be a buyer of dips.
EIA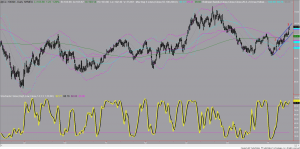 The Energy Information Administration (EIA) usually releases its report on Wednesday, but was delayed to 10:30 a.m. EST Thursday because of the Presidents' Day holiday. What do you expect of today EIA numbers and how do you think it will affect crude in the short term?
Henry: The outlook for the DOE inventories on Thursday are as follows: Natural Gas -249 bcf; Crude +1.8M; Gas -500K; Dist -1.9M; Runs -0.5%. However, the API reported after the close the following: U.S. WEEKLY CRUDE STOCKS OFF 473,000 BBLS; WEEKLY GASOLINE STOCKS UP 1.4 MLN BBLS; U.S. WEEKLY DISTILLATE STOCKS OFF 676,000 BBLS; API-U.S. WEEKLY CRUDE STOCKS AT CUSHING OFF 1.8 MLN BBLS.
At the pump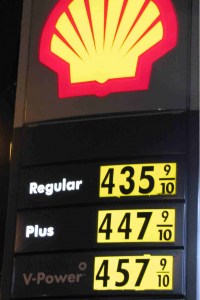 Chicago continues to be one of the most expensive cities in the U.S. to buy gas. Where do you see gasoline prices going and are there any seasonalities you see?
Henry : The gasoline prices are going much higher. That is due to a twofold reason. First there is a lack of octane to blend gasoline components into marketable grades. This means in simple terms there is a shortage especially in the Chicago area due to the maintenance cited above. Then there is a spec change that begins with the April contract. That difference in the government mandated higher oxygen content is far more expensive to make. That is why summer gasoline pops to the $3.50 to 3.75 per gallon levels. It is just more expensive to make and we have to pay for it. Thank the EPA.
As a bonus for our readers, Henry Marchell kindly sent us his latest analysis, the report sent out to Stanton Analytics subscribers. Here's the report in full:
China PMI fell again in its latest reading. For the second consecutive month the measure of factory output rests below the important demarcation line of 50. In February the level was down to 48,3 from the January spot of 49.5. Clearly the economy there is slowing amid tighter credit. The sub-employment index of the report was even more distressing coming in at 46.9 the lowest reading in five years.

Putting a good face on what were acrimonious discussions with Iran, Catherine Ashton, the European Foreign Policy Chief, said the two sides "identified the ingredients of an accord." This is diplomatic speak for there's a lot of work to do. The sides would like to firm up the agreement by July, but she admits it will not be easy.

With the API last night nodding that 1.8 million barrels were removed from Cushing and the Chinese data have a more deleterious effect on its cousin Brent, the arb is likely to continue narrowing. We fully expect that the -6.00 area will be tested in the short run, a target that we have had for many weeks now.

Moreover there has been an accord between the Kurds and Baghdad to resume exports through the main pipeline in Iraqi Kurdistan. There are two pipes that have the capacity to export 1.6 million b/d when fully loaded and without holes.

Northwest we travel to the severe violence in the Ukraine. A tentative truce broke down after a few hours with the deaths of dozens of demonstrators.

News out of Venezuela has not been forthcoming overnight and we wait for first light to see if protests ramp up again in the oil rich country. But the oil infrastructure there is in total disarray as is their refining complex. The government of Chavez and Maduro has squandered the oil income to boost their power base and have nearly destroyed the country in the meantime.

A court in Nebraska has ruled that the governor's decision to allow the Keystone pipeline to pass through the state was void. Citing landowners' rights, the judge rule that the legislature would have to change the law, and a move that will add months to the already delayed pipeline.

MARKETS


CRUDE: Hi: 103.00; Low: 102.45

April has finish ed the third of five legs and is presently in the fourth construct. We look for it to retrace to 10155 to 101.45 with a break of 102.00. The downside pivot to this location is 101.25. We look to be a buyer at 101.50 with a stop below 101.25 for a day trade. The swing trade is to sell the subsequent rally. That will be at 104.00 to 104.20 with a 5-minute settle above 103.30.

crude hrly 022014

BRENT: Hi: 110.40; Low: 109.78

April however appears to have completed its wave structure with its high of 110.82 Wednesday. However, if the model for WTI is correct it will be pulled higher to test that area. A marginal break of the Wednesday high is possible, but 111.00 to 111.11 should cap it. the minor support is 109.65 to 109.50, the key level of strength is at 109.15 to 109.00. We will treat this as a two way market. Buy 109.05 with a stop below 110.80; sell 110.75 with a stop above 111.11.

brent hrly 022014

RBOB: Hi: 3.1600; Low: 3.1280

Stick a fork in it, it's done for the short run. March hit a strong pivot Wed. and was repelled significantly. Moreover it has broken a key pivot that would allow for an immediate new high. A retracement back to 2.8250 to 2.8350 is a sell opportunity. The pivot is 2.8475. Strong support is 2.7650 to 2.76. This a value zone and may be bought for a day trade. the risk is 2.7525.

mogas hrly 022014

ULSD: Hi: 3.1600; Low: 3.1280

In GLOBE trading March hit our target and completed a wave to the upside. It will set back to the 3.1050 to 3.10 area with a 5 min settle below 3.12. There will be resistance at 3.1475 to 3.1525. We are a seller of the rally at 3.1525 with a stop above 3.16. We will look to but the 3.10 level with a stop below 3.0950 for a day trade.

heat hrly 022014

NAT: Hi: 6.40; Low: 5.892

Gigantic swings make this market for only the brave or foolish of us. March completed a wave at 6.40. It is correcting a huge move that will have first support at 6.00 to 5.97. However a break of 5.89 will dump it to 5.80 to 5.78, but importantly 5.60. This is a trade at your own risk play. There is still a potential for 7.00 left in the pattern, but 5.90 area will need to hold. The upside pivot that will signal to the moon is 6.50 being busted.

nat hrly 022014

GASOIL: Hi: 941.5; Low: 934.50

March made its charge to our targeted area put forth in yesterday's report at 941.00 to 943.00. It is likely to retrace to 933.00 to 932.00. The downside pivot is 931.00. There will be resistance at 939.00 to 940.00 and we think the HOD is in. We are a seller of the rally.

WTI-BRENT: Hi: -7.28; Low: -7.64

Our initial target for the day was -7.28 and it was hit spot on. April is likely to retrace to the -7.85 to -8.00 area before it mounts an assualt on that level. The minor pivot to this model is -8.30. She will need a daily settle above -7.25 to signal a run to -6.25 to -6.00. We are a buyer at the -8.00 level with a stop below -8.30.

wti-brent hrly 022014

NEWS

OLE MAN WINTER IS NOT DEAD

Combination of Accuweather and Weatherbell

As the magnitude of the cold air fully is gauged in the short term, most likely temperature forecasts will be adjusted downward for multiple days.

One reason for the cold blast carrying more weight than you might expect is the fact that the Great Lakes are largely frozen over. The air will not moderate to the extent as if most of the lakes were not frozen. In addition, while the amount and extent of snow on the ground will diminish this week, many areas will retain some sort of snow cover.

There is the potential for high temperatures to be in the single digits and teens during a several-day stretch from Chicago to Detroit, Cleveland and Buffalo, N.Y. Farther south, from St. Louis to Cincinnati, Pittsburgh, Philadelphia and New York City, highs may wind up in the teens and lower 20s, if the cold air drives forcefully to the south and east.

AccuWeather's long-range meteorologists expect the pattern of lower-than-average temperatures and rather frequent storms to continue over the Upper Midwest to the Northeast next week well into March.

CHINA FACTORY ACTIVITY SLOWS TO 7-MONTH LOW

China's manufacturing activity slowed to a seven-month low in February, a private survey showed on Thursday, once again stirring concerns over the health of the world's second-largest economy.

Read the full report from CNBC.com

WORLD POWERS AND IRAN MAKE 'GOOD START' TOWARDS NUCLEAR ACCORD

(Reuters) - Six world powers and Iran made a "good start" during talks in Vienna towards reaching a final settlement on Tehran's contested nuclear program, the European Union's foreign policy chief Catherine Ashton on Thursday.

GUNFIRE ERUPTS IN KIEV, BREAKING TRUCE AGREEMENT

DATA POINTS

Consumer Price Index
Released On 2/20/2014 8:30:00 AM For Jan, 2014
Prior Consensus Consensus Range
CPI - M/M change 0.3 % 0.1 % 0.0 % to 0.4 %
CPI less food & energy 0.1 % 0.2 % 0.1 % to 0.3 %

Jobless Claims
Released On 2/20/2014 8:30:00 AM For wk2/15, 2014
Prior Consensus Consensus Range
New Claims - Level 339 K 335 K 315 K to 345 K

PMI Manufacturing Index Flash
Released On 2/20/2014 8:58:00 AM For Feb, 2014
Prior Consensus Consensus Range
Level 53.7 53.5 52.8 to 55.0

Philadelphia Fed Survey
Released On 2/20/2014 10:00:00 AM For Feb, 2014
Prior Consensus Consensus Range
General Business Conditions Index - Level 9.4 8.0 2.0 to 12.0

Leading Indicators
Released On 2/20/2014 10:00:00 AM For Jan, 2014
Prior Consensus Consensus Range
Leading Indicators - M/M change 0.1 % 0.2 % -0.2 % to 0.5 %

EIA Natural Gas Report
[Bullet10:30 AM ET
The outlook for the DOE inventories on Thursday are as follows: Natural Gas -249 bcf; Crude +1.8M; Gas -500K; Dist -1.9M; Runs -0.5%.

However, the API reported after the close the following: U.S. WEEKLY CRUDE STOCKS OFF 473,000 BBLS; WEEKLY GASOLINE STOCKS UP 1.4 MLN BBLS; U.S. WEEKLY DISTILLATE STOCKS OFF 676,000 BBLS; API-U.S. WEEKLY CRUDE STOCKS AT CUSHING OFF 1.8 MLN BBLS.

EIA Petroleum Status Report
[djStar]11:00 AM ET
-249 BCF