By Brad Zigler
There's probably no better bellwether of China's bubbling economy than the price of lead, since it is both a leading producer and consumer of the stuff. The country's surging demand for automobiles and electric bicycles—all requiring lead-based batteries—has been the main reason for the metal's record price advance.
Well, more truthfully, it's accounted for lead's previous price advance. LME cash lead prices topped out above $3,900 a tonne in October 2007, then plunged below $850 by year-end 2008. The metal's roller-coaster ride continued with a steady climb that eventually retraced half of its 14-month swoon.
But in January, prices broke below $2,600 and since then have vacillated—no, swung—within a $700 range.
That swing has puzzled lead traders. The January breakdown—traceable to a stronger dollar, the first indications of monetary snugging in Beijing and an equilibrium in supply and demand—scribed a technical pattern that often foreshadows a violent breakout. The question, then, is whether we'll see a resumption of the intermediate-term uptrend or a continuation of the current year's decline.
The Bullish Perspective
Lead bulls make their case by pointing to the Chinese economy's torrid 11.9 percent growth in the first quarter—the most robust expansion in three years. Analysts at Australia's Macquarie Group certainly think the resurgence has legs. In fact, they're predicting that Chinese lead demand will rise from this year's estimated 3.6 million tonnes to 5 million tonnes within five years. (Keep in mind that total worldwide refined lead production amounted to just 8.8 million tonnes last year.)
Lead-acid batteries make up about 75 percent of China's refined lead consumption. And that demand is more resilient than that of other base metals, say the bulls, because about half of it goes to replacement batteries.
What's more, while it's true that mine production fell 27.3 percent over the most recent four-month period tracked by the International Lead and Zinc Study Group, there was only a 13.3 percent decrease in metal usage over the same time frame.
And The Bears Say ...
Despite all this, there's a nagging, unrelenting inventory buildup of lead. Just in the past month, LME warehouse stocks rose 3.6 percent to more than 182,000 tonnes. Six months ago, supplies stood at only 130,000 tonnes.
Recently imposed taxes on lead imports and exports have essentially isolated the Chinese market, choking off all but occasional buying or selling forays into the world trade to satisfy residual needs.
More worrisome are the dire prognostications about the Chinese economy now circulating. If property values are any measure of an asset bubble (and we should know something about the sequelae of that, shouldn't we?), pressure is building ominously. In fact, Beijing has taken a number of steps to cool the overheated market. A ban has been imposed on third homes, mortgage rates on second homes have been upped, and down payment requirements have been boosted.
The central bank hasn't yet raised its lending rates, but bank reserve requirements have been raised in three stair-steps this year so far.
It won't matter, say some investment managers and academics. China, they say, is headed into a recession.
Marc Faber, publisher of the "Gloom, Boom and Doom Report," recently joined hedge fund manager James Chanos and Harvard University economic professor Kenneth Rogoff in calling for a reversal in Chinese fortunes.
Faber, based in Thailand, recently told Bloomberg Television that it's likely the Chinese economy will "crash sometime in the next nine to 12 months."
China's "treadmill to hell" is property development, according to Chanos, who says as much as 60 percent of the country's gross domestic product relies on construction. Rogoff, for his part, figures the bursting of China's bubble could set off a regional recession.
A nation in recession buys fewer cars and electric bicycles and thus, needs fewer batteries. And that has bears thinking "downside" when they regard the potential breakout pattern for lead.
Price Targets For Lead
Indeed, the breakout seems to have already started. In the past two trading sessions, LME cash lead broke below $2,100 and sailed down to $1,960. Based upon the market's preceding volatility, the down thrust could take prices down to the $1,435 level before some support is found.
iPath Lead ETN (NYSEARCA:LD) Vs. Money Flow Index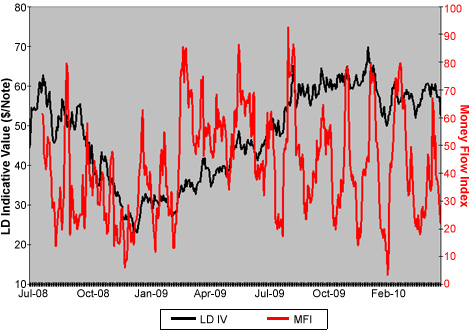 For U.S. investors, that would be reflected in the price of the iPath Dow Jones-UBS Lead Subindex Total Return ETN (NYSE Arca: LD) breaking below $40—a $10 drop from current levels.
Of course, if China's bubble bursts, $40 may prove to be just a way station to even lower levels.