Since reaching an inflation-adjusted high (at the time) in May, 2012, Canada's wholesale sales have been relatively stagnant except a one-month surge the following May that beat the high (I used the data file available in the latest report). For example, wholesale sales in November, 2013 were exactly the same as they were in April, 2012 (again, inflation adjusted). The DailyFX ranks the importance of Canada's wholesale sales report as low for forex traders. Combining these two observations, I was extremely surprised to see the Canadian dollar (NYSEARCA:FXC) sell off so dramatically in response to December numbers that missed "expectations." On Wednesday, February 19th, instead of a 0.4% month-over-month drop (in current dollars), Canada's December wholesale sales dropped 1.4%, a 6-month low.
Here is a historical chart provided in the latest report: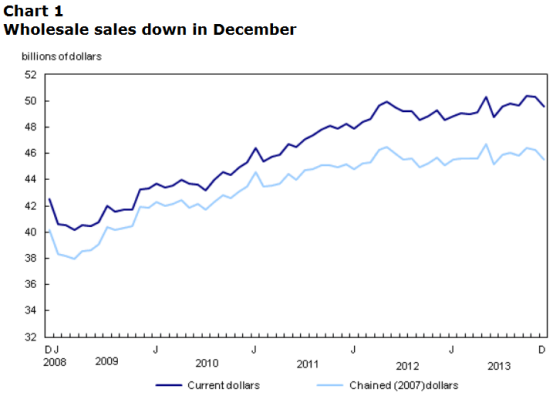 Canada's wholesale sales take a plunge amidst recent stagnation
Source: Statistics Canada
Until the wholesale sales report, the Canadian dollar had experienced a near 3-week relief rally since hitting levels last seen in July, 2009 against the U.S. dollar. It offered a great opportunity to rebuild and scale into a long USD/CAD position. Wednesday's rise was so dramatic - similar in scale to the move in response to the Bank of Canada's monetary decision on January 22 - that I felt compelled to lock in profits and wait for Friday's inflation numbers to determine the next move.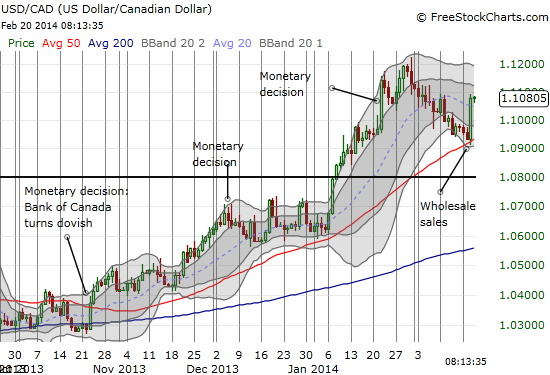 USD/CAD surges off its 50-day moving average (DMA) in response to Canadian wholesale sales numbers
The chart above shows why traders may have already been predisposed to reverse course on USD/CAD: the currency pair had reached presumed support at its 50-day moving average. Moreover, the U.S. dollar index was nearing the low-end of its current trading range, making a bounce for the U.S. dollar itself all the more likely.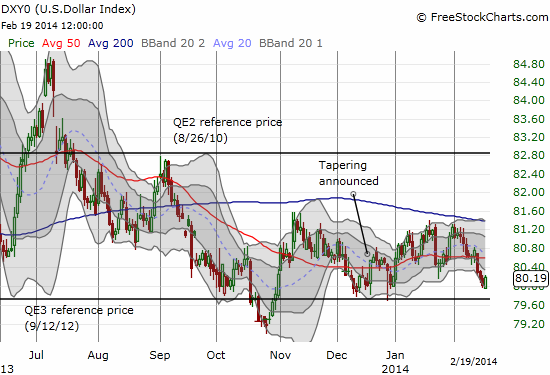 The U.S. dollar index bounces near the bottom of its current range helped formed by its "QE2 reference price"
Source for charts: FreeStockCharts.com
So it seems the poor wholesale sales numbers were just an excuse to trigger what might simply be a technical move in USD/CAD. The DailyFX ranks the importance of Friday's (February 21st) Canadian Consumer Price Index (CPI) numbers as high. If they disappoint expectations (meaning lower than expected: core year-over-year of 1.3%), USD/CAD could easily trade back to recent highs in short order. If USD/CAD pulls back, I will look to start scaling into a long position again. Unless inflation surprises with significant upside, I am not expecting this report to put a dent in my on-going bullishness for USD/CAD.
Be careful out there!
Disclosure: I have no positions in any stocks mentioned, and no plans to initiate any positions within the next 72 hours. I wrote this article myself, and it expresses my own opinions. I am not receiving compensation for it (other than from Seeking Alpha). I have no business relationship with any company whose stock is mentioned in this article.
Additional disclosure: In forex, I am biased bullish USD/CAD and may establish a long position at any time.