Retrophin (NASDAQ:RTRX) has quietly been an equity play that has added tremendous value over the past year for investors. Last year I highlighted the company as it began its journey. At that time the equity was trading for about $3.50. Today, it trades at $16. This past week Retrophin inked a deal with Manchester Pharmaceuticals that gives the company access to two drugs already approved and on the market.
The Manchester Pharmaceuticals deal is interesting in that Retrophin acquired the company for what will be about $62.5 million plus royalties. Of the two approved drugs acquired, a clear focus was on the drug Chenodal seems to have the biggest potential within the corporate strategy of Retrophin.
Chenodal is FDA approved for the treatment of gallstones in patients where surgery is seen as risky. That may not seem "sexy", but the drug is also oft prescribed off label for the treatment of cerebrotindinous xanthmatosis (also known as CTX). CTX is a rare disease which creates problems in cholesterol metabolism. It is thought that there are between 500 and 1,000 patients suffering from the disease in the United States. The drug was granted orphan drug status by the FDA in 2010. Retrophin plans to accelerate full label approval this year.
While 500 to 1,000 patients may not seem like a lot, it is the type of mechanism that grants drugs orphan status. Orphan drugs often receive a streamlined FDA process and command high price tags in the market. Currently treatment with Chendol for CTX costs about $110,000 per year according to CEO Martin Shkreli, but Retrophin plans to increase the price point to put it in line with other orphan drugs. Shkreli estimates that peak sales between $100 million and $250 million.
The second approved drug that Retrophin will gain in this deal is Vecamyl, used in treatment of hypertension. This drug also has potential, off label, in the treatment of rage associated with autism.
With the Manchester Pharmaceuticals purchase, Retrophin now has approved drugs on the market that can deliver revenue and help to move along the clinical trials in the Retrophin pipeline. The company has several candidates, many with orphan drug potential.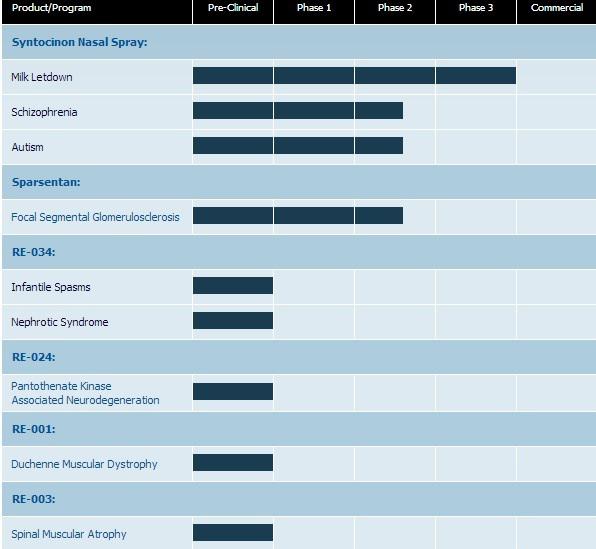 Chart Source - Retrophin
Retrophin, for the first time, has offered guidance for revenue. Shkreli projects 2014 revenue to be between $10 million and $12 million, and 2015 to deliver between $19 and $21 million.
Retrophin is in an interesting position for investors to consider. While the projected revenue numbers over the next 18 months may not seem substantial, the bet here is on the pipeline. The drug Sparsentan, for example, is currently in phase 2 trials and could become a major source of revenue if approved. It has a possible patient pool of 50,000 in the United States alone, and treatments could cost $25,000 per year. Getting just 5% of that patient pool would bring in $125 million in revenue.
Summary
Since I first highlighted Retrophin last year, the company has moved forward on all phases of its business plan. Retrophin has made key moves in the sector such as this acquisition, and is advancing the pipeline. With the potential of revenue generation now on the table, there is an attractiveness that investors can begin to sink their teeth into. When I first wrote about this company it had a market cap of just $50 million. Today, the company carries a market cap of almost $300 million with some big players seeming to take notice. Stay Tuned!
Disclosure: I am long RTRX. I wrote this article myself, and it expresses my own opinions. I am not receiving compensation for it (other than from Seeking Alpha). I have no business relationship with any company whose stock is mentioned in this article.