Natural gas prices moved above $6/MMbtu yesterday, and the price has reached mind-boggling levels. If one had asked us the probability of natural gas hitting multi-year highs this year on a colder weather, we would have put the chances closer to zero than fifty; and that is coming from someone who thought we were going to have a colder weather and see natural gas prices potentially rise!
We try to keep a grasp on reality in situations such as this, and when those who were once the bullish outlier find themselves less bullish than those who were extremely bearish only months ago; it is best to step away and let the cards fall where they may. Getting caught up in this bidding war could be potentially hazardous to one's portfolio, and it is not a risk we are willing to take at this time, with the risk/reward ratio now showing a situation where one is taking on a lot of risk for very little potential reward.
The best risk/reward ratios we see right now are in the oil equity names, even with the geopolitical events taking place around the world right now. Although there are a lot of worst-case scenarios which could come of the events in Ukraine, we are of the opinion that cooler heads will ultimately prevail and that one should bet on world GDP growth continuing rather than slowing in light of this.
Chart of the Day:
There were some who did not like our call on coffee and waiting to go long of the commodity at $120 on strength rather than at $100 on a whim. Both strategies worked here, but with the recent spike, we think that those who did establish long positions, for trading purposes or other reasons, should at least take some profits off of the table here and look at possibly reentering the trade at lower prices. A pullback seems due, and at a minimum, some sideways movement to build a base; either way, we think it would be prudent to take some gains off of the table at this point.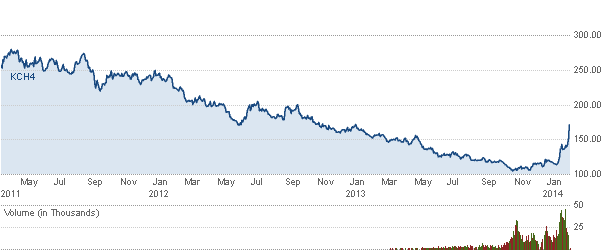 Source: CNBC
Commodity prices this morning are as follows:
Gold: $1,315.00/ounce, down by $5.40/ounce
Silver: $21.685/ounce, down by $0.165/ounce
Oil: $103.30/barrel, down by $0.01/barrel
RBOB Gas: $2.8185/gallon, down by $0.0062/gallon
Natural Gas: $6.144/MMbtu, down by $0.005/MMbtu
Copper: $3.2795/pound, down by $0.006/pound
Platinum: $1,414.20/ounce, down by $10.30/ounce
PDC Energy Beats
It had been our belief that PDC Energy (NASDAQ:PDCE) would be a buy after its quarterly report, as we thought that there was a healthy chance that the company could miss its numbers due to weather-related issues affecting its two plays (the Wattenberg and Utica). Well, the company reported results (see release here) which caught the market by surprise and has shares up strongly in early trading.
PDC reported EPS of $0.44, which beat the consensus estimate by $0.18, with revenues coming in at $141.1 million versus the $121.07 million consensus estimate. The strength in the results came from quarter-over-quarter growth of 40%, mostly attributable to the Wattenberg Field. It seems that investors are finally about to see the potential of the company's assets within the area now that infrastructure issues have been dealt with, and capacity constraints seem to be less of a problem now that certain key best practices have been established.
PDC shares are entering an area of resistance, should we see a move through this murky area we think that a breakout to the $60-65/share range is a reality.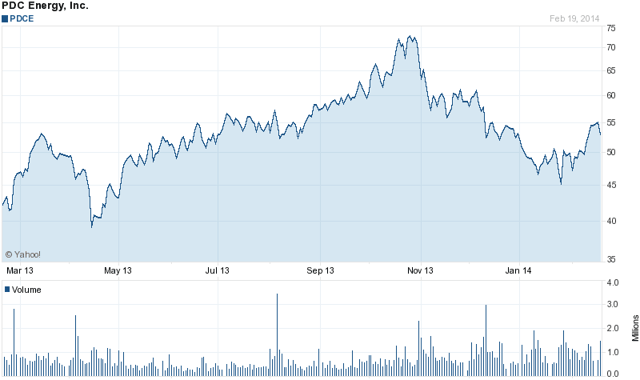 Source: Yahoo Finance
We think that this is not only good news for PDC Energy, but also a name like Anadarko Petroleum (NYSE:APC), which has a large presence in the Wattenberg Field and has faced many of the same issues as PDC recently (although to varying degrees). If the past quarter was an indication that the midstream assets can now handle the E&Ps going out and hooking up their wells, 2014 might be the year when investors realize just how prolific this play could be.
Utica News
The fact that PDC management remains bullish of the Utica is further reason to be long names such as Gulfport Energy (NASDAQ:GPOR) and Antero Resources (NYSE:AR), both of which have acreage in areas near PDC land. The centrally located acreage has already been established, but both PDC Energy and Antero Resources focusing efforts on the southern Utica at this stage should create renewed investor interest in these names and potentially create further value in these names. There are still many analysts out there who value the southern acreage at next to nothing in their valuation analysis, so the wells drilled in 2014 could very well light a fire under some of these names which have had their acreage called into question.
We have been criticized in the past for our "buy on the dips" mentality with what we consider premier names, specifically Gulfport. The practice continues to work, so if it is not broken, we shall continue to do it!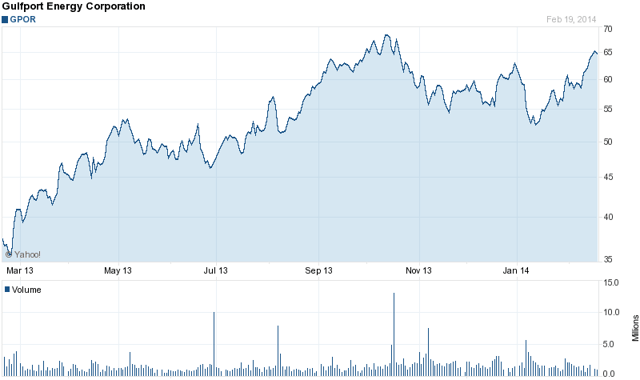 Source: Yahoo Finance
Our thinking is that the results thus far indicate that the southern acreage will ultimately work out, as the drop-offs in certain metrics have not raised a red flag at this point, in our opinion. A lot of work is still needed to further prove this acreage, but right now it seems that investors could gain solid upside with minimal downside by buying a few of these names after the recent sell-off, which has impacted the oil E&P names far more than other sectors of the market.
Portfolio Updates
Yesterday, right before the close, we purchased shares of Rosetta Resources (NASDAQ:ROSE) as a short-term trade at a minimum. As we have been stating recently, we see a lot of value in the name but still are not sure what type of holding period we utilize here. Although we might close the trade with the profit we have in today's session, our current holdings represent a quarter position of what we ideally would accumulate if our buying program was completed with buying on dips. What we know for sure at this point; we would not complete a buying program before the company releases quarterly results next week.
Disclosure: I am long GPOR, PDCE, ROSE. I wrote this article myself, and it expresses my own opinions. I am not receiving compensation for it (other than from Seeking Alpha). I have no business relationship with any company whose stock is mentioned in this article.
Additional disclosure: May trade in or out of ROSE in the next 72 hours.