As part of an experiment comparing a real-world Dividend Growth Investing portfolio vs. a High-Yield Income portfolio (you can see both portfolios here and here), I came across one of the finest long-term investment ideas I have ever seen.
The company is Donaldson Company Inc., (NYSE:DCI), a global maker of filtration systems and replacement filters for original equipment manufacturers (OEMs). It was founded 99 years ago, in 1915 in Minneapolis, Minnesota, and has a wide client base in the construction, mining, agriculture, aerospace, defense, and truck markets.
The company has proven itself a reliable, strong, long-term grower through varying economic conditions. Since 1990:
-Revenue Growth of 479%, 7.9% CAGR
-Earnings Growth of 795%, 10% CAGR
This may seem like a very boring, industrial company, and indeed, there is nothing sexy about Donaldson - except the 18.67% CAGR returns it's given investors over the last 26 years. That is pure capital gains, and in no way accounts for the ferociously fast-growing dividends this company has sent investors over the last quarter century.
Donaldson Company is a dividend champion, having raised its dividend 27 consecutive years and growing it at 15.12% CAGR during that time.
-5-year dividend growth rate: 19.48% CAGR
-1-year dividend growth rate: 45.9%
With a payout ratio of just 26%, DCI has a long runway to continue growing dividends for many years to come. In fact, management has stated that its long-term payout ratio goal is 30-40%. With 5-year analyst estimates of Donaldson's EPS growth at 11.1% (which seems reasonable given this company's historical EPS growth), we can anticipate what this will mean for long-term dividend growth and share price appreciation.
With 2013 EPS of $1.69, and modeling 11.1% annual growth, I anticipate 69.2% EPS growth through 2018, when predicted EPS should reach $2.86. A 30%-40% payout ratio means annual dividends of $.86-$1.14, a 53.6%-104% increase over today's levels. This represents a 9%-15.3% CAGR, which is in line with the company's 27-year track record. Given its most recent 5-year and 1-year growth, I would anticipate results closer to the higher end of management guidance.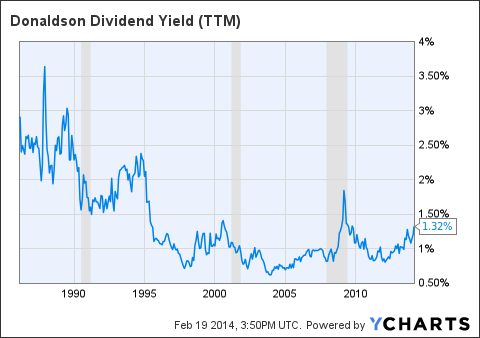 DCI Dividend Yield (TTM) data by YCharts
Over the previous 5 years, DCI has averaged a yield of 1.06%, with a range of 0.8%-1.85%. If we assume the same yield at the end of 2018, then the 2018 annual dividend can be expected to support a price of $81.12-$107.54/share.
In addition to this stock price appreciation (13.9%-20.5% CAGR), there is also the matter of the $3.35-$3.8 in dividends an investor would be expected to collect over the next 5 years.
This results in total return share values (share price + dividends) of $84.47-$111.34. This would mean that a DCI shareholder, over the next 5 years, could expect a compounded annual growth (CAGR) of 14.8%-21.3%. If you reinvest the dividends, then that total return becomes 15.9%-22.5% CAGR.
As I said earlier, Donaldson's historical performance indicates that the actual results will be towards the higher end of this range.
Of course, for this exceptional performance to be realized, the company must continue to execute well and grow, both domestically and internationally. Fortunately, there are several promising signs that indicate this to be the case.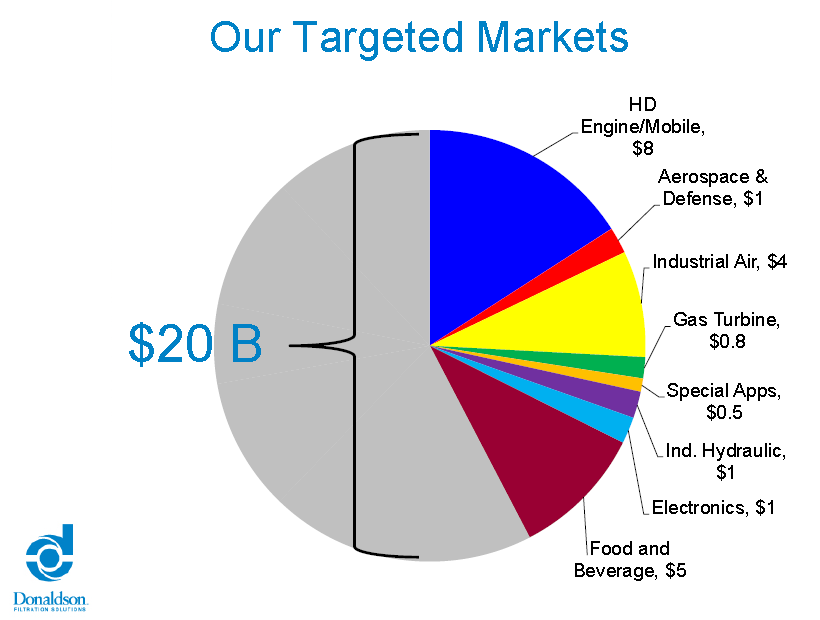 Image Source: Management Presentation
According to management, the domestic market for DCI's filtration equipment is $20 billion, while internationally it's $50 billion and growing at 2% annually. With $2.5 billion in sales, Donaldson has just 12.5% domestic and 5% global market share. Meanwhile, according to its 2013 shareholder letter, management has long-term plans to grow sales by 10.7% annually to $5 billion through 2021. Already the company is seeing success with growing sales internationally, with 2013 Latin America sales up 23%.
Donaldson is not only a fast-growing, exceptionally well-run company (2013 ROE was 24.8% and ROIC 21.5%), but also one of the shareholder-friendliest. According to CFO Jim Shaw:
"We believe that the consistent repurchasing of our shares is another great way of returning value to our Shareholders, in addition to our dividend policy and our Company's growth."
In 2010, the board authorized a 16 million share buyback, about 10% of shares outstanding. 14 million of these were purchased, and in September of 2013, the board authorized an additional 15 million repurchase, again representing about 1/10th of shares outstanding. In total, the company is planning to have bought back 20% of its shares within a 6-year period, representing a 3.5% annual share reduction. In the last 24 years, DCI has averaged a 2.1% annual share reduction, indicating that management is accelerating the rate of returning cash to shareholders. The 3.5% boost in annual EPS from the buyback program will also help to accelerate the rate of dividend growth, as explained earlier.
Now, though I am very skeptical of most buybacks, having written extensively about the poor execution and shareholder wealth-destroying nature of most buyback programs, I believe DCI's buyback program to be one of the best examples of how buybacks can and should be done.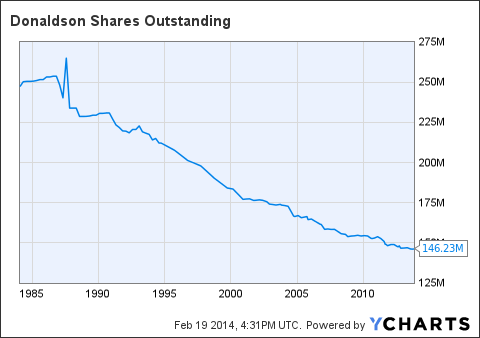 DCI Shares Outstanding data by YCharts
As seen in the above graph, Donaldson is not a company who has diluted existing shareholders by offering massive stock option compensation and then spending mountains of shareholder cash to offset the dilution. Instead, we see a long-term, consistent, and strong pattern of share reduction. This not only helps to drive EPS and secondarily, share price appreciation, but also reduces the cost of the fast-growing dividend. By repurchasing 40% of its outstanding shares over the last 24 years, the cost of the annual dividend is massively reduced, which keeps the payout ratio very low. Thus, DCI's buyback program is a double benefit to shareholders, decreasing share count and thus allowing for a fast-growing dividend, one that helps to drive total returns of close to 20% CAGR (when dividends are reinvested) over the last quarter century.
In terms of 1-year technical analysis, DCI's slow stochastic is around 90, indicating the stock is currently overbought. RSI and MACD show that price momentum is fading and perhaps turning negative. All this simply indicates that DCI may face a pullback of $2-$3/share in the coming weeks or months. For long-term investors, it may be worth initiating a small initial purchase and waiting for a pullback to add to the position.
In summary, Donaldson Company is one of the great hidden gems of the Dividend Growth Investing world. Its management has proven itself one of the greatest of any company. Providing efficient, (25% ROE, 22% ROIC) operations and decades of strong and dependable growth, with all indications that this exceptional performance will continue for decades to come. In the meantime, management has proven itself one of the shareholder-friendliest when it comes to returning earnings to their proper owners, both in the form of one of the longest and best executed buyback programs and a fast and reliably growing dividend that fuels astounding total returns.
Disclosure: I have no positions in any stocks mentioned, and no plans to initiate any positions within the next 72 hours. I wrote this article myself, and it expresses my own opinions. I am not receiving compensation for it (other than from Seeking Alpha). I have no business relationship with any company whose stock is mentioned in this article.