For those interested, below is a table of the Dow 30 members and how they moved today. For each stock, we highlight how far it was down at its low for the day, how far it came back from the low to the close, and how much it was down for the entire day.
As shown, the big mover was Procter & Gamble (NYSE:PG), which was down 36.66% to $39.37 (off of the NYSE) at one point before rallying 54.31% from its low to the close. It closed down 2.27% for the day. While PG's low off of the NYSE was $39.37, it's low was $56 on the NYSE.
There were countless examples of stocks trading down to pennies on over-the-counter exchanges today that use computers instead of human market makers. Investors who direct all of their trades to the outdated humans at the NYSE must be pretty happy today! Whenever the NYSE needs to defend itself going forward, today's action should be exhibit A.
click to enlarge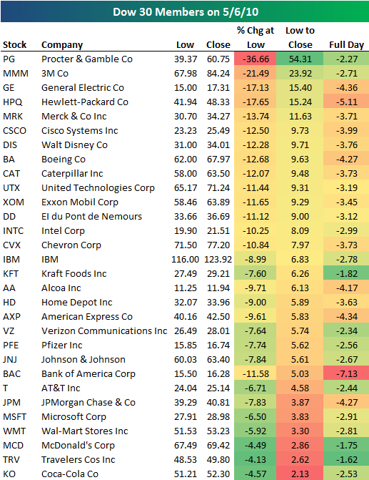 Click to enlarge