Executive summary:
After a steep 2012-13 tumble, Apple stock may be a sound 2014 choice for contrarian investors.
Investors have overreacted to recent declines in earnings and margins.
Fundamentals indicate shares are trading below fair value.
AAPL should be viewed as just another stock: neither on the verge of renewed explosive growth, nor destined for oblivion.
_________________________________
Seeking Alpha editors published Part 1 of this series shortly after the New Year. At that time, I offered readers three 2014 general equity investment strategies:
Understand the current phase of the business cycle and overweight stock sectors that historically outperform;
Identify and seek contrarian stock values; "the most hated names of 2013;"
Maintain discipline when evaluating securities in a market that's run up 30%; don't chase hot tickets.
In addition, I offered eight specific stocks that I believe were aligned with these strategies: Eaton Corp, PLC (NYSE:ETN), Union Pacific Corp (NYSE:UNP), International Paper (NYSE:IP), Apple Inc (NASDAQ:AAPL), Energy Transfer Equity (NYSE:ETE), Intel Corp (NASDAQ:INTC), Caterpillar (NYSE:CAT), and Annaly Capital Management (NYSE:NLY).
In subsequent installments, I covered the aforementioned securities:
In Part 7, we will review contrarian pick Apple, Inc., whom some argue is the best technology manufacturing, distribution and retailing company on the planet. Apple has a globally-recognized brand, legions of loyal customers, high margins, a fortress balance sheet and generates lots of cash. A solid dividend and a strong share repurchase program have marked its transition from a rapid-growth company into a mature Tech play. The shares went from treasure to trash between September 2012 and April 2013, falling some 45%. Since that time, it's retraced about half, recently settling about $544 a share.
Apple reported 2014 1Q fiscal-year result on January 27.
Investment Thesis
In 2014, I suggest Apple Inc. is a contrarian stock play.
Over the past year-and-a-half, share prices dove as a result of several factors: fears of arrested earnings growth and gross margin decline based upon several quarters' data; associated negative investor sentiment; loss of its "cult" stock status; and general business uncertainty. These issues have contributed to the shares overshooting to the downside. In time, the stock will stabilize, recover, and revert to the mean.
Earnings growth fears materialized after Steve Jobs' passing. It is impossible for large capitalization companies to sustain indefinite 50+% long-term growth rates due to the "law of big numbers." Apple EPS reached an apex in 2012, then fell back abruptly. The market immediately compressed the P/E to 10x before relaxing a bit to assign the current 13x multiple. Indeed, while P/E compression was warranted, I believe the stock remains a multiple point or two below fair value.
Investors' almost cult-like following of Mr. Jobs and the shares likewise reversed quickly from awe to skepticism. The fast-moving nature of the technology business itself further contributed to undue pessimism: analysts set unrealistic targets, Apple senior leadership experienced difficulty managing expectations, and "hot money" investors were flushed out.
Essentially, the company has simply transitioned from a go-go growth stock to solid, value-oriented enterprise. The investor base has been changing, too. Value investors see stock prices aligning with traditional fundamental metrics. High share trading volumes during the 7-month period whereas prices declined by 45% help validate this shareholder-churn concept.
Apple by the Numbers
In Part 1 of this series, a number of financial metrics were offered as guidelines to help identify if a company is fairly valued.
Permit me to begin by stating that the numbers tell a story, but the numbers are not THE story. I point this out because it can become easy to get somewhat dogmatic about "the numbers." Let's review the metrics openly, but pragmatically; in light of the underlying corporate narrative and the investment thesis:
Price/Cash Flow: The trailing twelve months P/CF ratio is 9.4x. This is below my nominal target of 10x, and discounts the fact that about a third of the share price is balance sheet cash. Forward operating cash flow estimates are in the range of +/- 10% per annum, indicating undervaluation.
2-Year PEG ratio: Over the next two years, Wall Street analyst consensus indicate Apple will grow operating earnings by 8% a year. Given the current 13.4x price/earning ratio, this equates to a 1.67 PEG ratio. This within shouting distance of my notional PEG <1.5 hurdle rate.
Return-on-Equity: Premier companies sport 15% RoE or greater. Apple recorded 2013 return-on-equity of 29%. The company also has registered excellent long-term records for Return-on-Assets and Return-on-Capital Employed. The problem: in 2013, the numbers fell from incredible to just outstanding.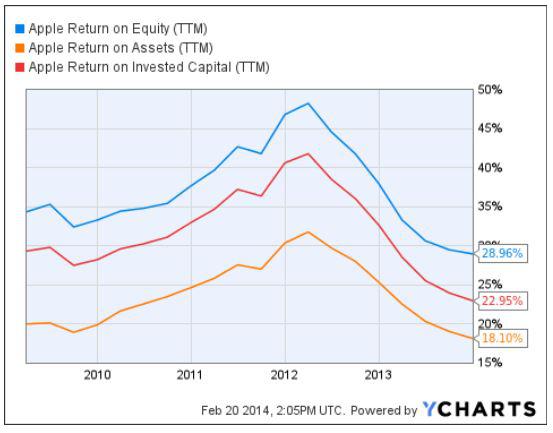 Revenue Growth: Despite its enormous size, Apple has managed to grow revenues about 35% a year for the past 5 years. In fiscal-year 2013, corporate sales growth slowed to 9% and $170.9 billion. However, year-over-year net income fell 10%. This earnings decline is a key (and rationale) reason for the change in investor sentiment and earnings multiple compression.
Debt-to-Equity: Currently, Apple has a 13% total debt-to-equity ratio. This figure is solid by any standard. The fact that the company has any long-term debt at all is a result of management's recent dividend announcements and share repurchase plan. Since Apple could borrow long-term funds at rates less than its dividend yield, some debt issuance was prudent. Since much of the company's cash hoard is held overseas, and the dividend is paid in USD, it made the decision even more straightforward.
Margins: A victim of its own success, AAPL gross margins appear to be stabilizing around 37-38%. 2013 fears that margins would spiral downward forever pressured the shares, along with the aforementioned one-year EPS decline. Have investors overreacted?
Price and Valuation
The correlation between stock prices and earnings and/or cash flow growth is indisputable. Investors pay for corporate results and the growth of its future earnings and cash flows.
For Apple, handicapping this correlation is tricky. The company is no longer viewed as, nor has it demonstrated itself to be the growth engine it was prior to 2012. Therefore, extrapolating old earnings and cash flow multiples may no longer be applicable.
However, I believe a modified Benjamin Graham-type formula is a decent substitute. The MGF is as follows:
Expected PE = 9 X 0.5g; where g is the earnings growth rate
If we utilize analysts' consensus 2-year EPS growth expectations, we may insert 8 for g in the formula resulting in:
Expected PE = 9 X 0.5 (8) = 13
This is roughly today's current price/earnings ratio. Using forecast earnings estimates, investors looking out 2 years may target a share price of $603. A 5-year backward + 2-year forward F.A.S.T. graph illustrates these assumptions. The black line is price. The pink line represents a 13x P/E; actual and projected earnings are found at the bottom of the chart: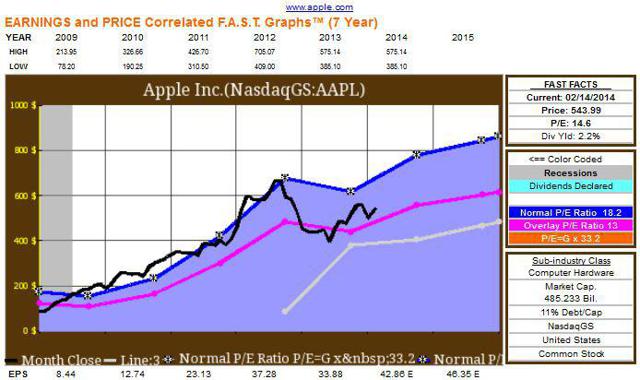 Click to enlarge courtesy of fastgraphs.com
However, please note that the P/E estimate does not consider Apple's cash pile. Subtracting current balance sheet cash from the share price reduces the 2014 forward P/E to 8.6x; the 2015 forward P/E drops to 7.9x. Due to the unusually large cash balance held within the company, I contend adding an additional P/E multiple point to future projections is plausible.
Taking the analysis further, let's look at past and expected cash flow. Over the next 2 years, operating cash flow is projected to grow faster than earnings: about 15% a year. If we conservatively assume the current 9.4x P/CF multiple will compress to an 8.5 ratio, we obtain a $652 price target on 2015 OCF. Here's another FAST graph highlighting these premises. The pink line is an 8.5 P/CF multiple: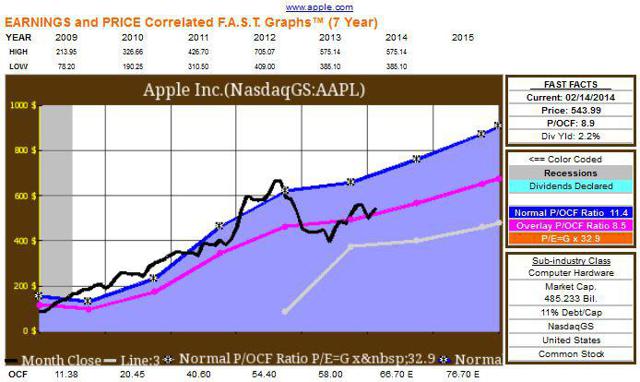 Click to enlarge
Considering all factors, and premising the company will successfully meet forecast EPS and cash flow, I believe it is reasonable to call for eventual 14.5x P/E and 9x P/CF ratios. This indicates price targets between $672 and $690 per share, or just below where the shares settled at their 2012 highs. If we take the more conservative 13x and 8.5x multiples, the price targets range between $603 and $652. The midpoint is 15% above the recent close and does not include the dividend.
Summary
Apple shares were hit hard in 2012-13 for a variety of reasons. Growth and margin fears stripped away the stock's cult status, resulting in very bearish sentiment. I believe these fears were overblown. Purchasing shares now could be a sound contrarian investment strategy.
Based upon reasonable valuation methodologies, the stock looks to be trading below fair value. While improving, lingering negative sentiment still dog the shares. A good dividend and an aggressive share repurchase plan adds gloss to the "zig when others zag" premise.
I view Apple as neither a fallen angel heading for oblivion, nor do I require it to return to a perch as an explosive growth stock. I see the company possessing a remarkable cash-rich balance sheet, having continued ability to generate strong cash flows, and paying a solid dividend. Fundamentally, the stock is on hold pending resolution of stagnant earnings growth, margins, and too much "dead" cash on account. This too, shall pass.
It's a decent investment on strictly fundamental valuation, and a good contrarian play to boot. No more, no less.
Please do your own careful due diligence before making any investment. This article should be used for information purposes only. It is not a recommendation to buy any stock. Good luck with all your 2014 investments.
Disclosure: I am long AAPL. I wrote this article myself, and it expresses my own opinions. I am not receiving compensation for it (other than from Seeking Alpha). I have no business relationship with any company whose stock is mentioned in this article.