Introduction
In this article I'll have a closer look at the 2013 results of Coeur Mining (NYSE:CDE) which were released a few hours ago. I will provide my view on the company's financial results and the status of its balance sheet as of at the end of 2013. I will also discuss the outlook for this year, and this will result in my conclusion at the end of this article.
All images in this article were directly sourced from the company's press release.
My view on the financial results
In 2013, the company produced 17 million ounces of silver and 260,000 ounces of gold which was respectively a 3% decrease and 16% increase compared to the 2012 production numbers. As the average received price for gold and silver decreased substantially in 2013, the total revenues of Coeur decreased by approximately 17%. Unfortunately the production costs increased (and this is a common theme for most mining companies I looked at in 2013 - decreasing revenues and increasing costs), which reduced the gross profit by a shocking 77% (to $49.5M) compared to 2012. On top of that, Coeur Mining recorded an impairment charge of $773M which pushed the company deep into dark-red territory as Coeur confessed a net loss of $650M for the year.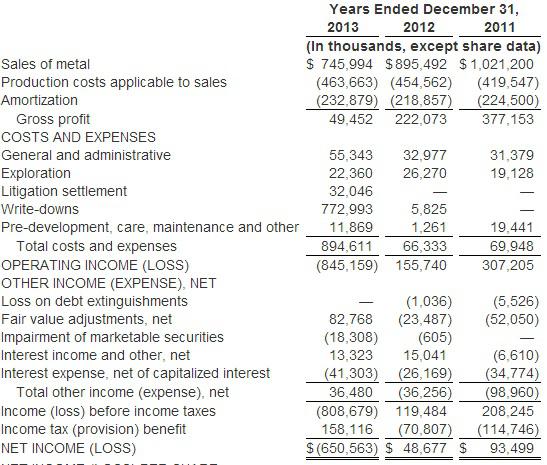 However, as an impairment charge is a non-cash charge, I think it's warranted to have a look at the company's cash flow statements as well to fully grasp the financial situation of Coeur Mining. As you can see, the operating cash flow before changes in working capital was a very respectable $150M. And as the company spent just $101M on capital expenditures (I ignore the one-time expense related to the acquisition of Orko Silver in 2013), Coeur Mining is actually free cash flow positive, which is a rare thing to see in the 2013 results of a mining company.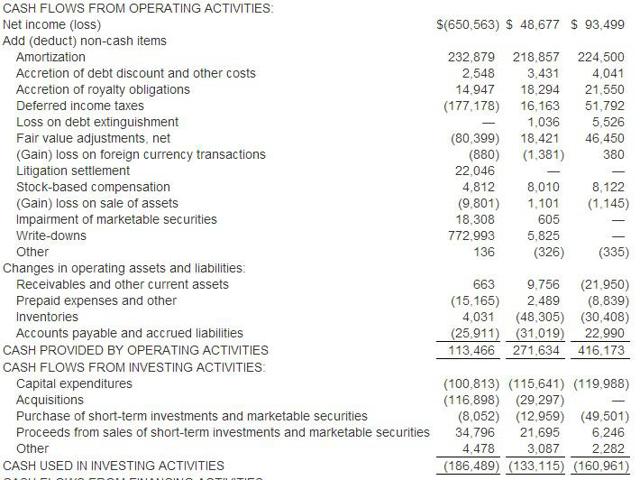 Click to enlarge
My view on the balance sheet
Moving over to the balance sheet, Coeur Mining had a working capital position of $387M which is pretty comfortable considering the relatively low annual capital expenditures of the company. As the current ratio is close to 3.70, Coeur Mining shouldn't run into any short-term financing problems, as a ratio higher than one indicates the company has sufficient current assets to cover its current liabilities.
As of at the end of 2013, Coeur Mining had a book value of roughly $16.55/share, which means the company is currently trading at a discount of approximately 30% to its book value, which is remarkable as Coeur recorded a huge impairment charge which directly impacts the equity side of the balance sheet.
The outlook for 2014
For 2014, Coeur Mining expects its capital expenditures to drop by 20-35% to $65-80M which is excellent, but unfortunately it expects a further increase of the operating expenses which will effectively compensate for the lower capital expenditures. It looks like Coeur will also tackle its G&A cost which is also expected to come down. Long story short, I expect Coeur's free cash flow to be approximately the same in 2014 as it was in 2013. Based on the current amount of outstanding shares, Coeur Mining has a free cash flow per share of $0.49,which results in a free cash flow ratio of 4.2%. This isn't exciting, but it's impressive to see Coeur is actually free cash flow positive in a time where other mining companies are struggling to break even.
Conclusion
I was surprised to see Coeur Mining was actually free cash flow positive in 2013 and is on track to remain free cash flow positive in 2014 as well. The free cash flow of approximately $50M might not get investors super-excited, but it's an excellent starting point to rebuild shareholder value. I still don't really agree with the company's acquisition of Orko Silver in 2013, but I hope the management team will prove me wrong.
I currently have no position in Coeur Mining, but I'm inclined to write some out of the money put options. I'm particularly looking at writing a P10 September 2014 for an option premium of $0.80 and a P8 January 2015 for an option premium of $0.50 for an annualized yield of respectively 13.7% and 6.8%.
Disclosure: I have no positions in any stocks mentioned, and no plans to initiate any positions within the next 72 hours. I wrote this article myself, and it expresses my own opinions. I am not receiving compensation for it (other than from Seeking Alpha). I have no business relationship with any company whose stock is mentioned in this article.
Additional disclosure: I have no position in common shares of CDE but will write P10 options.