Costamare Inc. (NYSE:CMRE) is a Marshall Islands corporation and one of the world's leading owners and providers of containerships for charter. It currently offers a high-dividend yield of 5.4%, which is clearly attractive for income investors. Costamare has a market capitalization of about $1.49 billion and trades on the New York Stock Exchange.
Costamare is one of the world's leading owners and providers of containerships for charter. Its headquarters is located in Athens, Greece. Costamare has been listed since November 2010, and its main shareholders is the Konstantakopoulos family, holding approximately 65% of its common stock. The company was incorporated in 2008 for the purpose of holding the Konstantakopuolos family's assets under a single company, but has about 40 years of history in the international shipping industry. Its major competitors include Seaspan (NYSE:SSW) and Danaos Corporation (NYSE:DAC).
The company's fleet consists of 56 containerships, with a total capacity in excess of 438,000 twenty foot equivalent units [TEU], including 11 newbuild containerships on order. Costamare's fleet has an average age of 10 years, which is relatively good for an asset that typically has a useful life of around 30 years.
Global trade has multiplied in the last 20 years, with an overall rise in living standards and the emergence of fast-developing economies in emerging markets. Due to their size and efficiency, ships are used to transport an estimated 90% of international trade. As populations grow and urbanization continues in many parts of the world, more ships will be needed to meet the increased demand expected over the long-term. However, the shipping industry is cyclical, and large swings in demand can occur at short notice. This can be seen through the Baltic Dry Index, which is a benchmark that reflects the overall shipping rate for transporting dry bulks such as iron ore, coal, and grain across the ocean, and which collapsed in 2008 following the Lehman bankruptcy and the shutdown on global trade.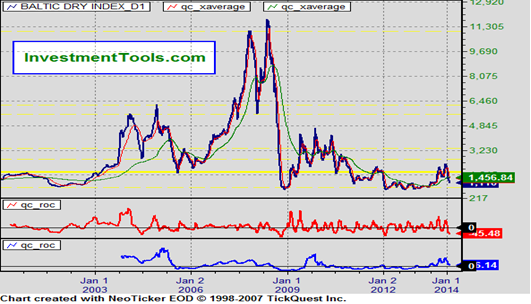 The ocean-going container shipping industry is also both cyclical and volatile in terms of charter rates and profitability. Containership charter rates peaked in 2005 and generally stayed strong until the middle of 2008, when the effects of the economic crisis began to affect global container trade, driving rates to their 10-year lows. In late 2009 and 2010, there was an improvement, but demand has remained soft since then. Moreover, the industry's fleet growth has outpaced demand over the past few years, leading to negative pressure on containership rates. The primary driver of containership demand is global GDP growth, which is expected to pick up slightly in 2014 and can lead to higher containership rates in the short-term. Nevertheless, unless growth surprises considerably to the upside, rates should remain stable in next few years.
The industry's consolidation is relatively high, with the four largest companies controlling more than 40% of global container capacity. The company's strategy is to time-charter its containerships to a diverse group of leading liner companies. In fact, most major international liner companies have been customers of the company. Nevertheless, Costamare's customer base is concentrated around a few big customers, with its three largest customers accounting for about 75% of its revenues. These customers are responsible for about a third of the world's shipping capacity, which include A.P. Moller-Maersk A/S (OTCPK:AMKBY), MSC - Mediterranean Shipping Company, and Cosco Container Lines. As these customers are the leading shipping companies in the world, Costamare's customer base should remain focused on a limited number of liner companies for the foreseeable future.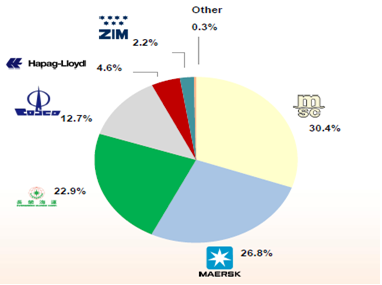 The containerships operate primarily under multi-year, fixed-rate time charters, and therefore are not much subject to the effect of short-term or seasonal variations in demand. Costamare has been able to secure contracts for practically its entire fleet, and its two containerships expected to be delivered in 2014 have already secured a charter contract with MSC. Its current remaining time charter duration is on average about 5 years, representing $2.8 billion of contracted revenue stream over the next few years. Costamare's high fleet employment and contracted revenues bode well for its future, providing a relatively stable operating environment which is also supported by the low number of contract renewals over the next couple of years.
Regarding its financial performance, Costamare has reported relatively good results over the past few years. In 2013, its revenues increased by 7.2% to $414 million, supported by new containerships becoming operational. Its EBITDA was $275 million, representing a very high EBITDA margin of 66%. Its net profit amounted to $103 million, generating market leader returns with a return-on-equity [ROE] of 20%. Its earnings-per-share increased 13% to $1.36.
Costamare has a good dividend history since its IPO in 2010, considering that its last quarterly dividend was the company's 13th consecutive quarterly dividend since it was listed. Its quarterly dividend amounts to $0.27 per share, or $1.08 per share annually. At its current share price, Costamare offers an attractive dividend yield of 5.4%. Its dividend payout ratio is close to 80%, which is high, but according to analysts' estimates is expected to decrease to a more acceptable level of 62% in 2014.
Costamare's major weak point is its indebtedness level. In 2012, Costamare improved its balance sheet through two follow-on stock offerings, raising more than $200 million combined. Nevertheless, its debt levels are still relatively high, with its net debt amounting to about $1.5 billion or a net debt-to-EBITDA ratio of 5.4x. Even though its balance sheet is clearly stretched, Costamare's dividend seems sustainable as the company has a stable business model supported by long-term charter contracts, good revenue backlog and high profitability. Moreover, the company's debt repayment schedule is slightly higher than $200 million per year from 2014 to 2017, which seems manageable and should not pose a threat to Costamare's dividend.
Disclosure: I have no positions in any stocks mentioned, and no plans to initiate any positions within the next 72 hours. I wrote this article myself, and it expresses my own opinions. I am not receiving compensation for it (other than from Seeking Alpha). I have no business relationship with any company whose stock is mentioned in this article.