After the spin-off of the WhiteWave Foods Company (NYSE:WWAV) and the sale of its Morningstar Foods division to Canadian based Saputo Inc. for $1.45 billion, Dean Foods Company (NYSE:DF) has a much cleaner and healthier balance sheet with the sales proceeds to pay down debt. Although DF doesn't carry the same organic food appeal as WWAV does, the attractive valuation and formidable market share in the fluid milk industry still make DF a good buy for any prospective shareholders.
Company description
DF is the largest U.S. processor and distributor of fluid milk, having about five times the size of the next largest competitors. It has many well-known brands, such as Tuscan, TruMoo, Dean's, Berkeley Farms, LAND O LAKES, Lehigh Valley, PET, etc. DF was founded in 1925 and is headquartered in Dallas, Texas.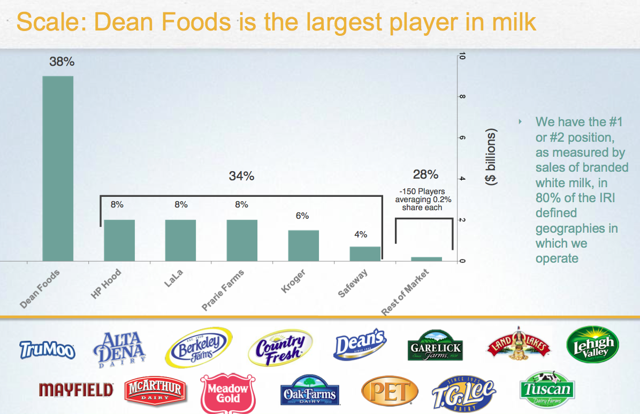 Source: 8-K filed on 11/19/2013
The challenges DF faces
The raw milk costs have skyrocketed as shown in the chart below: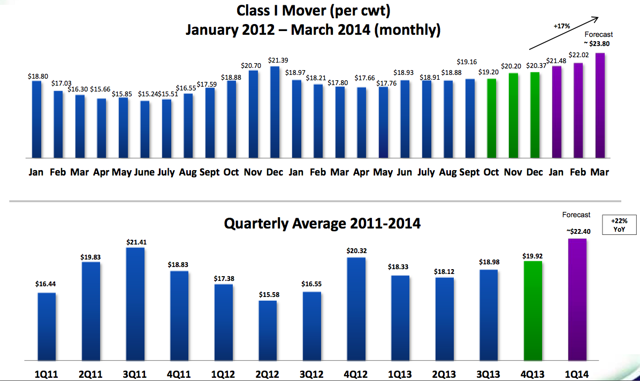 Source: Company presentation as of 2/11/2014
The unprecedented rising costs of raw milk prices, which represented 60% of the input costs, mainly drove the recent gross margin to decline to 19.46% from 20.84% in the prior year. In addition to the 5% reduction in SNAP benefit, DF reported a rough fourth quarter report with earnings of 18 cents a share as compared to analysts' consensus estimated 19 cents a share. This below consensus earnings and the expected continuation of rising costs of raw milk prices in the first half of 2014 drove the share price of DF to fall by nearly 10% on that reporting day. As the share price has already reflected the headwinds faced by DF, this in fact creates a great entry point for long-term investors to invest in the business strength and the outstanding value of DF.
What is great about DF?
According to Marketwatch.com, DF's brands increased its share of the nation's milk market, which grew to 35.7% from 34.9% a year ago during the fourth quarter of 2013. This market share expansion indeed shows the market power of DF even in today's challenging milk market.
DF has become more financially stable as it reduced $1.4 billion net debt in 2013. This resulted in net debt at 2.21x EBITDA as of 12/31/2013.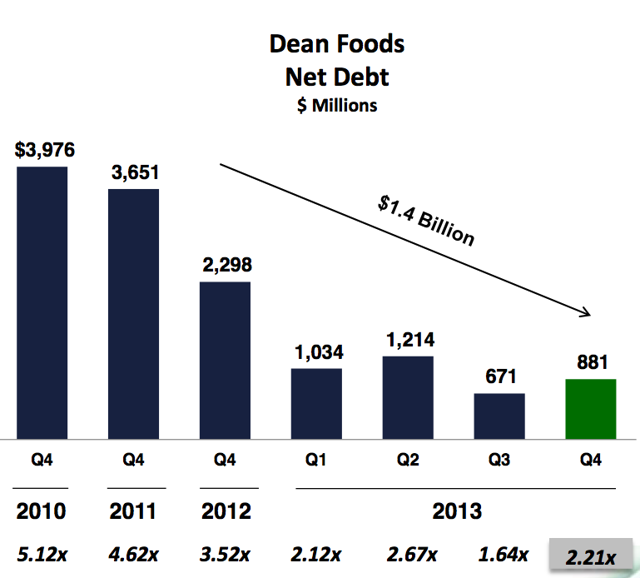 Source: Company presentation as of 2/11/2014
Not only did DF pay down its debt, but also initiated a 28-cent annual dividend for a 1.6% dividend yield, and authorized a $300 million stock-buyback program, which equaled to about 18% of the shares outstanding. This shareholder friendly policy would help to form a solid investor base.
In addition, as a leader in the U.S. processor and distributor of fluid milk industry, DF has established a giant 20,000-plus route refrigerated direct-store-delivery (DSD) network, which is the best-in-class nationwide distribution platform and serves as one of the greatest competitive edges against its competitors.
Furthermore, as Barron's indicated, DF can be a possible buyout candidate with just about $1.4 billion market value. Plus, DF has dropped more than 10% since Barron's latest featured article. The new low price might entice even more prospective acquirers to approach DF.
Technical Analysis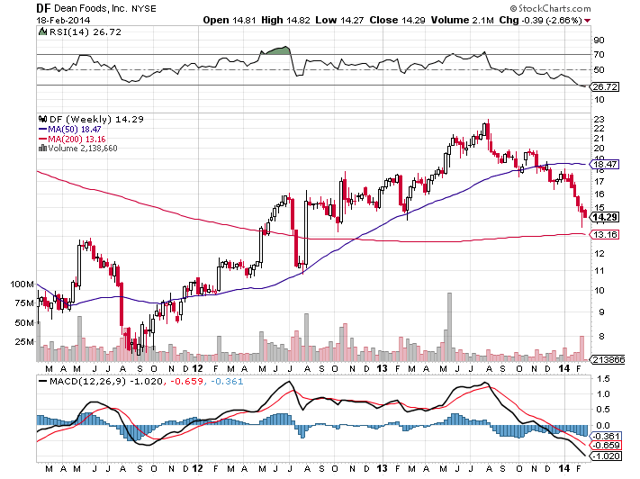 The RSI of 26.72 clearly shows that DF is oversold. If DF can stay above its 200 moving average of $13.16, I am confident that the fundamental strength of DF can push the stock price upward.
Valuation
Management forecasted 2014 adjusted EBITDA between $335 million and $355 million. This values DF at 6x EV/EBITDA. Since DF is a more commodity-like business, which will significantly be impacted by raw milk prices, applying a general consumer staple sector 10x EV/EBITDA valuation as implied by Campbell Soup (NYSE:CPB), General Mills (NYSE:GIS) and Mondelez International (NASDAQ:MDLZ) is not appropriate. However, Tyson Foods (NYSE:TSN) has more similar business characters as DF does, and it is currently trading at about 6.99x EV/EBITDA. If DF can be valued just like TSN in the future, it still has room to advance.
With my estimated cash flow from continuing operations of about $270 million and the capital expenditure of around 137.5 million, the Free Cash Flow "FCF" is $132.5 million, which values DF at about 10x P/FCF. The analysts' consensus estimates of FCF are between $120 million and $150 million. The estimated FCFs are driven by cost saving initiatives with the potential to save $100 million in cost by 2014. For instance, Dean shuttered eight of its 80 plants in 2013. What's more, DF successfully tendered for 400 million of 9.75% 2018 and 7% 2016 notes. As a result, it will save $36 million pre-tax interest and $22 million post-tax in 2014.
Risk
First, the milk industry fundamentals are inherently volatile. The raw milk costs, which represent 60% of the input costs, has a significant impact on the profit of DF. Secondly, there remains a risk that the cost saving initiatives may not accelerate as expected, and the expected FCF cannot be attained. Thirdly, the loss of customers might bring further downward pressure on milk volume sales. As we all know, DF has already lost Wal-Mart business in 2013.
Conclusion
DF has an enduring business model and the financial power to withstand today's challenging business environment caused by the unprecedented high raw milk prices. As Barron's article published on January 18, 2014, indicated, DF could gain 30% over the next 18 months while DF traded at $17.01 per share. Nevertheless, at today's depressed price of $14.29, the potential gain would be more than 50% over the next 18 months. For long-term investors, the risk and reward profile is definitely on your side by investing in DF, the leader of U.S. processor and distributor of fluid milk.
Disclosure: I am long DF. I wrote this article myself, and it expresses my own opinions. I am not receiving compensation for it (other than from Seeking Alpha). I have no business relationship with any company whose stock is mentioned in this article.