As of this writing none of the big trading houses has fessed up to adding a zero on an e-mini electronic order. We shall see. I think it was connected to a move in the dollar/yen. When that break occurred it triggered some Algo machine to sell. And that happened when the NYSE had a halt.
Computers are behind this. Mary Schapiro at the SEC has been very reluctant to tackle this issue. Not any more. Look for her to make a statement shortly. The axe is going to fall on an important part of how the markets function.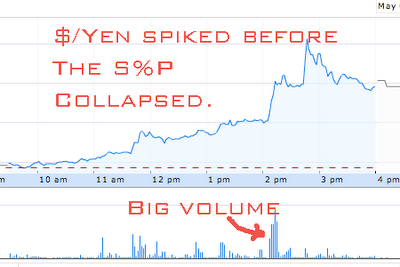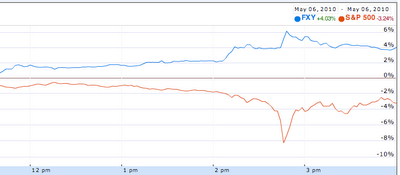 click to enlarge
Either way some damage was done. This is a picture of one stock (click to enlarge) that traded 3450 shares at .01 cent or $.34. It was worth more than $140,000 at the close. The trade above for 7,254 shares at 41 cents resulted in a paper gain to someone of $300,000. These will be reversed. What a system.....